Summer is in full swing and now is a great time to dine outdoors in scenic Southwest Michigan. Savor every delicious morsel overlooking Lake Michigan, the St. Joseph River, our quaint downtowns, vineyards or verdant fields. Whether you're looking for a place to meet up for an early morning breakfast, working lunch or a romantic dinner out with your loved ones, you will find a table in these 25 fresh-air venues:
Catch the vineyard views, art scene and more in Benton Harbor
Vineyard 2121 - Enjoy eating just-made spreads, salads, sandwiches and macaroni and cheese overlooking the vineyards of 2121. On the weekends enjoy homemade pizzas and live music. Check their website for more details.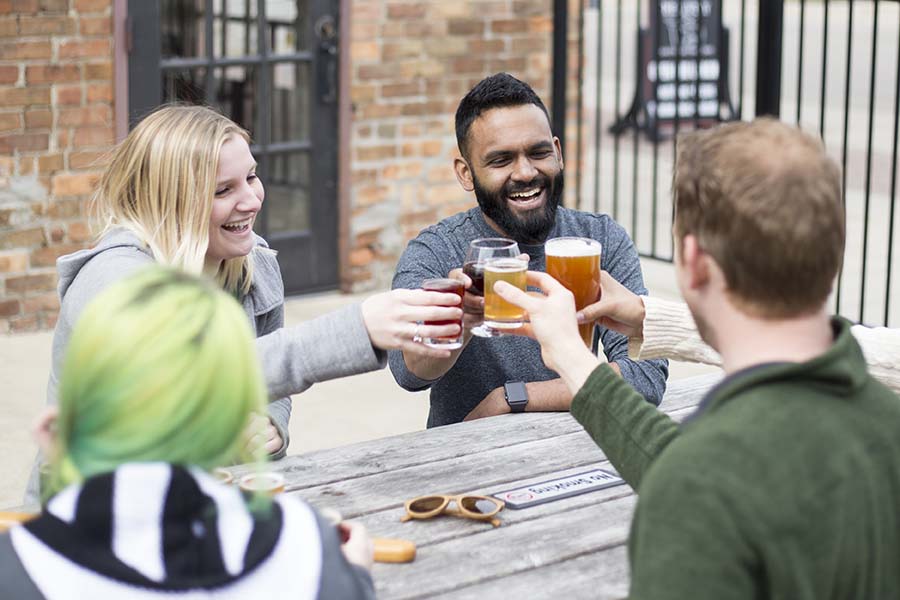 The Livery - Located in the heart of the Benton Harbor Arts District, this is a popular place to pair cold, "hand-forged" beers with their artisan, spent-grain pizzas. The Livery recently expanded its outdoor Beer Garden to accommodate even more diners.
The Golf Club at Harbor Shores - After a round of golf at the spectacular Harbor Shores (Senior PGA champions play here), enjoy classic favorites made with a local flare.
North Pier Brewing Company - Sample their handcrafted beers and devour their tasty tacos outside at North Pier Brewing Company. Toast to friendship on the charming patio complete with ivy-covered walls.
Mason Jar Cafe - Dine al fresco in the Benton Harbor Arts District while enjoying breakfast, lunch and dinner. The menu boasts as much organic and local fare as possible with all food made from scratch, and it shows.
Houndstooth - One of the newest foodie destinations on the Southwest Michigan scene, is also located in the Benton Harbor Arts District. For outdoor dining, you can drop by or make reservations for their urban-cool outdoor, covered patio. Their sibling-chef team creates refreshing New American small plates to share and big plates to enjoy on your own with your favorite beverages.
Enjoy the lake resort vibe of St. Joseph and Stevensville
Tosi's - This Southwest Michigan classic has been dishing up delicious northern Italian cuisine since 1939. Nothing creates that Tuscany feeling like dining outdoors in their beautiful garden. Indoor seating is also available.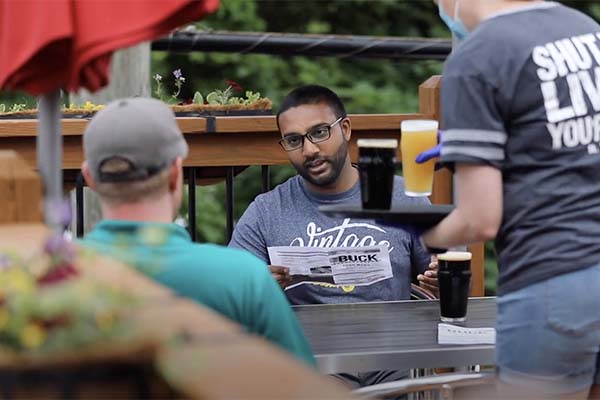 Silver Harbor Brewing Company - Located a short walking distance from downtown St. Joseph, Silver Harbor offers outdoor dining on their patio where you can choose from delicious appetizers, handhelds, flatbread pizzas and greens. Or try their noon Friday to dusk Sunday Pleasant Street Plaza street dining experience that comes with lots of space and live music, too.
Plank's Tavern on the Water - Located inside the Inn at Harbor Shores, Plank's Tavern offers an expansive patio overlooking the St. Joseph River. Enjoy delicious brunch, tavern fare or well-crafted entrees while watching boats come in and out of the harbor.
Mark III Grille & Bar - This has been a staple in Southwest Michigan for over 40 years, serving up juicy steaks and excellent Tex Mex. Dine on the patio and enjoy cold cocktails under the stars.
Clementine's Too - Dine outside overlooking the St. Joseph River. Watch the boats come in and out of the harbor while enjoying their legendary onion rings and perch. You'll find lots of other choices on their menu as well.
Bistro on the Boulevard - Dine al fresco on the patio overlooking Lake Michigan. Combine that with their award-winning wine list and their menu featuring local flavors, and your meal is guaranteed to be extraordinary.
Follow country roads to farm and historic town vistas in Buchanan and Niles.
Tabor Hill Winery & Restaurant - Enjoy Southwest Michigan's wine heritage and dine on Tabor Hill's expansive patio overlooking their estate vineyards. When Tabor Hill opened in 1972, it was the first Michigan winery license since prohibition – and this trailblazer continues to offer classic wines, upscale food and cozy dining experiences.
River St. Joe - If you're hoping for "farm fresh," River St. Joe brings a whole new meaning to the phrase! The brewery was born out of Flatwater Farms, and the menu changes seasonally based on their harvest. Sit outside at tented picnic tables and enjoy farmhouse beers and food as fresh as it comes.
Lehman's Farmhouse - This countryside dining destination was born out of Lehman's Orchards and a desire to do more with the local harvest. The Farmhouse specializes in fruit and session beers, all while serving up sandwiches and pizza. Listen to the sounds of McCoy Creek while dining outside on the patio.
Iron Shoe Distillery - This small-batch distillery in Niles offers unique cocktails and decadent dining options. Try a burger with creamy cheese curds melted on top, a powerhouse quinoa salad, or make any burger an Impossible Burger. Dine outdoors, or on nice days, the garage doors open up and allow fresh air into the indoor dining area.
Take in the beauty of dune country in Bridgman, Three Oaks and New Buffalo
Tapistry Brewing Company - Sample some of Tapistry Brewing's handcrafted beers while enjoying time in their beautiful beer garden. Or try out their famous Mr. Orange beer overlooking charming downtown Bridgman. Their smokehouse restaurant piles your plate with great sandwiches.
Journeyman Distillery - Head to Three Oaks to dine outdoors at the Journeyman Distillery's Staymaker restaurant. Choose from small plates, sandwiches, entrees and Detroit-style pizzas. Seating outside is self-serve. For added safety at home and on the road, be sure to pick up some of Journeyman's hand sanitizer on the way out.
Haymarket Taproom - Built inside an old state police post, Haymarket serves up wood-oven pizzas and cold brews in Bridgman. Enjoy dining on the patio with charming string lights and plenty of space to stretch out at picnic tables.
Ghost Isle Brewery - Relax on the covered patio overlooking 156 acres of wetlands while dining on classic pub fare like ribs and pretzels with beer cheese. Or try their refreshing chilled shrimp salad with couscous.
Froehlich's - If you want simple, authentic food home-baked and fresh, this is your go-to place for outdoor dining. Lunch offerings include small plates and salads as well as burgers, shrimp po' boys and adult grilled cheese sandwiches. Dinner options range from ribeye steaks to crusted fried catfish. Save room for dessert, the OMG! Chocolate Cake and macarons are favorites.

You can also order take out or curbside pickup to bring back to your hotel, cottage, home or picnic destination. For even more take-out options, find your favorite foods here.