The same Lake Michigan that lures you in every summer is the reason we harvest a large variety of fruits and vegetables in Southwest Michigan. The lake tempers our climate which creates the perfect growing environment for our produce and why so many of our family farms have been around for generations. We invite you to visit our farms and farm stands this summer, see where your food is grown, and handpick the freshest, sweetest, crispest produce and bring it home to your table.
What's in season?
In July and August, Southwest Michigan offers an abundance of fresh fruits and veggies including:
Apples
Apricots
Beans
Blueberries
Broccoli
Cabbage
Carrots
Celery
Cherries (sweet)
Cherries (tart)
Cucumbers (salad)
Eggplant
Greens
Lettuce
Onions
Peaches
Peppers
Radishes
Raspberries
Rutabagas
Spinach
Squash (Summer)
Tomatoes
Turnips
View our food chart to see what's available the rest of the year.
Farms & Markets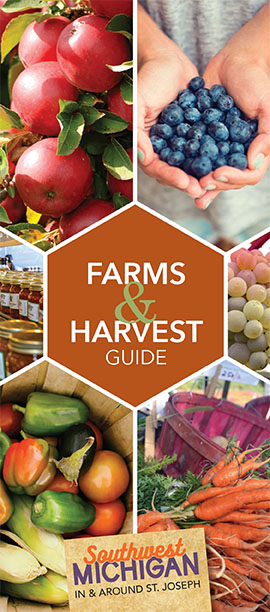 Discover your favorite just-picked, flavor-rich foods at our farms and markets. Find them scattered along our shores and throughout our countryside. Be sure to check in with our farmers before you go to make sure they have your favorites available. For more information download our Farms & Harvest Guide.
Blueberries
Dairy
Fruits, Vegetables and Much More
Community Farmers Markets
Find farm-fresh produce, jams, cheeses and baked goods along the streets or parks of our communities.
Benton Harbor:
June-Sept. ǀ Wed. ǀ 10am-3pm
Buchanan:
May-mid-Oct. ǀ Sat. ǀ 8am-1pm
St. Joseph:
May-Oct. ǀ Sat. ǀ 9am-2pm
Ready to bring home the fresh, sweet taste of Southwest Michigan? Book your room now before your favorite summertime picks are gone for the season.