Our area attractions are designed with handicap-accessibility in mind, for fun without limits! Many people think of Southwest Michigan as a summer destination, but throughout the holiday season and beyond, our charming towns put on a non-stop celebration of the season.
Head indoors for family fun in St. Joseph
The cooler months are the perfect time to ride the Silver Beach Carousel. This lovely roundhouse and museum dresses up for the holidays and hosts special themed events. Ride the sea serpent chariot, designed with accessibility in mind. There is a wheelchair ramp available and operators are pleased to assist you with step ladders or a helping hand. Delight in the organ music as you circle around the carousel. If you have someone along who would prefer a quieter ride, request headphones or earplugs at the gate before boarding. Admire the hand-carved carousel horses and figures. Stay for a game of checkers and crafts. Those using walkers will find the carousel area easy to navigate.
Whether you're looking for family-friendly activities or need to entertain a few generations at once, we have all you need to take home warm memories. For the kiddos, make a beeline for the Curious Kids Museum in downtown St. Joseph, where three floors of fun awaits. The museum has a stated mission to welcome all ages and abilities. The top floor features an interactive educational exhibit that aims to develop empathy for others who have physical challenges. Kids can try maneuvering through a maze in a wheelchair, type their names in braille and write in sign language.
Hit the beach on snow days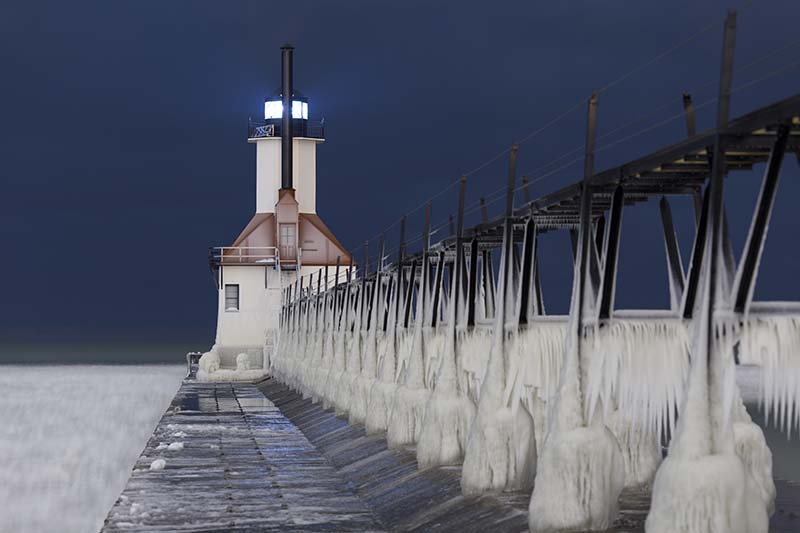 Across the river to the north, Tiscornia Park boasts the iconic lighthouse which is the symbol of the area. Encased in ice, the structure looks otherworldly. Winter provides a rare view that should not be missed. The parking lot is a short distance along a paved path to the pier. Fans of Great Lakes freighters may be treated to a sighting of one of these enormous ships moving through the harbor. Whether you're in a hurry, or find it too chilly to hang out at the water's edge, consider Lookout Park in St. Joseph. It is a perfect blufftop perch to view the spectacular nightly showstopper of a sunset anytime of the year. Located on Lakeshore Drive, it is a convenient spot to drive up and pull over to the handicap-accessible viewing platform.
Arts and culture for the grown-up crowd
Theatre buffs head to Twin City Players in St. Joseph. Since 1932, this established community playhouse has drawn on local talent to entertain with adaptations of smash-hit plays and musicals. The playhouse also features more obscure, but critically-acclaimed and holiday-themed productions that showcases young talent. There is not a bad seat in this intimate venue, with an entire row devoted to handicap-accessible seating. Call ahead to reserve your tickets. Arrive early, as this small theatre draws a crowd.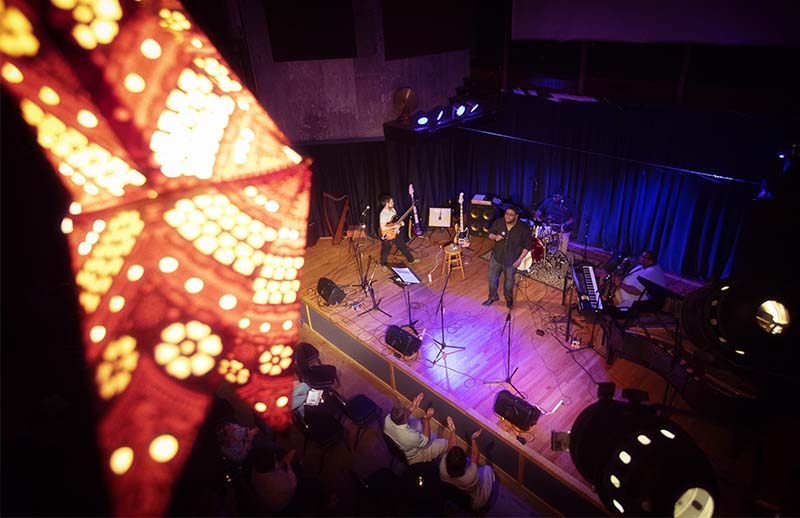 The funky Acorn Theater in the village of Three Oaks attracts top-notch national and regional performers, with an assist from nearby Chicago. While you may show up for the entertainment, you will stay to marvel at this stunningly restored building with attached attractions. This intimate space echoes its beginnings as a corset stay factory at the turn-of-the-century. The Acorn is fully ADA-accessible, offers open seating and a ramp on the left side of the stage for ease of navigation.
Look for entertainment at other nearby venues such as:
Mendel Center
Krasl Art Center
Michigan Maritime Museum
Southwest Michigan Symphony Orchestra in St. Joseph
Welcoming dining destinations
Our location at the crossroads between Chicago, Grand Rapids and Detroit attracts top foodie talent. Access to fresh produce from local farms inspires a creative spin on dishes at our unique restaurants. Among the many stellar handicap-accessible dining options in the region is Tabor Hill in Baroda. This winery and restaurant sits in the heart of Southwest Michigan's wine country. In winter, cozy up to the roaring fireplace and enjoy the silence of the slumbering vineyard blanketed in white. Wine tasting and tours available.
Rumbling tummies will appreciate the extensive menu at Silver Beach Pizza. This crowd pleaser in St. Joseph serves up some of the best pizza, salads and appetizers in the region. Soak up the lively ambiance on a cold night. All ages will delight in watching trains right outside the window at this historic depot turned pizzeria. Extensions on the tables welcome wheelchairs. Very kid-friendly and accommodating of all diets.
Enjoy river views through floor to ceiling windows at Clementines in St. Joseph. Featuring an extensive menu to please any taste, this eatery boasts great service in a large open space that accommodates wheelchairs and walkers. There is a kid's menu and the space is perfect for large groups.
Southwest Michigan has many more options for accessible dining. Check out the Maker's Trail for inventive menus in destination-worthy locations!
Come visit us for the holiday season!
Book your hotel now and get ready for holiday fun in Southwest Michigan!
Book A Room