In this issue: Take a fall color tour | Fall Festivals | Beatles vs Stones Concert | Resiliency Opening Party | Live at The Acorn
Creative Pursuit Game | Now-May 20, 2020 | 19 Art/Theater/Museum Venues in SW Michigan
September is one of our most colorful months of the year. Our orchards are bright with golden and crimson apples, our markets with plump pumpkins and mums, and our tree-lined streets and forests are turning brilliant scarlet, amber and orange. But in Southwest Michigan, you can take an indoor fall color tour that will wow you, too. It's our Creative Connections to 19 participating arts and culture sites in Berrien County that showcase colorful creations and productions. And if you play our Creative Pursuit Game you also can earn cool prizes!
Start your Creative Pursuit today!
There are 19 Creative Connections — art centers and galleries, museums and theaters — that we'd like to challenge you to visit as many as you can between now and May 20, 2020. Right now is the perfect time to get started as you will see beautiful fall foliage and bountiful harvests as you go from place to place. The more Creative Connections you make, the more inspired you will be and the more cool swag you can earn! See the articles below in this e-newsletter for suggested destinations.
It's easy to get started. Pick up a printed Creative Connections map at any of the participating hotels in Benton Harbor, St. Joseph or Stevensville or the Southwestern Michigan Tourist Council. Inside you will find the Creative Pursuit Game card. Each time you visit a Creative Connections gallery, take an art class, explore a museum or watch a show, ask the venue to stamp your card. When you complete a level, you can claim your prize. Plus, if you spend at least one night in a participating hotel, there's a bonus prize and an entry in our Grand Prize Drawing.
What cool swag can you earn?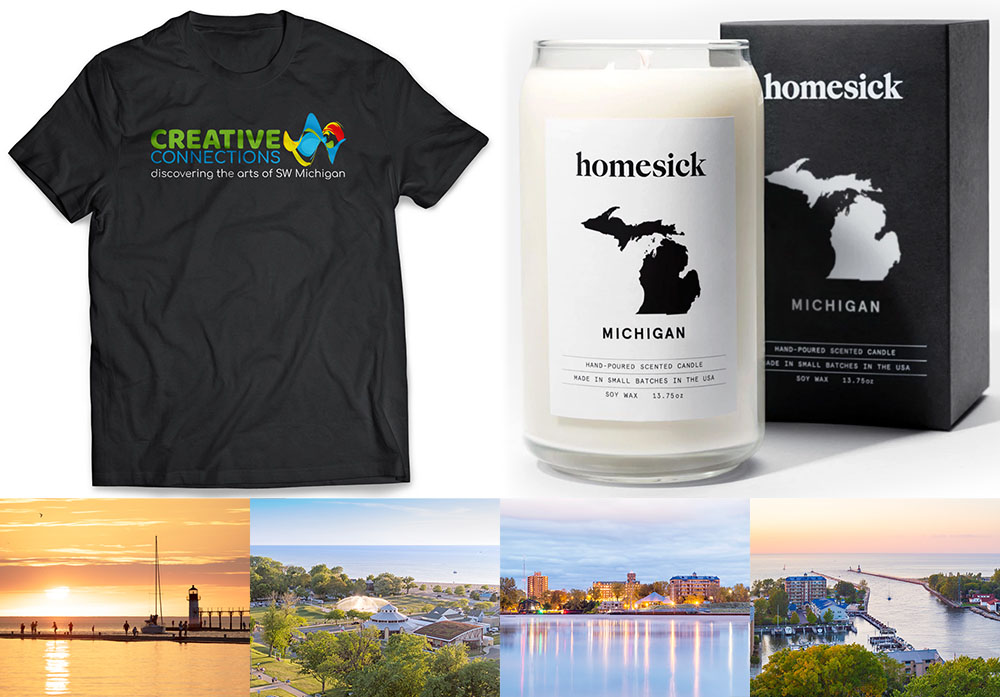 Prize Level 1: Creative Connections T-shirt
You can wear this exclusive-design after you collect three stamps — one each from a gallery, museum and theater.
Prize Level 2: Joshua Nowicki photographic art, signed by the artist
Joshua is one of the region's most renowned landscape photographers and you can choose your favorite scene from these four choices. Each print is 8" x 10" printed on strikingly beautiful, long-lasting metal. To earn this prize, complete Level 1 and then get stamps at three additional venues — one gallery, one museum and one theater — to complete Level 2.
Bonus Prize & Entry in Grand Prize Drawing
You will receive this candle if you complete Prize Level 1 or Prize Level 2 and stay at least one night in a participating hotel. Before you leave ask the front desk to stamp your Creative Pursuit Game card. Once the Southwestern Michigan Tourist Council validates that you have completed Level 1 or Level 2 and stayed in a hotel, you will be entered in the Grand Prize Drawing for one of five, all-inclusive, two-night stays (double occupancy) at a Southwest Michigan hotel. We have loaded the package up with everything you need for a fun-packed three days!
So, pick up your printed Creative Connections map and start your artsy fall tour — you'll be amazed by the brilliant colors indoors and outdoors in Southwest Michigan!
Everything fall is right here!
2019 Fall Fest & Great Pumpkin Festival | Sept. 20, 4:30 p.m. | Sept. 21, 10 a.m.- 3 p.m. | Downtown St. Joseph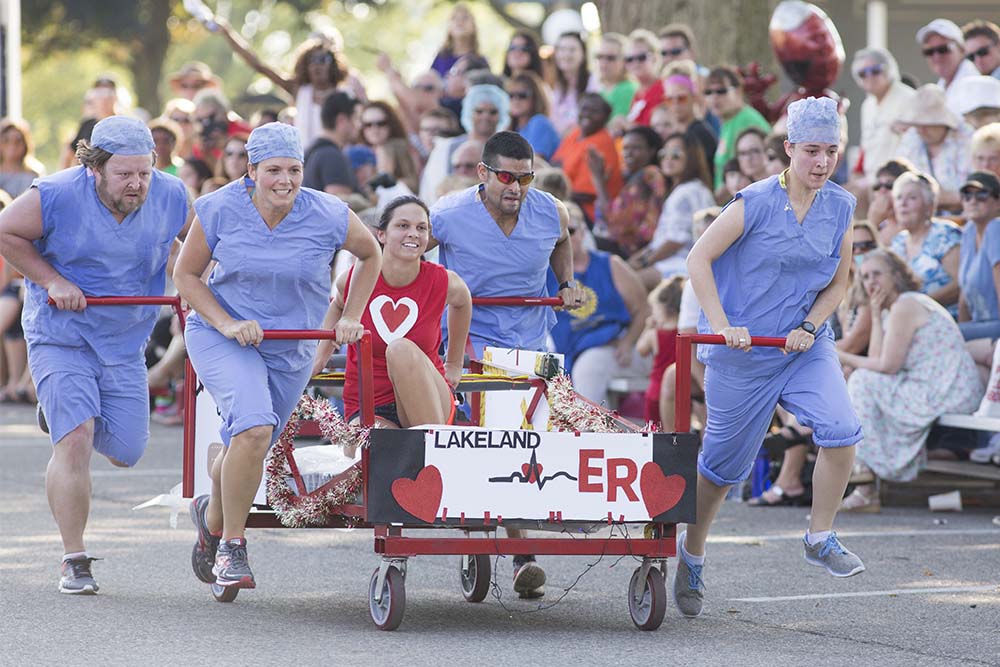 If you could pick one weekend to celebrate everything that is fall with your family or friends, this is a great choice. We will show off our harvest, the colors and playfulness of the season with two simultaneous festivals in downtown St. Joseph. The festivities start Sept. 20 with sidewalk sales and a hilarious bed race sponsored by the Sunrise Benton Harbor Rotary and Slumberland Furniture. The Parade of Beds gets rolling at 4:30 p.m. followed by the laugh-filled race down Lake Boulevard at 5 p.m.
Sept. 21, spend the day downtown finding great deals at the sidewalk sales, choosing just-harvested fruits and vegetables at the farmers market, plus enjoying kids' activities including twister balloons and the Critter Barn petting zoo. Near Pleasant Street, Sunrise Rotarians will host their annual Great Pumpkin Fest with pumpkin decorating, a pumpkin race and raffle, face painting, kids' games and more.
While you are in town, ride the Carousel below the bluff, play at the children's museums, walk along the beaches, enjoy hearty harvest meals in downtown restaurants and see our showy trees as you try local wines, craft brews, spirits and ciders along our Makers Trail. Plan to stay over so you can watch the sunset on Lake Michigan as it paints the sky and water with mesmerizing colors.
Get your adrenaline pumping!
Beatles vs Stones: a Musical Showdown | Sept. 21 | 8:00-9:30 p.m. | The Mendel Center at Lake Michigan College | 2755 E. Napier Avenue | Benton Harbor | $26-$48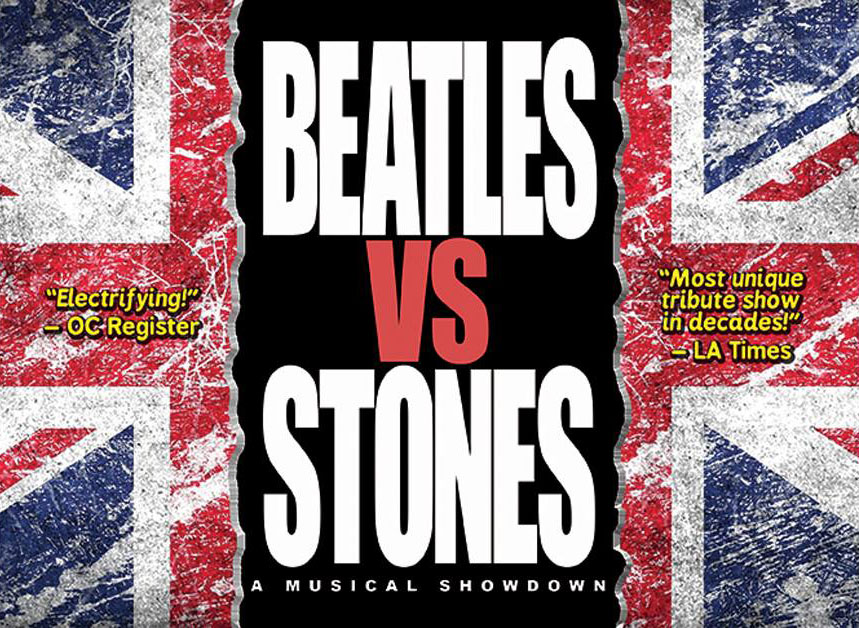 Two Brit bands — The Beatles and The Rolling Stones — have rocked the hearts of Americans for decades. Fans argue to this day as to which band is the greatest. You can weigh in which is your favorite during this high-energy, adrenaline-pumping showdown right here in Southwest Michigan!
The two tribute bands will have a musical "shoot out of hits" from Abbey Road and Satisfaction: The International Rolling Stones Tribute Show. Alternating power sets will culminate with the two bands coming together on stage for an amazing encore. It's a once-in-a-lifetime event that you won't want to miss! Tickets are selling fast, so reserve your seats today.
This show is sponsored by Chemical Bank. It also qualifies for the Creative Pursuit Game, just ask for a stamp at the ticket office when you arrive at the show.
Discover through art your resiliency.
Resiliency Opening Party | Oct. 4 | 5:30-8:00 p.m. | Exhibit: Oct. 4-Dec. 1 | Krasl Art Center | 707 Lake Boulevard | St. Joseph | Free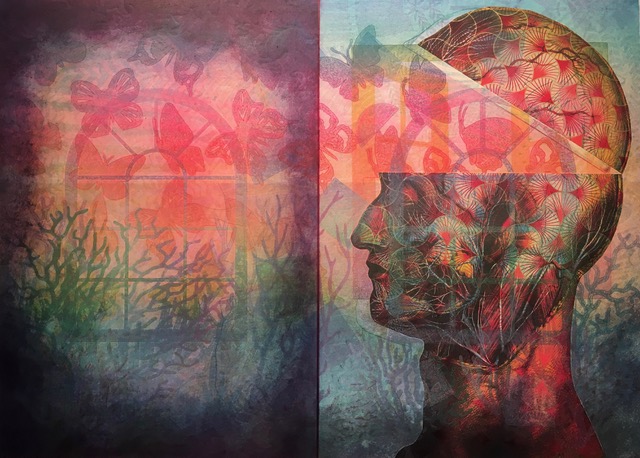 This exciting exhibit features contemporary art from across the nation that explores, celebrates and practices resiliency. Inspired by a dialogue between the Krasl and Spectrum Health Lakeland, the exhibit uses visual arts and applicable tools to help guests foster resiliency during difficult times.
The Opening Party
See the inspiring work of nine artists who create in studios from New York to Seattle.
Tasha Turner Lecture, 5:30-6:00 p.m. Tasha serves as the program director for Trauma Informed Initiatives at Spectrum Health Lakeland. She will share the mission of this collaboration and its critical importance to individuals and communities in Berrien County.
Artist Performance by Christina E. Fontenelle, 7 p.m. Christina is an Afro-Latina psychotherapist and visual artist who specializes in art and dance/movement therapy. This evening's performance will express her interpretation of resiliency.
Share your reflections about the exhibit with others over appetizers and a cash bar.
"Art has so many known wellness benefits," says Curator Laura Winkler. "When a Community Health Needs Assessment identified mental health as the most urgent need throughout Berrien County, we knew art could help. Creating art relieves stress. It boosts self-esteem. Art improves the quality of life for dementia patients. It even eases the burden of chronic health conditions."
Laura says resiliency and the power of art are at the heart of this exhibit … a resiliency the Krasl will continue to explore in its Members Show exhibit, December 6-January 20.
Remember to get your Creative Pursuit Game card stamped at either the opening or another day of the exhibit. Each stamp brings you closer to earning a Level 1 or Level 2 prize!
Live at The Acorn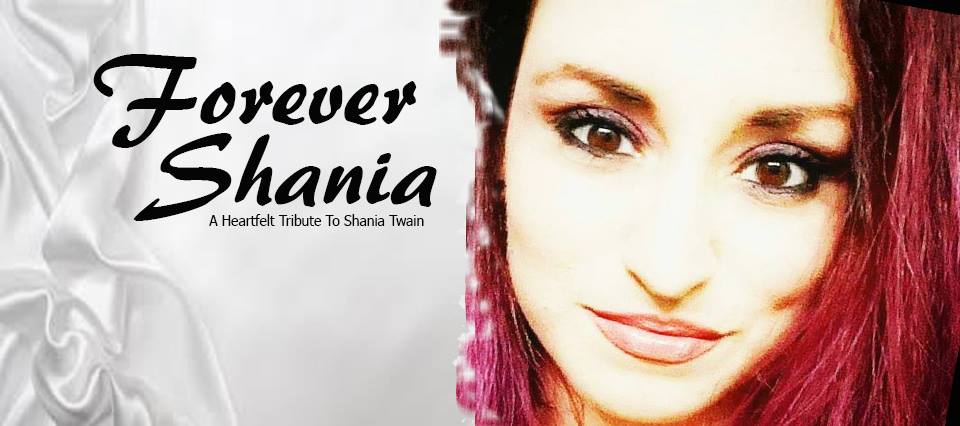 If you haven't attended a show at The Acorn in Three Oaks, do so this year. Not only will they stamp your Creative Pursuit Game card but they will give you a jaw-dropping theater or music experience that rivals shows in nearby Chicago. Their fall lineup will entice you back again and again between now and December.
What's showing
Here are some of the stars who will shine on The Acorn stage in the next few weeks:
Sept. 14, 8 p.m.: Shania Twain Tribute by Shania Forever
Sept. 20, 8:30 p.m.: A Night of Comedy with Pat Tomasulo
Sept 21, 6:30 p.m.: The Annual Singer Songwriter Fundraiser
Sept. 22, 8 p.m.: An Evening with Iris DeMent
Sept. 26, 8 p.m.: Open Mic Night
Sept. 27, 8 p.m.: Heartache Tonight - A Tribute to the Eagles
Sept. 28, 8 p.m.: Miles Nielsen & the Rusted Hearts
Sept. 29, 8 p.m.: Igor & the Red Elvises