This Issue: ARS: Reinventing the arts in Benton Harbor | I Am the Greatest | The arts are for you
Ten years ago, Benton Harbor Public Schools drastically cut its arts programming. Anna Russo-Sieber (ARS) knew from her then 20+ years of arts education and programming experience that the arts were needed more than ever in this Southwest Michigan community. So in 2010, she boldly opened ARS Arts & Culture Center in a little corner warehouse at 147 5th Street in the Benton Harbor Arts District. Gershon, one of ARS's students, will tell you Anna's decision changed his life.
Gershon is doing something no one in his family has ever done. For two years, Gershon has taken after-school classes, I Am the Greatest workshops and private art lessons. Now he is enrolled in his second college-level class at Ox-Bow in Saugatuck, Mich., the prestigious summer school of the Art Institute of Chicago.
Gershon is one of nine children and the first in his family to receive any college credits. Thanks to ARS's encouragement and arts programs, he plans to attend college after his high school graduation. That goal is a very big deal in this community.
No stranger to arts and cultural education.
Prior to opening ARS, Anna, a talented, self-taught artist spent 15 years at the Krasl Art Center and five years at the Box Factory for the Arts, both in St. Joseph, Mich. There she developed summer camps, arts and cultural classes, school arts programs and created a film series program. All the while she was painting and selling her work.
"The Benton Harbor Arts District was reinventing the arts in our area through dance music, cultural and visual arts," explained Anna. "I knew my ideas to inspire underserved children in the community would fit in here." (Read more about her ideas in the articles below). But the gallery also became a venue for showcasing internationally-renowned and emerging artists. This month, see:
Shanna Shearer | Now-July 31 | ARS Gallery | 147 5th Street | Tues.-Sat., noon-4 p.m.
Shearer's paintings reference domestic environments and objects to create expressive and dramatic vignettes that represent quiet moments of the everyday. Learn more>>

I Am the Greatest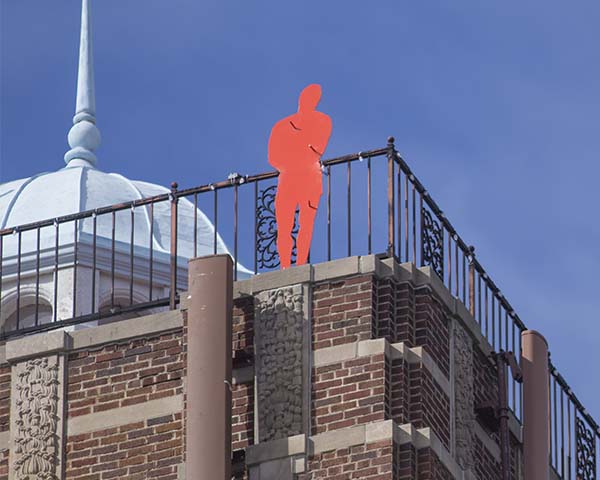 Muhammad Ali, the world's greatest heavyweight boxer, lived four decades on his estate in Southwest Michigan. His 1963 poem, "I Am the Greatest," is the basis of an ARS's project that has grown into year-round workshops, after-school classes, summer arts camps and private art classes that help at-risk youth achieve their own greatness.
The I Am the Greatest Project
Anna established the I Am Greatest Project in the spring of 2012 around a series of 16 sculptures created by renowned Detroit artist John Sauvé. You can see these 5-foot x 8-inch orange sculptures on the rooftops, pathways and street corners in the Benton Harbor Arts District and downtown St. Joseph. They symbolize the greatness of the area, but also serve as the inspiration for the I Am the Greatest arts-based workshops.
Working through adversity
For two weeks at a time, Anna and her team, use the I Am the Greatest sculptures to inspire area youth to assess their individual strengths, set goals and work through adversity. Lessons about the community, public art and the history of Muhammad Ali, encourage them to express themselves through introspective writing and creating and sharing their thoughts and feelings through artistic media. "We become a home for these kids," said Anna. "Meals are shared - values are modeled - theory and design are taught. This is a safe place to grow, to interact, to be the greatest."
How you can help.
Would you like to be a mentor for the I Am the Greatest program? Be a gallery docent? Help with special events? Volunteers are needed all year round for 2 to 4-hour shifts for as often as you can pitch in. To learn more about opportunities and training, call (269) 277-5090 or email This email address is being protected from spambots. You need JavaScript enabled to view it..
A single I Am The Greatest sculpture costs $1,000 per year to exhibit. Full or partial sponsorships are very much appreciated! Donor generosity is also needed to provide the I Am the Greatest workshops, summer camps, after-school programs, showing films and hosting Arts Center events. ARS Arts & Culture Center is a not-for-profit, 501(C) 3 organization. Please help contribute to greatness!
The arts are for you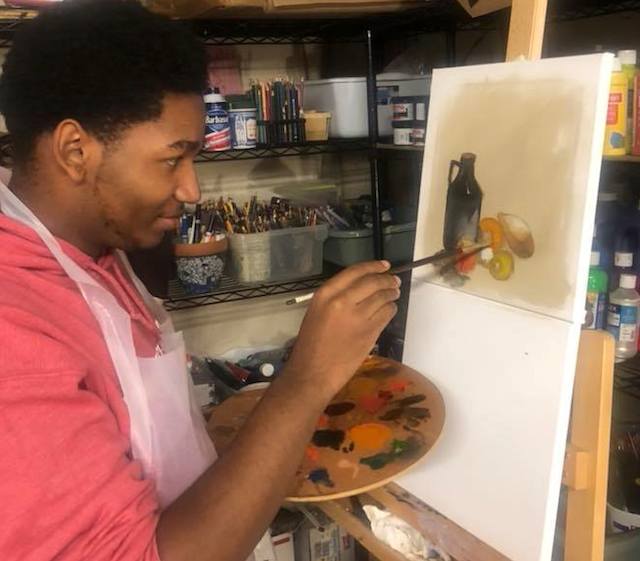 ARS Arts & Culture Center's main focus is to bring youth with diverse racial, economic and social backgrounds together through arts and cultural programs. But adults find plenty of enrichment here, too. This summer be sure to see what artistic and culinary treasures you will find at:
ARTisan Market | Sundays | Now-Aug. 24 | 12-4 p.m. | ARS Gallery | 147 5th Street | Benton Harbor
Local artisans bring in high-quality, handmade goods and treats from candles to Uncommon Grounds medium/dark roasted coffee. And come back for the Holiday ARTisan Market in late November through mid-December.
Also, check arsartsandculture.org or Facebook for updates on these classes and events:
Culinary Exploration Class | August 12-14 | 11 a.m.-1 p.m. | Ages 10-14 years
Kids will learn where their food is sourced and learn culinary skills using fresh ingredients.
Wine & Cheese Pairing Class | Thursdays in late August
Italian Painting with Mixed Media | Begins week of October 7 | Children's Class | More information coming!
Women Empowering Women Speakers Series | November
Coming soon! | West Coast Art Show | Date TBD
Featuring 100+ Artists from Michigan's West Coast
Adult Enrichment: Well Red Book Club | Italian & Foreign Languages and Culture Classes | Art Classes | I Am the Greatest Sculpture Bike Tours