What happens when Paul Mow, one of the nation's best tenors and former lead performers in the New York City Opera, leaves the glamour and stress of the Big Apple to return to Southwest Michigan? He births one of the most exciting new live performance theaters in the Midwest — the GhostLight Theatre. Get ready to be wowed this summer in the Benton Harbor Arts District!
Director's selfie
Paul was raised in Coloma, Mich. He went to the University of Michigan where he majored in political science. But Paul had big post-graduation aspirations. So in 2001, he moved to New York City. A gifted tenor, Paul made the roster of the New York City Opera where for five years he performed both leading and secondary roles in a multitude of productions. He has sung at Carnegie Hall, the Alice Tully Hall at Lincoln Center in New York City and in major opera halls and festivals from Anchorage to Germany. Since returning to Southwest Michigan in 2006, Paul has been bringing audiences to their feet directing shows from Shrek: The Musical to Lin Manuel Miranda's beautiful, Tony award-winning rap and hip-hop musical In The Heights.
Recently, Benton Harbor Arts District visionary Ken Ankli approached Paul about creating a black box theater in an abandoned building. Paul said yes. He partnered with Executive Director Martha Hesse and his longtime dream of starting a high-caliber, community-based theater took off in January 2018.
What's in a name?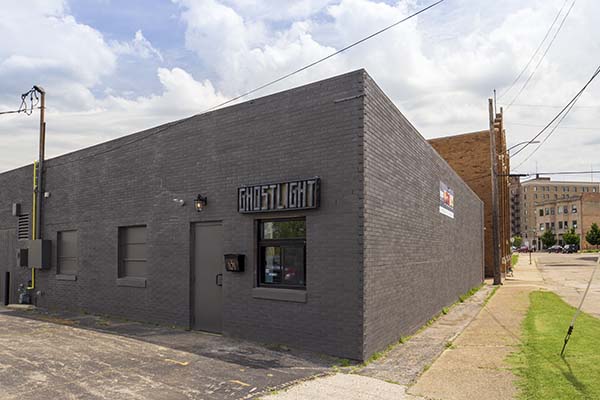 A ghost light is the single bulb left burning when a theater is dark. Some say it chases away mischievous spirits. Others claim it keeps the ghosts that inhabit the theater happier (no doubt this old building has its share). But it serves a practical purpose, too, preventing people from bumping into walls and equipment or falling off the stage when the other lights are off.
More about the theater
Location: 101 Hinkley Street, Benton Harbor.
Seating: 150; 100 with tables
Performances: 8 p.m. Thurs., Fri. and Sat.; 2 p.m. Sun.
Concessions: food and beverages
Parking: Free lot and street parking
Venue: Flexible space for theater performances, weddings, gatherings, etc. For private bookings call: 269-252-5222.
Website: ghostlightbh.com
What to expect
High-caliber summer productions of thought-provoking, PG-13-rated plays. Enjoy award-winning musicals, comedies, dramas, romance, existential and dystopian themes. Two professional opera actors-in-residence plus regional talent will make up the casts.
GhostLight is also the first site outside of the Windy City to offer:
CircEsteem Chicago Summer Camp | June 17-21 and June 24-28 | Ages 6-16 | 8:30 a.m.-4:30 p.m. | $250 per session/scholarships available | Register
Kids from diverse racial, cultural and economic backgrounds will meet-up to build their self-esteem and mutual respect through the practice and performance of circus arts. It's a powerful experience that creates wonderful changes!
How to snag a seat
Save now! Season subscriptions on sale until June 23: Get four tickets (one for each of the 2019 shows) at a discounted price. Adults - $100 plus $8 service fee; Seniors (65+) - $80 plus $7.40 service fee. You choose the date. Subscribe today!
Individual Show Tickets: Adult - $28 plus $3.52 fee; Senior (65+) - $22 +$2.98 fee; Student (over 18, with ID) - $12 + $2.08 fee. Buy Ticket Now
See Five Shows That You Will Talk About for Days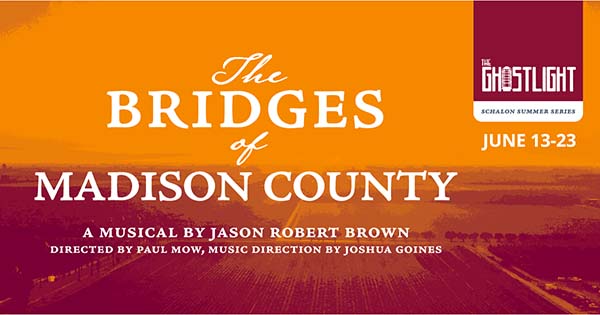 Paul Mow and his troupe of actors are driven by shows that get people conversing for days after the stage goes dark. Each of GhostLight Theatre's inaugural shows will be the talk of the summer. See what all the buzz is about:
The Bridges of Madison County | June 13-23 | A Musical by Jason Robert Brown
Based on Robert James Waller's 1992 best-selling novel, this is the story of a four-day, forbidden love affair between the wife of an Iowa farmer and a roving National Geographic photographer who came to Madison County to photograph its famous covered bridges. Jason Robert Brown's soaring music earned the 2014 Tony Awards for Best Score and Orchestrations. Lead actors Elizabeth Pacheco Rose, Branch Fields, Dan Maxon and Abby Murray Vachon will bring this heartbreaking tale of crossing bridges that change us forever.
No Exit | July 11-21
This philosophical drama written by French existentialist Jean-Paul Sartre is a gripping, edge-of-your-seat immersion into hell.
West Side Story | July 27 & 28 | Shadowland Pavilion, Silver Beach County Park | St. Joseph | $10-$30
Two teens from rival New York City gangs tragically fall in love in this classic, musical adaptation of the timeless "Romeo and Juliet." And yes, you will watch this amazing show on the beach.
Clybourne Park | Aug. 1-11
Borrowing elements from Raisin in the Sun, this Pulitzer-winning play explores race relations and the gentrification of a Chicago neighborhood.
Urinetown | Aug 22-Sept. 1
A side-splitting, dystopian tale of greed, love and revolution set to music in a time when water is worth its weight in gold.
What?! Tony Award-Winning Jason Robert Brown in Concert Here!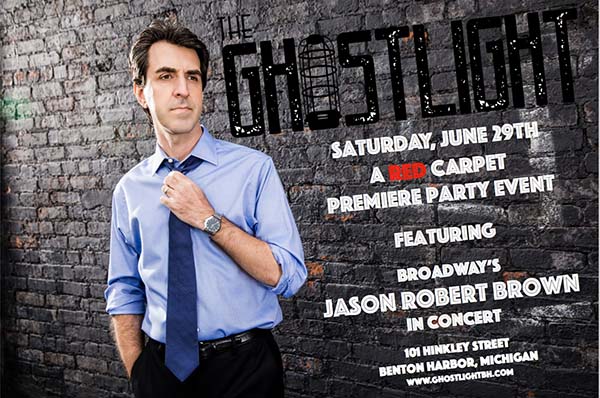 Jason Robert Brown in Concert | June 29 | A Red Carpet Premiere Party Event | 6 p.m. Private Meet-and-Greet Cocktail Party: $75 | 7 p.m. Cocktails, Heavy Hors d' oeuvres & Concert: $150
Yes! Jason Robert Brown, the Tony Award-winning composer of The Bridges of Madison County, is coming to spend an evening with you at the GhostLight Theatre. He is one of the fastest rising stars on Broadway (make way, Mr. Sondheim). You'll be swept up by Brown's music in this entertaining evening that will include some songs sung by Paul Mow and others. Food will be catered by local favorite Mason Jar Cafe and the new Houndstooth Restaurant.