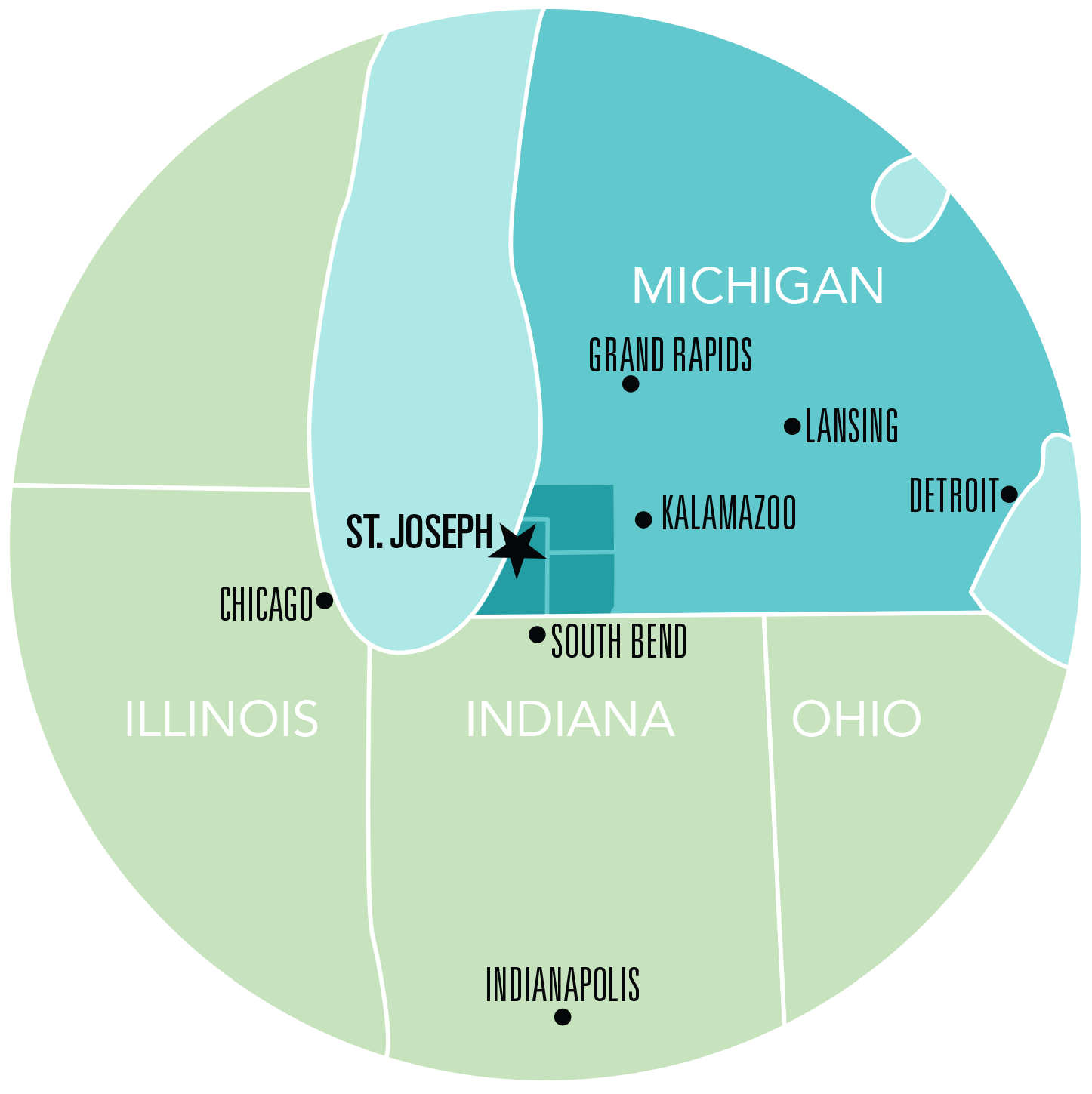 It's true. Given the right atmospheric conditions and water temperatures in Lake Michigan, you can stand along the bluffs or towering dunes in and around St. Joseph, Mich., and see the Chicago skyline 50+ miles away. This visual experience is known as looming. While not an everyday occurrence, it is one of the dozens of reasons Chicago-area residents love to get away to Southwest Michigan — all year round.
Southwest Michigan is close to you. 90 minutes by car, yet a world away from Chicago's sky-scraping buildings, congested highways and busy suburbs.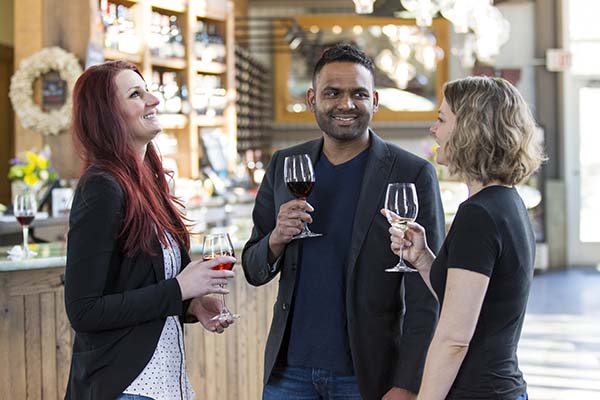 This corner of Michigan is well known for its fresh water, soft sandy beaches, dunes and resort towns. A few miles inland, you are surrounded by verdant vineyards and orchards, craft wineries, breweries and distilleries, and locals who warmly welcome you to join in their fun. Stay for our gorgeous Lake Michigan sunsets. Then, spend the night at one of our comfortable lodgings. You can easily fill tomorrow with more memories made in this paradise located around the Lake.
Travel tips
Make hotel reservations before you arrive.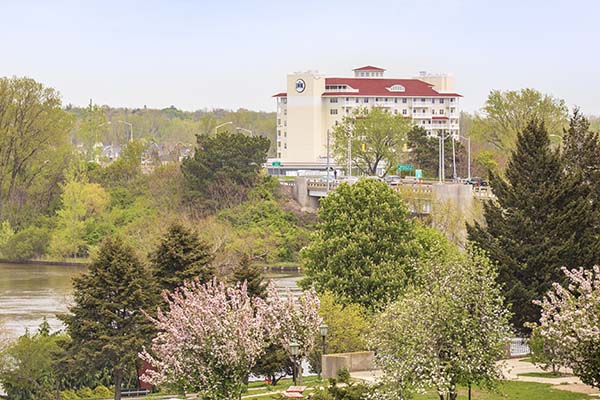 Southwest Michigan has many hotels and resorts with rates that will fit your short- or long-stay travel budget. Many of these lodgings are located close to Lake Michigan in the cities of Benton Harbor, St. Joseph and Stevensville. These hotels fill up quickly during the summer months as well as on festival weekends in autumn, winter and spring. Please use our "Book A Room" service to get the hotel and dates you want.
Four seasons of relaxation, adventure and cultural experiences
Southwest Michigan is a year-round vacation destination. Whether you are seeking a solo retreat, a romantic couples' getaway, a family memory-making vacation or a reunion with friends or extended family, each season offers its own nearby fun.
Summer: This is a very popular season to visit Berrien, Cass and Van Buren Counties. Lake Michigan breezes keep our temperatures warm but rarely blistering hot. Popular activities include beach time; you-name-it water sports on Lake Michigan, inland lakes and rivers; and attending music festivals and art fairs featuring regional and national talent. You can hand-pick juicy fruits and crisp vegetables at family-friendly farms and markets. Get tee times on golf courses that challenge amateurs to international champions. Ride a magnificent carousel (it's open year-round) down by Silver Beach and go on amusement rides at the county fairs. Take a sailing excursion or sunset cruise on Lake Michigan. A definite must-do for your itinerary is a tour of North Pier inner lighthouse where you can climb to the lantern house and see for miles in every direction.
Autumn: As many Chicagoans have known for decades, this is our most colorful and bountiful time of year. Our tree leaves turn crimson, orange and yellow. The region's farms and markets offer apples, blueberries, cranberries, squash, pumpkins, flowers, cider, pies, jams, salsas and many other fruits and vegetables by the handful or bushel. The Makers Trail wineries, breweries and distilleries are open year-round, but this is the season for their lively harvest festivals. You will have fun fishing, boating, surfing and hiking over our dunes and along tree-canopy-high trails. Or explore inside our area's rich history in our museums, see a top-notch show in our theaters, hear internationally renowned speakers or discover a new favorite artist in our galleries. Bring sweaters, a light jacket, winter coat and gloves — our air temperatures can range from warm to crisp and cool — often in the same day.
Winter: We typically get snow from late November until mid-March. Because we are near Lake Michigan, it rarely gets bitterly cold so if you dress to stay warm, you can comfortably play outdoors for hours. Our region has a downhill ski and snowboard resort and several nature centers that offer cross-country skiing and snowshoeing (including lighted night trails). Love Creek Nature Center in Berrien Center grooms three miles of snow trails for fat tire biking (they rent the bicycles, too). We have many places to shop before and after the holidays, festive light displays and parades and ice-carving festivals. Plus, almost every weekend you can make Creative Connections and hear live music, see theater performances and meet artists throughout Southwest Michigan.
Spring: What a beautiful time of year to drive or bicycle through our countryside. Our orchards are scented with fragrant, pastel blossoms. It is also one of the best seasons to find beach glass, crinoids (small fossils), rocks and driftwood along our sandy Lake Michigan shore. Many of our museums and art galleries open new exhibits this time of year. Fishing, kayaking, canoeing, kite flying, bird watching, wildflower hunting and hiking are favorite spring pastimes. We also have one of our biggest and oldest festivals, Blossomtime, in late April and early May.
Bring your children. They will love spending time with you at:
How to get here: Southwest Michigan is easily accessible by car from I-94 and I-196. We also have daily Amtrak train service from Chicago with stops in St. Joseph as well as New Buffalo, Bangor, Dowagiac, and Niles.
Trip planning assistance: Stop by and talk with our staff at our Travel Information Center, 2300 Pipestone Rd., Benton Harbor (I-94 exit 29) for more ideas. Look through our itineraries. Or, for more information, contact us.