Yes, you can go inside the lighthouse! St. Joseph's North Pier lighthouses have been beacons of safety for boats and ships entering and leaving the St. Joseph Harbor for more than a century. They have been photographed millions of times, have starred in artists' paintings and have been featured on a U.S. postage stamp.
But it wasn't until a $2 million renovation was completed in 2016 that you could go inside the inner lighthouse, climb to the lantern house and look out for miles across Lake Michigan and the cities of St. Joseph and Benton Harbor. Starting Mother's Day there will be more opportunities to do just that!
This year's special dates and times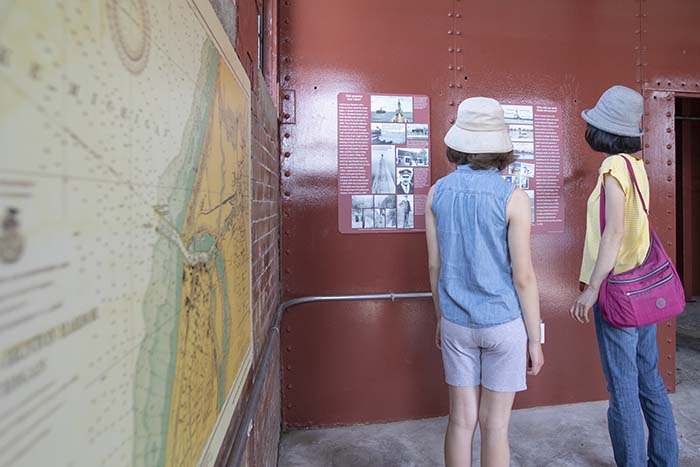 In addition to the regular tour days and hours listed below, The Heritage Museum and Cultural Center has expanded the number of dates you can bring family and friends to see the lighthouse. You can access the lighthouse from Tiscornia Beach, 80 Ridgeway Street, St. Joseph. The beach is located on the north side of the St. Joseph River.
May 12: Mother's Day. Treat your mom to a lighthouse tour and climb to the lantern house! 10 a.m. to 2 p.m.
June 21: Summer Solstice. Celebrate the longest day with friends and family at the lighthouse. 7 p.m. to sunset
July 13 and 14: Krasl Art Fair. Now in its 58th year, this art fair along the bluff in downtown St. Joseph is considered one of the best in the country. After seeing the talents of more than 200 artists from around the U.S., enjoy a perfect ending to your day with a tour of the inner lighthouse. 7 p.m. to sunset. (Regular tour hours are also offered both days.)
August 2, 9, 16, 23 and 30: Early Morning Coffee and Climb! Staff from our local Biggby Coffee will meet us every Friday morning in August at North Pier to serve steaming cups of joe. As you sip your brew, tour the inner lighthouse and take the optional climb to the top to see the sun greet the day. 6 a.m. to 8 a.m. (We also will offer regular Friday hours and tours.)
Sept. 1: Tri-State Regatta. Come to one of the best places to watch nearly 100 boats set sail from St. Joseph's Harbor for Michigan City, Ind., in the second leg of this 70+-year-old Lake Michigan race. 8 a.m. to 10 a.m. (These hours are in addition to regular Sunday hours.)
TBD: Special music and story nights at the lighthouse. Periodically check St. Joe Lighthouse Tours social media for dates.
Regular public tours run May 24 through Sept. 8 (weather permitting)
Wednesdays: 7 p.m. to sunset
Fridays and Saturdays: 10 a.m. to 2 p.m.
Sundays: 12 p.m. to 4 p.m.
When the weather or lake conditions become hazardous, scheduled tours and open hours may be canceled for safety reasons. Signage at Tiscornia Beach will display the status of the current day's Lighthouse Tours. Cancellation decisions typically occur at the last minute, so thank you for your understanding.
Take a FREE or history-packed guided tour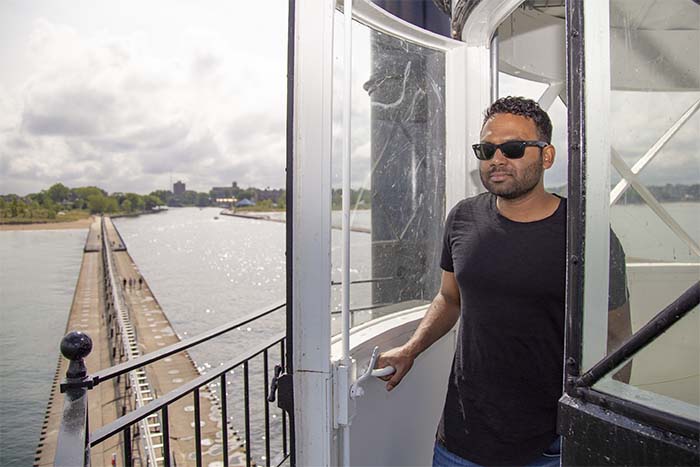 There are three ways to tour the lighthouse during open hours:
View the inner lighthouse's first floor exhibits and learn about St. Joseph's and Benton Harbor's rich maritime history. FREE.
Climb to the lantern house for a spectacular, seagull-eye's view of Lake Michigan and the cities of St. Joseph and Benton Harbor. Tickets are sold on-site only: $5/person, first come, first served. We accept cash or major credit cards.
Take a history-packed, hour-long guided tour starting at 10 a.m., Fridays and Saturdays. Meet at the beginning of the North Pier on Tiscornia Beach. As you walk on the pier, your guide will give a fascinating overview of our 180 years of lighthouse history.
Your tour will culminate at the Inner Light & Fog Signal Building where you can walk around the outside of the pier's two lighthouses or go inside the inner lighthouse to see the historical displays and ask your guide questions. You then have the option to climb the spiral staircase and vertical ladder to the lantern house to experience one of the most thrilling vistas in Southwest Michigan. Visitors must be 48 inches to climb the ladder up to the lantern house.
If you wish to take a guided tour, reserve your spot by emailing your preferred tour date, your name and the number of adults and children joining you to This email address is being protected from spambots. You need JavaScript enabled to view it.. Or call The Heritage at 269-983-1191. Payment by cash, credit card or check may be made the day of the tour. $10/adult or $5/child under 18 years.

Tour tips from a lighthouse guide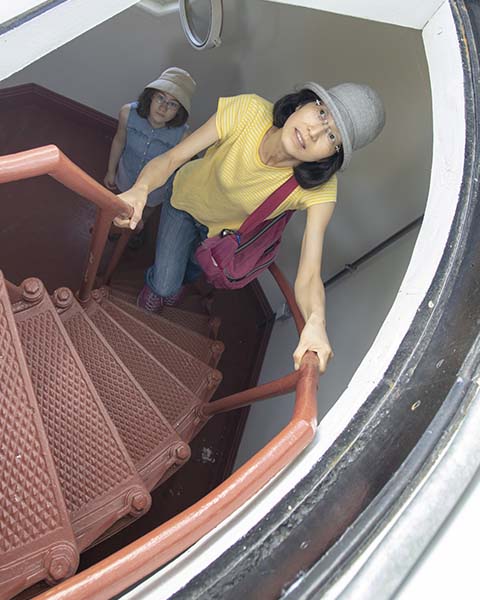 Whether you choose a self-guided or guided tour there are a few things that will make your visit more enjoyable. We talked with Kate Ulrey, community engagement coordinator and lighthouse tour guide from the Heritage Museum and Cultural Center to share her tips with you.
What to wear and bring. We strongly recommend comfortable closed-toe walking shoes. No flip-flops or thong-type sandals will be allowed on the ladder. Please dress for the weather. Tours may be held in the rain. Remember, too, that it can be several degrees cooler at the end of the pier than on the beach. We recommend wearing sunscreen and sunglasses, but not wearing skirts and dresses. Remember your phone/camera, too.
Ladder height and age requirements. To climb the vertical ladder to the lantern house you must be 48 inches tall. If your child is under 18 years and meets the height requirement, you will be responsible for deciding whether your young person is able and comfortable climbing up and down the ladder alone.
Please sign our liability waiver. All adult participants or the parent/guardian of children taking a tour must sign a general liability waiver prior to the tour. The North Pier has many uneven walking conditions and is subject to hazardous weather conditions and waves. The tall ladder and spiral stairs can also present liability issues.
Parking at Tiscornia Beach. The city's daily parking fee at the beach is not included in the tour price. Please pay your fee at the self-serve machine in the parking lot. Non-resident daily and annual parking pass options are available.
Your safety comes first! When the weather or lake conditions become hazardous, we may cancel scheduled tours and open hours for your safety. Check signage at Tiscornia Beach to see the status of the current day's tours. Please understand that cancellation decisions are often made last minute.