The last few weeks of winter can spike kids' boredom meter. Southwest Michigan easily swings the needle back to "Wow, this is so much fun!" during those "There's nothing to do" or too much screen time days. Here are boredom-busting ideas for the toddlers to teens in your life.
Go sledding!
Where there are a park hill and snow, there's sledding and most are free this time of year. Four favorite destinations are:
Entertainment for toddlers to teens
Feb. 19: Open Mic Night at the Box Factory for the Arts, 1101 Broad Street, St. Joseph. Sign-ups begin at 6:30 p.m. sharp with Aiden Schnell starting off the performances. Time slots will be ten minutes each with family-friendly music, comedy, spoken word … you name it! Admission is FREE for performers and just $5 for audience members (kids 12 and under $1).
Feb. 21: St. Jude's Radiothon at the Silver Beach Carousel, 333 Broad Street, St. Joseph. This Family Fun Night runs from 4 to 8:30 p.m. A $10 donation to St. Jude's gets one free ride on this magnificent Carousel (one chariot is also wheelchair accessible).
Feb. 22: Joe Robinson performs at 7 p.m. in the season finale of the Hanson Theatre Living Room Series at The Mendel Center, Lake Michigan College, 1100 Yore Road, Benton Harbor. The 27-year-old Australian injects a fusion of rock, blues, R&B, and jazz into a fresh sound that is entirely his own. Displaying his virtuosity on electric and acoustic guitar, Robinson was voted "Best New Talent" in the Guitar Player Readers' Poll and landed a coveted spot as one of Australian Guitar Magazine's Top 50 Best Guitarists. Admission: $15
Feb. 24: Peg + Cat Live! performs at 1 p.m. at The Mendel Center Mainstage Theater, Lake Michigan College, 1100 Yore Road, Benton Harbor. Based on the Emmy-winner PBS Kids show, this totally awesome musical features wild comedy, countless favorite songs and Peg's super cool pal, Ramone. Great for kids 3 to 6 and their families. Admission: $20-$32
Feb. 28-April 7: Build Your Way Around Town LEGO Event kicks off with two popular events with many more through the first week of April. Plan to come for the:
Feb. 28 Builders' Bash at the Silver Beach Carousel from 4 to 8:30 pm. See more than 100 LEGO brick creations built by kids 4 to 18 years displayed in the Carousel House at 333 Broad Street, St. Joseph. Ride the Carousel for only $1 plus enter free hourly drawings. Can't come tonight? The display continues through April 7.
March 1-3: LEGO Big City Build in the Shadowland Ballroom, across from the Carousel at 333 Broad Street, St. Joseph. This features the inspiring skills of professional builder Jason Spears and the Western Michigan LEGO Train Club. See the incredible masterpiece and talk with the builders Friday and Saturday, 11 a.m. to 7 p.m., and Sunday, noon to 5 p.m. Admission and parking are free.
March 2: 2019 Latino Folk Stories on Stage will be held at 1:30 p.m. at the Bridgman High School Auditorium, 9964 Gast Rd. Palabras Luminosas will be performed vaudeville-style with visual comedy, black light, a blend of medieval pageantry and indigenous masking. Fun for all ages. Admission: FREE with tickets available at the Bridgman Public Library and Bridgman Public Schools.
March 2: New! March Mannequins will appear in downtown St. Joseph storefronts from 7-8:30 p.m. The entire family will have fun watching dozens of community volunteers pose perfectly still hoping you will vote them the best "Awkward Family Photo" display of the evening.
Learn about these family-fun events plus more here.
Add some swoosh to the week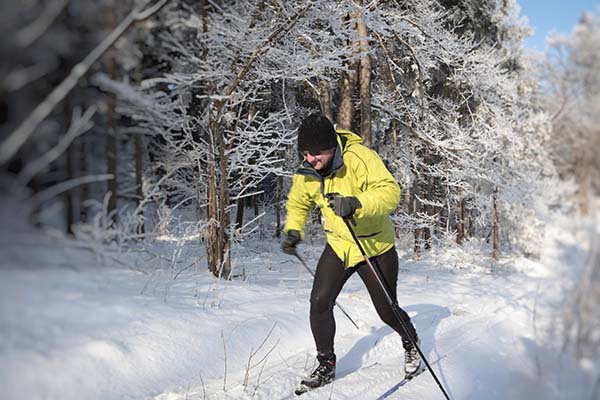 Ask kids what swoosh means and they'll likely point to a Nike logo. But you can give a whole new meaning to the word when you take your family (or friends) cross-country skiing at Fernwood Botanical Garden and Nature Preserve in Niles. It's hard to imagine a more beautiful place to enjoy winter in Southwest Michigan.
Located at 13988 Range Line Road, Fernwood offers snowshoeing throughout its 105 acres in the arboretum, prairie and preserve. Cross-country skiing can be enjoyed on ungroomed trails in the upper property featuring the arboretum and prairie. Look for winter birds along the way such as the 12 wild turkeys that call the preserve home. Fernwood also offers family activity backpacks, including one aimed at preschoolers. Just ask when you arrive. Pack your skis, no rentals are available.
When you're done enjoying the outdoors, head for the café to warm up with soup, sandwiches, hot chocolate and more. Then visit the new, modern Sims Education Center with its great bird viewing wall of windows and hands-on nature activities.
Fernwood is open Tuesday through Saturday 10 am to 6 pm and Sunday noon to 6 pm. Admission is $10 for adults, $7 for seniors 65 and older, $7 for students, $5 for military and $5 for children ages 5 through 17. Children under 5 and Fernwood members are admitted free.
Take the snow train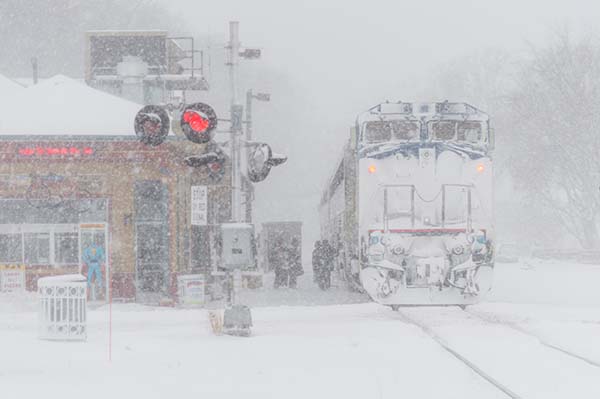 Want to play in Southwest Michigan but don't want to drive your vehicle? This winter, sit back and enjoy the ride on an Amtrak passenger train. The Pere Marquette line has bookend stations in Grand Rapids, Mich. and Chicago and stops in St. Joseph daily. It's a great way to treat your kids to magical scenery plus a chance to play "I spy," read stories or enjoy undistracted time together.
The Pere Marquette leaves Grand Rapids daily at 6 a.m. and arrives at the St. Joseph depot by 8:09 a.m. The train stops again in St. Joseph at 9:14 p.m. and arrives back in Grand Rapids at 11:45 p.m. with earlier stops in Bangor and Holland.
The train departs daily from Chicago's Union Station at 6:30 p.m. (CT) and arrives in St. Joseph at 9:30 p.m. (ET). It leaves the next day from St. Joseph at 8:09 a.m. and pulls into Union Station by 9:08 a.m. (CT).
The St. Joseph depot is within walking distance to great family spots including restaurants, toy shops and boutiques, Silver Beach Carousel, Curious Kids' Museum and Discovery Zone, the library, Krasl Art Center and more. Several beaches are also nearby which are fun for winter and early spring walks to see the magical ice formations along the shore and on the piers, catwalk and lighthouses. Plan to book a room at one of the downtown hotels or take a complimentary shuttle from the Inn at Harbor Shores.
There are also Amtrak stops in Niles and New Buffalo on the Wolverine Service that runs between Detroit and Chicago and the Blue Water line that travels from Port Huron to Chicago. Download the Michigan Amtrak schedule here.