When you walk through the red door of The Christmas Tree Shop your heart instantly fills with wonder and joy. Every inch of this wonderland at 2675 Mizpah Park Road, Benton Harbor (just north of St. Joseph, off M-63) captures the spirit of the season. Since 1989, co-owners (and sisters) Madeline Kimball and Kathy Park have been spreading their holiday cheer to homes and businesses across the country with their custom gift baskets.
Baskets for all tastes and budgets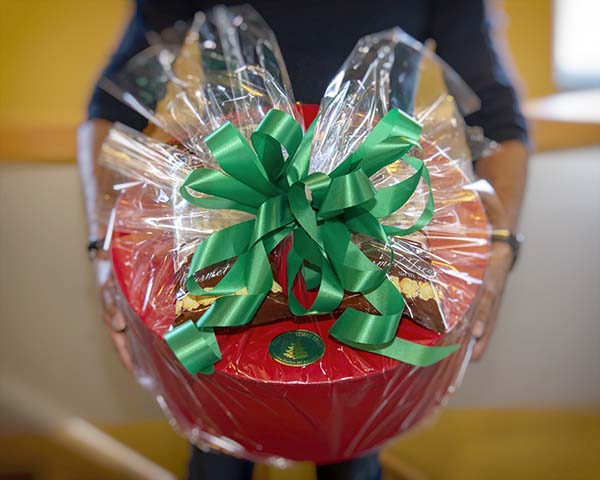 Face it, ready-made gift baskets may be quick presents but too often they contain several things you really didn't want to give (especially all the packing). At The Christmas Tree, you can personalize each basket's contents, choose how much you want to spend and how many people will enjoy the contents. You have lots of choices, too, from toys, games, children's books and baby gifts; holiday music CDs; lotions and soaps; ornaments and festive home decor; plus a room filled with edible goodies (many made in Michigan). Madeline and Kathy will find specialty items for you as well. One landscape company requested "fresh cut grass"-scented candles to add to their customers' baskets!
Sneaky elves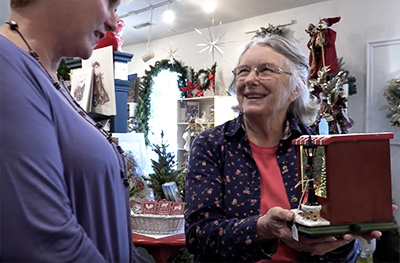 Customers often come to the store with people they hope will point out things they like. But how can they buy these "favorite things" without coming back later? The "elves" at The Christmas Tree are happy to cleverly distract the recipient, secretively ring up the items, wrap them (it's free) and even hide the gifts in the customer's car. It's all part of the magic.
Decorating trends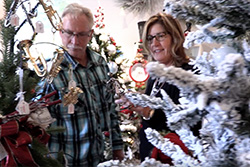 Kathy and Madeline say grey, silver and red are "hot" colors this year. But people still love traditional red and green. They can help you personalize your tree with ornaments, ribbons and bows (they have lots of colors and patterns to choose from). You can learn how to add twigs, berries or family heirlooms to your trees, swags and wreath. They can even show you the best place to hide the German pickle ornament in the branches!
And do come back during their:
Merry After-Christmas Sale | Dec. 27-29 | Thurs & Fri, 10 am-6 pm; Sat, 10 am-4 pm
Handmade Gifts Are Treasures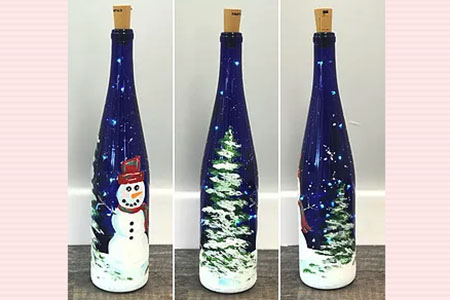 It's always extra special to receive a gift that you hand made. Here are some places in Southwest Michigan that you can make-and-take unique presents:
Dec. 14 | Winter Wine Bottle Painting | 6-8 pm | Lazy Ballerina Winery | Bridgman | $43
Dec. 20 | Knit Night | 4-7 pm | Sandpiper | Bridgman
Dec. 29 | Cookies & Creations (winter scene on canvas) | 2-4 pm | Fernwood Botanical Garden and Nature Preserve | Niles | $25 ($20 members)
Book a Private Class | Kiln Formed Glass | Water Street Glassworks | Benton Harbor
Give Gifts of Time Together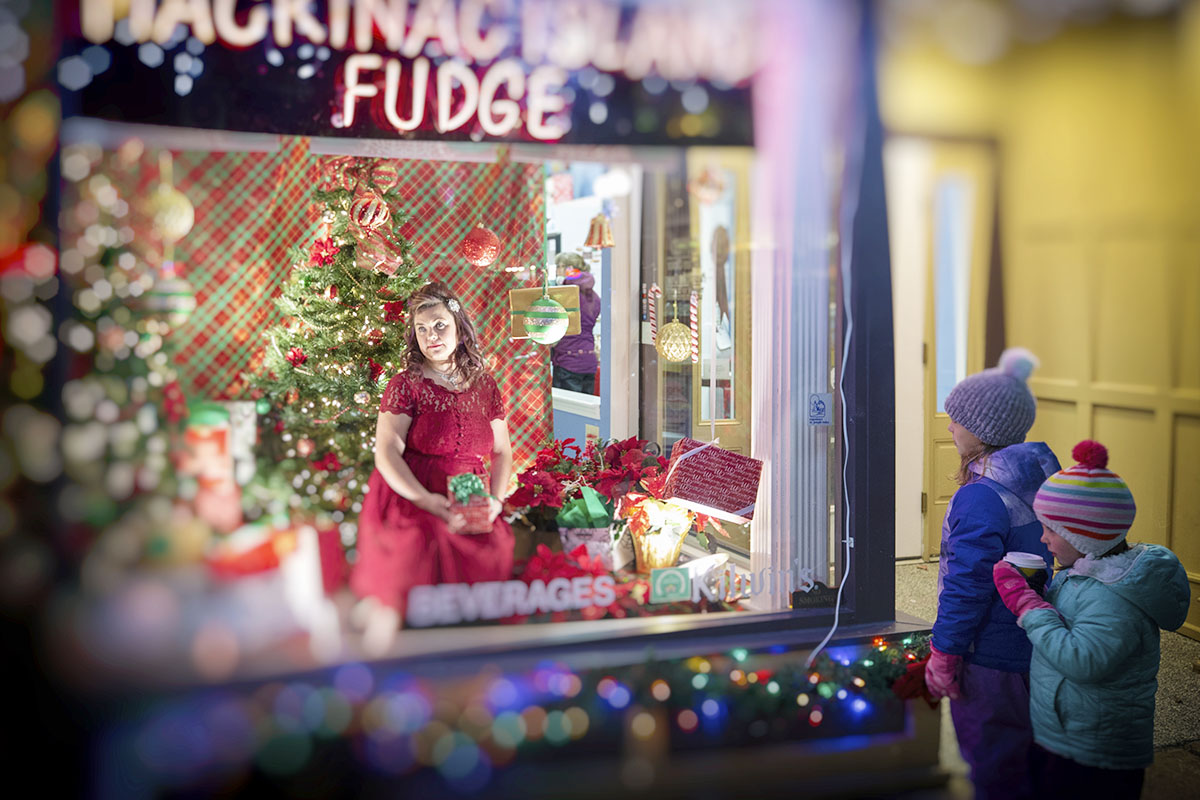 One of the most memorable gifts you can give your family and friends is time with each other. This year wrap up ways you plan to get together for a few hours or days with:
Gift Certificates to Southwest Michigan:
Hotels, Resorts, B&Bs and Cottages
Wineries, Breweries & Distilleries
Restaurants or Ice Cream Shops
Performances & Concerts at theaters, Howard Performing Arts Center & The Mendel Center
Silver Beach Carousel & Children's Museums
And if you want to add something that says "Southwest Michigan" to your gift, you'll find fun ideas in our online store.