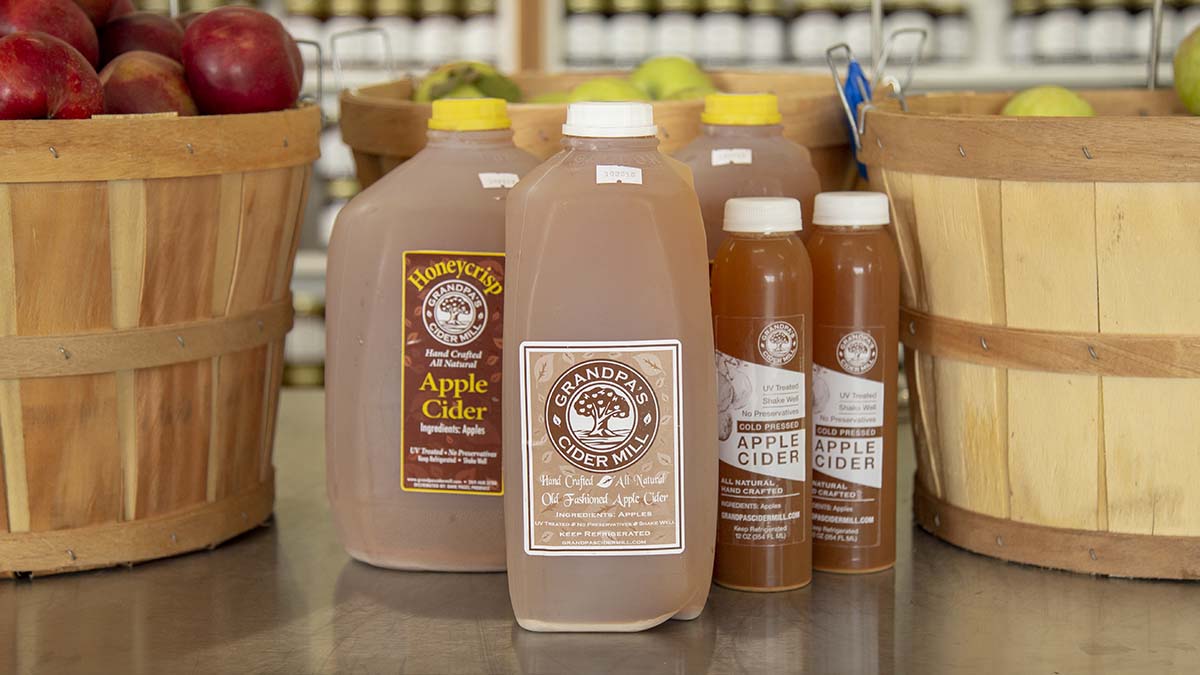 In Southwest Michigan, one of the rewards of apple season is fresh-pressed cider. Almost all the markets and pick-your-own farms have coolers filled with half-gallon and gallon jugs of their apple blends.
We talked with one of the premier Southwest Michigan cider makers, Sarah Jollay of Jollay Orchards, to learn more about this drink that has quenched American's thirst since the English colonists first grew apple trees in the New World.
What distinguishes apple cider from apple juice?
They both have the same ingredients, apples. Cider, however, is cloudy, brown and richer in flavor. The reason it is brown is that an enzymatic reaction occurs when oxygen comes in contact with the apples' white flesh. It's the same reason why when you bite into an apple and leave it out in the air, the flesh turns brown as well. Apple cider is raw, unfiltered juice. The floating apple particles and sediment make it cloudy.
Apple juice is clearer because it is filtered over and over until there are no particles, pulp or sediment. What remains is water, sugar and the essence of apple flavor.
What is hard cider?
Hard cider is cider that is allowed to ferment and produce its own alcohol content. We recommend that you look for locally produced hard ciders in Southwest Michigan. They are minimally processed and stay true to their heritage. You'll want to try some of the innovative flavors.
How long has Jollay Orchards been producing cider?
Our history pre-dates the Civil War! We have made cider since 1857. But in 2003, we got into the cider business in earnest when health and safety regulations changed. That year we invested in the equipment we needed to meet those regulations. Now we produce cider for not only our farm but also several other apple orchards in the area. We use their apples and follow their recipes. Some add pears or heritage apples to their blends to give each cider its unique flavor.
How is your cider-making process different from big commercial cider makers?
In big, commercial factories they tend to use the apple scraps from other food processing done at the plant. Their machines aggressively crush the apples. They also destroy harmful bacteria by cooking their ciders to pasteurize them. Both the crushing and heating affect the cider's flavor.
At Jollay's, we approach cider making as a craft. We straddle the bridge between how cider was made 200 years ago and the modern, non-thermal, UV light exposure we use to kill any harmful bacteria. Just as in the earliest days of cider making, we use the whole apple. It is a good way to process the uglier fruit that we can't sell as easily in our market.
We make our cider in smaller batches, blending different varieties of apples. At the beginning of the season, we often blend Gala, Golden Delicious and Macintosh apples to get the balance of sweetness we want. At any given time, we will use three to five varieties to bring out the fullness of flavor that sets our recipe apart.
Your Grandpa's Cider Mill offers different flavors of cider. Which ones are family favorites?
We implemented the cider bar to have fun with the kids. It makes them feel grown up to try some of the 15 flavors. At no charge, you can try three different flavors. There is always a lot of joking around. Should you try watermelon? Cherry? Rum-flavored? Caramel apple? My kids' favorite is peanut butter cider.
What are some cider trends?
The cider bar concept is catching on. A fun Halloween party idea is to buy six or seven half-gallon jugs in different flavors so guests can try them. We are also seeing people serving cocktails made with our ciders at their wedding showers and receptions.
What are good food pairings with cider?
Our sweet Honey Crisp cider and hardier, signature cider go well with most fall menus. It especially goes well with rosemary chicken or pork roast with chutney. Cider makes great popsicles. Or freeze the cider in ice trays, throw the cubes in the blender and make slushies. Chicago chefs reduce our ciders to make their marinades. You can try that, too.
Any cider tasting or buying tips?
Go with an open mind when trying cold or hard ciders. Buy ciders from different growers in Southwest Michigan to find your favorite. You can't go wrong.
Warm a mug of cider and add a cinnamon stick. It tastes great on a crisp fall day.
Buy quantities of cider now and freeze the jugs. Then thaw in your refrigerator so you can enjoy drinking cider this winter or next spring or summer.
Drink fresh apple cider instead of orange juice in the fall.
Is there a fun fact that you'd like to share?
It takes 14 lbs. of apples to make one gallon of cider.
Sarah Jollay partners with her husband Jay to own and operate Jollay Orchards in Coloma, Mich. Click here to learn more about Jollay Orchards and Grandpa's Cider Mill.