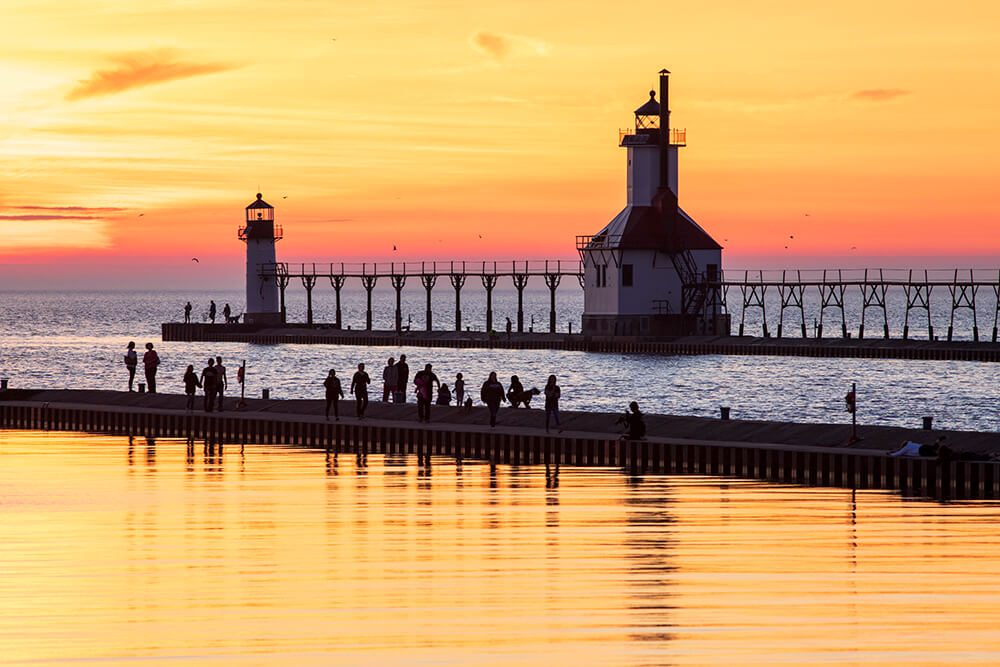 Some places simply make you happy. St. Joseph, Michigan, is one of them. Located along the sunset coast of southern Lake Michigan, it is a Midwest paradise.

Why is it so alluring?
Near the water
When you are in St. Joseph, you are only a skipping stone away from playing for hours on the soft, sandy public beaches. Watching boats and freighters ply the waters of the St. Joseph River. Reeling in fish off its piers. Paddling scenic sun-dappled waters. Or being mesmerized by gorgeous sunsets in every season. St. Joseph cherishes its closeness to the lake and river. You will, too.
Close to the fun
You're never far from good times in St. Joseph. Its Victorian-era downtown is filled with quaint shops, art galleries and a heritage museum. There are delicious foods and craft wineries and breweries to try. A magnificent carousel to ride, an amazing fountain to splash in and hands-on children's museums to discover. There are classic car shows, music performances, plays, an art fair and festivals – all with Lake Michigan as your backdrop. The fun goes on and on.
Before staying in New Buffalo
Vistas of Lake Michigan are not as easily enjoyed in Harbor Country's New Buffalo located to the south of St. Joseph. New Buffalo rightfully boasts having the most boat slips (1,000+) along Lake Michigan's sunset coast. Yet its cityscape of moorings and condominiums keeps the view of the Big Lake at a distance. You will not be able to walk to many of the shops, galleries, wineries, breweries and theaters that claim Harbor Country as their home. You'll have to travel to reach them.
Before going to South Haven
Like St. Joseph, downtown South Haven offers waterfront views, public beaches and a historic lighthouse – but most of its motels hug the interstate highway. Its festivals and celebrations are relegated to Stanley Johnson Park which is blocks inland from the river and lake. And its shops, favorite ice cream stops and restaurants are often a car ride away from the nearest beaches.
Be happy year-round.
Fragrant Spring
This is our sweetly scented time of year.
Celebrate one the biggest (and Michigan's oldest) multi-community festivals, Blossomtime.
Cycle or drive past blossom-filled trees in nearby orchards.
Find beach glass, crinoids and driftwood along Lake Michigan's shore.
Explore museums and art galleries (many open new exhibits this time of year).
Paddle on the Big Lake, winding rivers and inland waters.
Fly kites on breezy beaches.
Seek birds, wildflowers and morels.
Hike nature trails and nearby dunes.
Carefree Summer
This is the most popular season to visit St. Joseph. Lake Michigan helps to keep temperatures warm, but rarely blistering hot.
Play at the beach from sunrise to starlight.
Enjoy a plethora of water sports.
Attend music, beer, wine and art festivals.
Tour the century-old North Pier Lighthouse.
Taste the goodness from farmers' markets and nearby farms.
Play on beginner- to championship-level golf courses.
Take a spin on the midway at county fairs.
Bountiful Autumn
Fall is St. Joseph's most colorful time.
Gather up apples, blueberries, squash, pumpkins, grapes, flowers, cider, fresh donuts and much more.
Drink the liquid artistry of craft wineries, breweries and distilleries that are open year-round..
Revel at harvest festivals (there's even grape stomping!).
Fish, boat and hike.
Magical Winter
St. Joseph gets snow from late November until mid-March. Because the city is near Lake Michigan, it rarely gets bitterly cold here.
Shop locally in unique boutiques and brand-name stores.
See magnificent ice formations along St. Joseph's coast.
Watch a comical "ReinDog" parade.
Marvel at the Live Mannequins!
Celebrate mid-winter with ice carving, Waikiki and beer festivals.
Watch amazing music and theater performances.
Ice skate, ski, snow bike, tube and sled.
St. Joseph is easy to reach
You can arrive here by:
Automobile on interstate highways that intersect Chicago, Illinois, Indianapolis, Indiana, and Grand Rapids or Detroit, Michigan.
Train using Amtrak.
Air travel using a private or charter plane to Southwest Michigan Regional Airport in Benton Harbor or a commercial flight to nearby airports:
South Bend International Airport (SBN/KSBN), South Bend, IN (35 miles)
Battle Creek/Kalamazoo International Airport (AZO/KAZO), Kalamazoo, MI (51 miles)
Gerald R. Ford International Airport (GRR/KGRR), Grand Rapids, MI (87 miles)
Midway International Airport (MDW/KMDW), Chicago, IL (96 miles)
O'Hare International Airport (ORD/KORD), Chicago, IL (121 miles)
All airports offer car rental, shuttle or limousine service to bring you to and from your destination in Southwest Michigan.
Boat via Lake Michigan. You can moor in the public slips at the St. Joseph West Basin Marina. Among the marina's many amenities is a free shuttle service to downtown St. Joseph during operating hours and free bicycles.
Stay in paradise
While here, you can stay in a variety of lodgings or campgrounds, and local hotels and motels. All offer amenities and rates that fit almost any budget. Several places to stay include views of Lake Michigan and the river.
Come often. Stay long. And if you have questions or need assistance in making your time in and around St. Joseph even happier, please contact us.