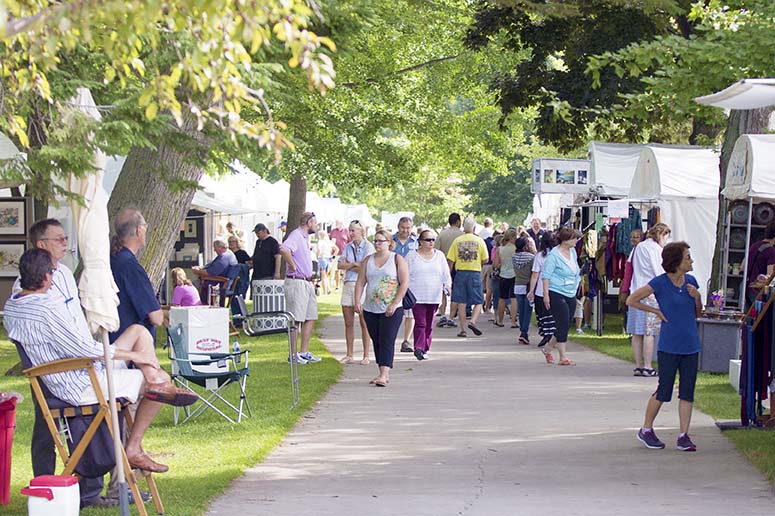 In July, summer festival fun comes on fast and furious in and around St. Joseph. This is an easy month to pile on happy memories whether with family, friends or solo. The best way to ensure you won't miss out on any of the good times is to make plans now to stay over in one of our lodgings along Lake Michigan. Below are a few must-do suggestions; you'll find more here. Hope we'll see you often this summer:
July 14-15
57th Annual Krasl Art Fair on the Bluff
Lake Bluff Park, St. Joseph; Sat.: 10 am-6 pm; Sun.: 10 am-5 pm; FREE admission
This juried show is considered one of the best outdoor art fairs in the country. 200 artists line the bluff overlooking Lake Michigan. It's a great place to find artwork for your home or office and one-of-a-kind gifts. You'll also enjoy food trucks, a beer garden, an ice cream social and if you can come on Friday, a Krasl Block Party from 5-10 pm ($5 suggested donation).
July 14
First Ever Americana Music Fest 2018
Acorn Theater, Three Oaks; VIP Meet & Greet: 5 pm, $50; General Show: 6:30 pm, $30
Celebrate great music by four national and local bands including headliner Chicago Farmer, plus Americana rocker, Ryan Joseph Anderson, The Blisters (featuring Spencer Tweedy on the drums) and the soulful duo, Monte Pride & Vanessa Gerber. The VIP Meet & Greet before the show includes a drink, an awesome screen print poster and show tickets.
July 19-21
Summer in the City
Dowagiac; Thurs.: 2-9 pm; Fri.: 9 am-10:30 pm; Sat.: 9 am-9 pm; Sun.: 2 pm; FREE admission
Enjoy more than 50 hours of family entertainment including a two-hour concert at 7 pm Thursday featuring American Idol contender Jared Knox and The Hager Bombs; a children's carnival Thursday through Saturday; zip line and climbing wall on Friday and Saturday; Taste of Dowagiac on Saturday; and much, much more.
July 28
14th Annual Art, Wine and Music Festival
Domaine Berrien Cellars, Berrien Springs; 11 am-7 pm; FREE admission; $10 tastings
This rain-or-shine event will feature the work of 25 artists and performances throughout the day by three bands (The Backsliders, The Chippewa Project and The Oblates of Blues). You can also taste the artistry of Domaine's winemaker plus the fresh creations of Classic Catering's woodfired pizzas and Zeno's Italian ice. All ages, plus dogs on leashes, are welcome.
Boot-stompin' country fun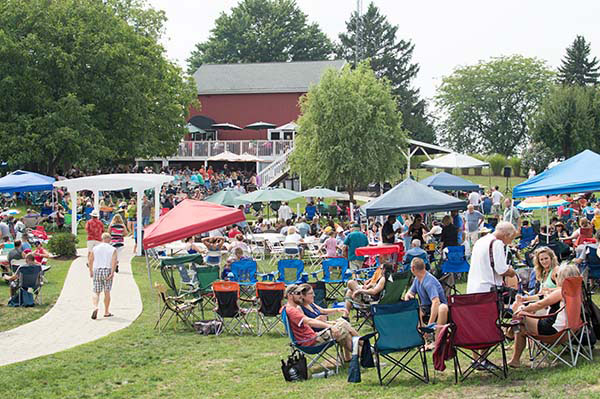 Barodeo is back! For an entire weekend, Round Barn Winery, Distillery & Brewery in Baroda is turning up the honky tonk and corralling four boot-stompin' country bands guaranteed to keep you dancing! Bring your lawn chair or blanket and craft a picnic from Round Barn's selection of wines, brews, spirits and non-alcoholic drinks plus your favorite foods from the Grille. Admission is $5 per person. Kids are welcome and if your dog likes country music, leash it up and bring it along, too (please make sure your pet's shots are up to date). Gates open at 11 am both days. All hours are Eastern Daylight Time. You'll hear:
July 14
1:00-3:30 pm: HIGH NOON
This regional favorite will be getting on all kinds of country music from old-time standards to today's chart-toppers to some foot-stomping, hand-clapping originals.
4:00-6:30 pm: SOUTH CITY REVIVAL
Grounding their rootsy rock 'n roll and alt-country in bluesy licks and weepy pedal steel guitar, this Chicago quintet will get every country bone in your body jumping.
July 15
1:00-3:00 pm: ETHAN BELL BAND
In the style of Zac Brown Band and Florida Georgia Line, Chicago's Ethan Bell Band will be showcasing their creative cover mashups and original songs that blur the line between country, pop and hip-hop. Keep your fingers crossed that they'll preview their forthcoming EP!
3:30-5:30 pm: COWBOY JUKEBOX
Blowing in from the Windy City, these five country-at-heart musicians will saddle up for a rowdy, boot-scootin', hootenanny! What a way to start the week!
FREE Movies Under the Stars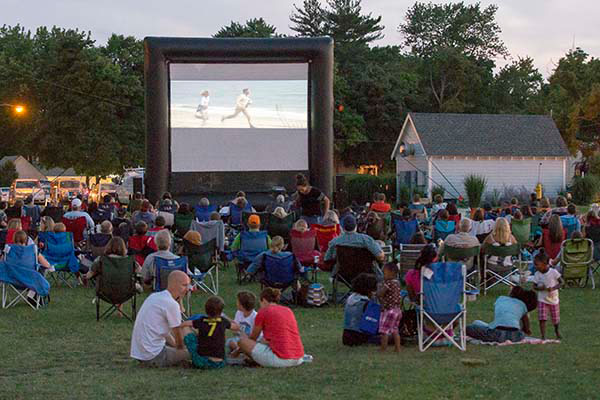 Summer in Southwest Michigan means all things outdoors, even movies! Bring your chairs, snacks and blankets and watch a movie under the stars on the big screen. This summer's movie lineup includes:
July 13- Jumanji: Welcome to the Jungle
Stevensville Village Hall
5768 Saint Joseph Avenue
Stevensville, MI 49127
9 pm
July 14- Back to the Future
Whirlpool Centennial Park
330 Broad St.
St. Joseph, MI 49085
10 pm
July 21- Cars
Whirlpool Centennial Park
330 Broad St.
St. Joseph, MI 49085
10 pm
July 28- Beauty & the Beast (2017)
Whirlpool Centennial Park
330 Broad St.
St. Joseph, MI 49085
10 pm
August 4- Hugo
Whirlpool Centennial Park
330 Broad St.
St. Joseph, MI 49085
10 pm
August 11- Coco
Whirlpool Centennial Park
330 Broad St.
St. Joseph, MI 49085
10 pm
August 18- Wonder
Whirlpool Centennial Park
330 Broad St.
St. Joseph, MI 49085
10 pm
August 24- Coco
Stevensville Village Hall
(Meet in the Village garage)
5768 Saint Joseph Avenue
Stevensville, MI 49127
7:30 pm
August 25- Parent Trap (1961)
Whirlpool Centennial Park
330 Broad St.
St. Joseph, MI 49085
10 pm
Art takes to the street
Aug. 3-5: 22nd Annual Chalk the Block, St. Joseph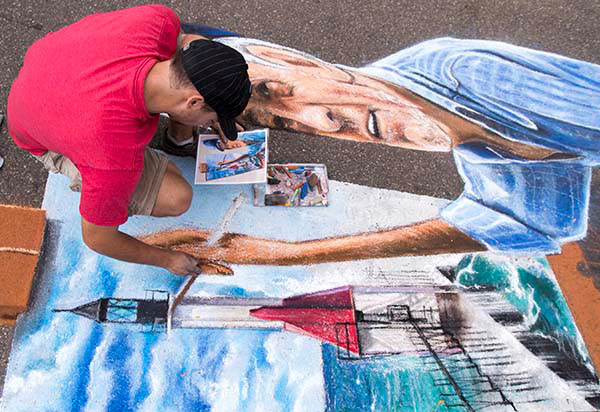 One of our summer highlights is when regional artists take to their knees and create fantastic chalk drawings right before your eyes on Broad St., between State Street and Lake Boulevard in downtown St. Joseph. This free event starts Friday evening and runs all day Saturday and Sunday during the first weekend in August.
"I love working with chalk," said Nate Baranowski, one of the featured artists. "This is your once-in-a-lifetime chance to see the art. It isn't a legacy piece like a painting on canvas, but art for the fleeting moment … or until the rain washes it away. It's fun to watch the artists create their work, talk to them and become part of the experience."
Seeing the chalk creations is just the tip of the entertainment that weekend. You can combine it with climbing to the top of our historic lighthouse, taking a guided walking tour of the city's outdoor sculpture collection, visiting the farmers' market and Antiques on the Bluff, plus attending music concerts on Friday, Saturday AND Sunday! In fact, get your tickets now for Summer Jam 2018 at Shadowland Pavilion on the beach. Of course, you'll also want to fit in time at the beach, shopping, a carousel ride or two, hands-on fun at our children's museums and grabbing a bite to eat at St. Joseph's eclectic selection of eateries. This is one packed-full-of-family-fun weekend!
Everything's just peachy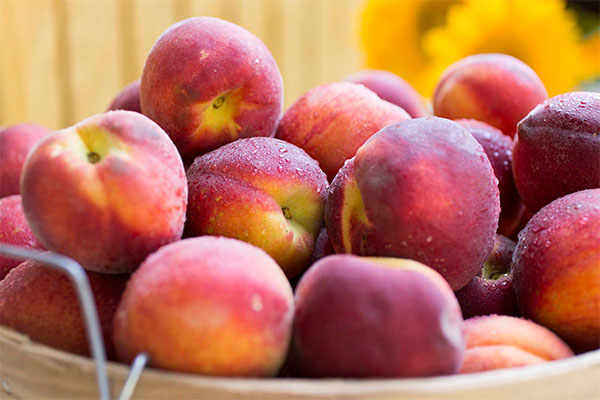 It's one of the sweetest times in summer — peach season in Southwest Michigan! Now 'til mid-September you can pick sun-ripened, juicy peaches right from the tree or buy them fresh-picked from the market. They are ready to eat, bake, freeze and preserve right now. Learn more here about some of our popular peach varieties, when to pick them and how to make a delicious peach puff pastry tart recipe that came from a local farm family's kitchen.