Good times bloom every day, April 29-May 5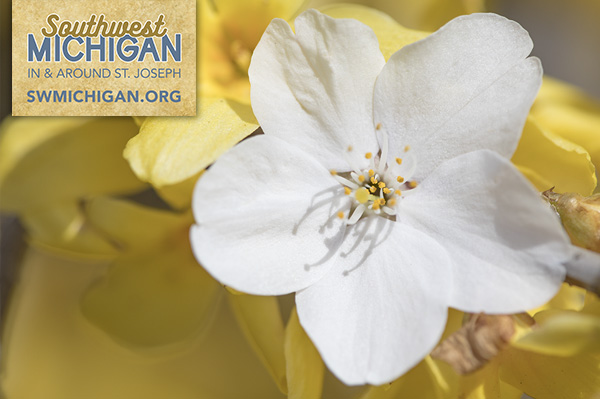 It's blossom time! You've heard destinations brag about their fall color (we do, too). But Southwest Michigan also has boasting rights each spring. Our orchards and tree-lined streets are bursting with pastel blossoms and their fragrances fill the air from late-April to mid-May. Ahhhhh! Make plans now to stay over for a weekend or an entire week of spring fun and relaxation.
Come take a blossom tour. Hop in the car, bring a camera and go on a one-day driving tour. If you want to explore more routes in Berrien, Cass or Van Buren Counties, contact our Welcome Center for directions.
Blossom Tour (1 day). This northern Berrien County route through beautiful orchards and vineyards is the best aromatherapy!
Heritage Winery Tour (1 day). This is a colorful route that takes in the blooms of Van Buren and southern Berrien Counties. Roll down your windows and breathe in the sweetness!
Celebrate spring with a week packed full of wholesome family entertainment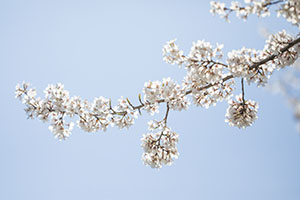 It was this time of year, 112 years ago when Rev. W. J. Cady of the First Congregational Church in Benton Harbor first urged his parishioners to drive through the orchards and view the fruit blossoms. His sermon is credited with the birth of the Blossomtime Festival. Today, it is Michigan's oldest and largest multi-community festival. There is wholesome fun planned for everyone! Please join us:
April 29: Blessing of the Blossoms, 2 p.m., Southwest Michigan Research & Extension Center, Benton Harbor. This non-denominational ceremony begins the festival with choirs, music and readings. A charming tradition is when the 20+ community queens exchange fruit tree blossom bouquets with each other. FREE.
Vintage Baseball Game, 3:30 p.m., Eden Springs Park, Benton Harbor. The House of David Echoes will challenge the Blossomtime Royals in an old-time, barehanded baseball game. FREE.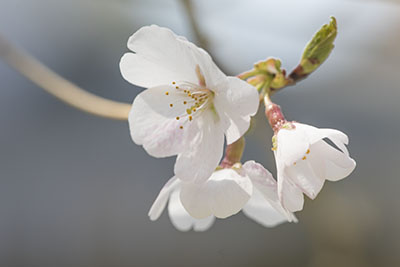 April 30: Shoebox Float Parade, 4:30, Downtown St. Joseph. Children from first through sixth grades build floats made out of shoeboxes and walk them through town. Contact 269-982-8016 for an application. FREE.
Dinner with the Queens, 6 p.m., Grand Upton Hall, The Mendel Center, Benton Harbor. Know someone that is enamored with Disney royalty? There's no need to travel to Florida or California to have dinner with a queen. 20+ of our area's finest young women and men will create a magical evening for all ages with food and Karaoke entertainment. Tickets: $20.
May 1: Keys to the Cities/Mayors Banquet, 6 p.m., Grand Upton Hall, The Mendel Center, Benton Harbor. Dignitaries from the participating communities present their royal representatives with keys to their cities and villages. Tickets: $23.
May 3: Youth Parade, 5 p.m., Dickinson Stadium, St. Joseph High School. Toddlers to middle-schoolers parade their decorated bicycles, wagons and pets around the track. Spectators enjoy seeing the marching bands and drill teams, too. To enter, contact 269-982-8016 for an application. FREE.
May 5: 39th Annual Run for the Buds 5K Walk/Run & 10K Run, 10:15 a.m., Downtown St. Joseph to Benton Harbor. Fees from these chip-timed events benefit the Blossomtime Scholarship Fund.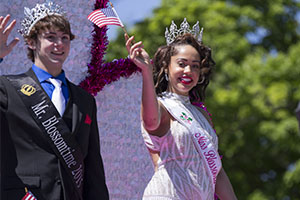 Grand Floral Parade, 1 p.m., Downtown St. Joseph and Benton Harbor. This crown-jewel event brings 200,000 people along the 2.5-mile parade route to watch 125 units. Come see crowd favorites such as Milt the Stilt, high school bands, floral-decorated floats, drill teams, antique cars, horses, comic characters and more. Grandstand viewing ($3) is available.
Please contact the Blossomtime office for more information about these fun happenings or to reserve your dinner tickets. Call 269-982-8016 or email This email address is being protected from spambots. You need JavaScript enabled to view it..