You Fall For Anything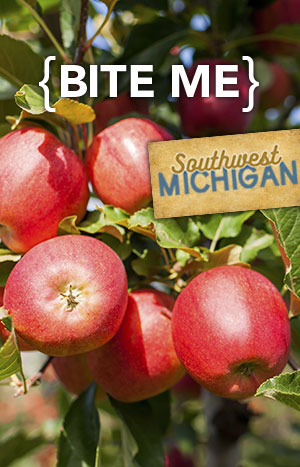 Of course you will. Because when "fall" means spending this gorgeous season in Southwest Michigan, your spirit soars.
It's the warm days and crisp nights. Cycling by our vineyards, breathing in the heady scent of ripening grapes. Following our color tours through crimson and gold dunes and forests.
It's plucking sweet, juicy apples from bending branches or filling farm market bags with jewel-colored, just-picked vegetables and flowers. Paddling through rippling reflections of azure skies and topaz woods on our inland lakes and rivers. Listening to children laugh as they wrap their arms around plump orange pumpkins. The jangle of harnesses as horses pull hay wagons.
This is the season of sharing a glass of wine with your lover in our wineries, lifting a mug of frothy craft beer with friends in our microbreweries or sipping a cup of cold cider in our cafes. It's the time for foot stomping music at harvest festivals. Golfing in the early morning mist. Savoring homemade soups and slices of fresh-baked pies. It's the wooly comfort of hand-knit sweaters discovered in lakeside boutiques. And pausing to watch a ruby-red sun slip beneath our Lake Michigan horizon.
We'll have a room ready for you at our many lodgings because there are so many reasons in autumn to stay longer.