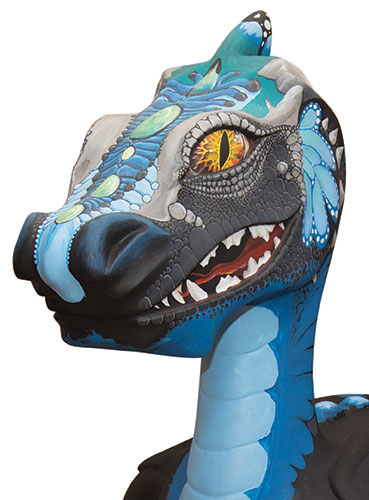 Hear ye! Hear ye! Our 15th annual public art exhibit will turn our Lake Michigan resort town into "The Magical Kingdom of St. Joseph" from May 18 to Sept. 20. The mayor has decreed that young, old and middle ages will have a royal good time seeking 15 enchanting sculptures of dragons, brave knights and a kid-size castle along downtown sidewalks. These original pieces of art painted by area artists will be perfect for taking whimsical selfies and creating make-believe adventures for the entire family.
Two events will bookend the outdoor art exhibit:
May 18: Unveiling from 5:30 to 8 p.m. This kickoff is an opportunity to see the sculptures for the first time and to meet many of the artists. Sponsor, Abonmarche, will provide "Abonmarche Artist Bucks" that visitors can spend at downtown stores that evening.
Sept. 22: Fall Festival, Roots & Brews and a public art auction will run from 9 a.m. to 8 p.m. There will be bed races, a farmers market, petting zoo, pumpkin festivities, live roots bands, local craft beers, wines and ciders, plus an opportunity to bid on and take home your favorite "Magical Kingdom" sculpture.
Between these two fun dates, there will be week after week of summer entertainment featuring Saturday farm markets (starting May 26), Sunday Antiques on the Bluff (opening June 2), Friday Night Concerts (kicking off June 22), Wednesday noon Brown Bag Concerts (beginning June 27) and Saturday family movie nights held under the stars.
Tourists and local residents can also come together for special events held in area parks and at public beaches:
Maps to each of the sculptures, plus a list of activities and nearby hotels can be picked up throughout the summer at the St. Joseph Today Welcome Center, 301 State St., or online at StJosephPublicArt.com. So, come one, come all – and come often.
Guest blogger Susan Solon is the Communications and Marketing Manager for the City of St. Joseph, Mich.