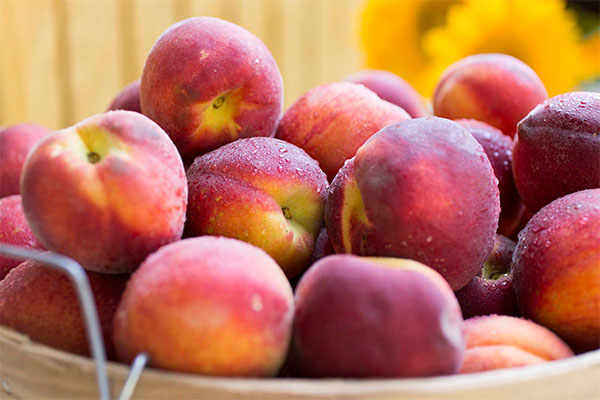 It's one of the sweetest times in summer -- peach season in Southwest Michigan! Now 'til mid-September you can pick sun-ripened, juicy peaches right from the tree. These aren't those hard, must-wait-until-they-ripen fruits they bring to your grocery store from southern states. They are ready to eat, bake, freeze and preserve right now.
When to pick your favorite varieties
At Big Dan's U-Pick 'em and Farm Market we offer several peach-lovers' varieties. Here's a list to help you know when to come pick 'em.
Summer Serenade: end of July-Aug. 4
This is a medium large, globose to ovate, semi-freestone peach that when ripe is 50-70% crimson over a yellow ground color. We love their flavor!
Red Haven: Aug. 8-19
This is a classic peach. It's a freestone, so the pit removes easily. When ripe it is 50-70% scarlet over yellow ground color. It is juicy with a luscious flavor. Great for cooking, baking and canning, too. (It has the acidity you want.) Fun fact: It was created by Dr. Stanley Johnston of Michigan State University and first grown nearby in South Haven, Mich. It is the most popular peach planted in Michigan.
Bellaire: Aug. 8-20
If you prefer peaches that are juicy, but not overly sweet, this freestone peach is for you! When ripe it's a brilliant red over a yellowish-orange ground color. Popular choice for pies and other baked desserts (its acidity counters the added sugar).
Allstar®: Aug. 17-25
These freestone peaches are non-browning and about 80% bright red when ripe. Excellent for canning, freezing and baking – but be sure to save some out for eating. Mmmmm!
Loring: Aug. 23-31
This is a very popular freestone peach on our farm. That's no surprise. It is large to very large, ovate to globose, 40-60% scarlet over yellow ground color. Very good flavor. Perfect for eating. Love to use them in preserves or for canning so we can relive the taste of summer when the snow falls.
Glowingstar®: Sept. 1-7
This freestone is a good-sized peach with nice flavor and firm flesh. You'll know it's ready to pick when it's 90-100% red over a non-browning yellow ground color. Wonderful for eating, canning and baking. Keep it cool and it should last for several weeks.
Autumnstar®: Sept. 7-15
This freestone peach closes out our season. It's a large, globose to slightly ovate peach that's ripe when you see 80% crimson over a yellowish-green ground cover. Firm flesh, but still juicy, it's great for eating, canning and baking.
How to pick a peach
Select peaches which are mostly red or red with a yellowish ground color. Gently grasp the peach and twist while pulling from the branch. Next, carefully lower it into the container (do not drop it) to prevent bruising the fruit. Bruising causes the fruit to spoil faster.
Once that peach comes off the tree the amount of sugar is locked in. So, when you pick it early you are not getting the maximum amount of sugar and, I also believe, you aren't getting peak flavor.
How to store your peaches
Eat, refrigerate, can or freeze your peaches as quickly as you can. Peaches need to "breathe" so store in a paper bag or plastic bag with holes. When a peach gets too ripe or spoils, promptly remove it from the bag before it damages other fruit.
Big Dan and Margo Klug's favorite peach dessert
One of the questions we are frequently asked at the farm and market is "What do I do with the peaches?" We have recipes galore that you can take home. But one of my wife Margo's and my favorites is a Peach (or Apple) Puff Pastry Tart. It is very easy to prepare and it disappears fast! For a copy of the recipe, stop by the farm or click here.