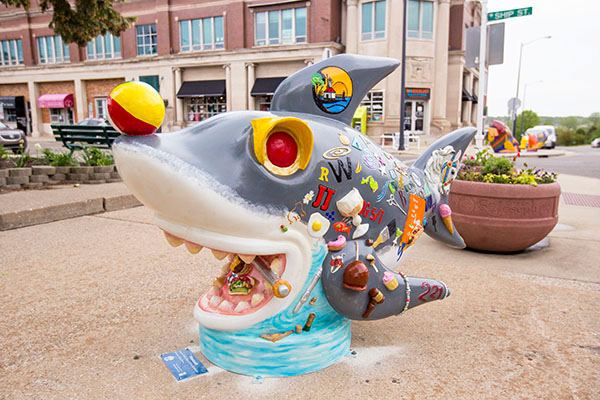 There's something fishy about St. Joseph, Mich., now through Sept. 21. In this Lake Michigan resort town, you can see 19 fish and shark sculptures lining the downtown sidewalks and below the bluff, plus one shark sculpture at the New Buffalo Welcome Center on eastbound I-94. They are part of the Fishing for Fun in St. Joseph public art display.
The unique designs were created by regional artists. Most are made so you can climb on, touch and get up close to take your photograph with each one. That makes hunting for this art extra fun for children and the adults who bring them. Sharknado St. Joseph especially caught my eye with all its colorful, added-on sculpted figures affixed from nose to tail. So, I asked artist, Beth Mandarino, to share its back story. Here's what she said:
What is the process for being selected as an artist?
The City announces the theme in late fall and you submit your idea online by early December. A committee at the City chooses which artists and ideas they will use based on how many sculptures they have for the next year's outdoor exhibit. If your idea is accepted, the City delivers the white fiberglass sculpture to your home or studio in mid-February.
How do you come up with the name or theme for your sculpture?
I brainstorm ideas that will especially appeal to kids and then decide how I will make each idea happen. My theme this year, Sharknado St. Joseph, is a spoof on the Sharknado movies. The premise is we live near Lake Michigan which luckily doesn't have sharks. However, a freak tornado starts over the ocean. It lifts the sharks out of the water and deposits this one in St. Joseph. As the shark came into town it collected everything in its path before it dropped down on State St. Each of the sculpted pieces on this shark represent logos or items from St. Joseph businesses, places and attractions. It's not at all scary and adults and kids will have fun finding where each of the objects came from in town.
What is the process for painting your sculpture?
The fiberglass sculpture comes ready to paint/decorate. I use Magic Sculp (a two-part epoxy putty) to sculpt the items I added to the shark. This is very time-consuming, but the putty melds to the fiberglass surface so it is very difficult to remove once it's in place. I prime it and then use acrylic paints and finally a varnish to seal and weatherproof it. Other materials that artists use include 3M Bondo All-Purpose Fiberglass Resin to add to their artwork.
How long does it take you to finish your art piece?
A long, long time. I start in mid-February and work every chance I get. I have another job and this takes hundreds of hours on top of that. It does take time away from my family and friends for several months, but my grandkids love it and I enjoy doing it every year. I was born and raised in St. Joseph and it's a way for me to give back to the community. I hear all the time from people who come each year just to see the new artwork.
Do you have tips for individuals and families viewing the outdoor public art?
Your first stop should be the St. Joseph Today Welcome Center, 301 State Street. Pick up a map with the sculpture locations.
Be respectful of the art. Most of this year's art you can climb on or climb in, but be careful not to damage the fish or shark.
Interact with the art. You are never too old to stick your head inside Sir Bites-a-Lot's jaws, pretend to drive Car-P, listen to Silvery Sly Shark's music or look for objects on Breakfast at Tiffany's Pond — see if your kids can spot them, too. Every sculpture has something different to see or do.
Enjoy the annual and special events the City holds throughout the summer: music concerts, wine tasting, outdoor family movies, farm markets, Antiques on the Bluff, BBQ Blues and Bluegrass, the Krasl Art Fair and Chalk the Block to name a few. Visit StJoeToday.com for all sorts of ideas.
If people have favorite sculptures, can they purchase them for their homes and businesses?
Yes. The City auctions the artwork every fall. You can bid on your favorite sculpture during an online Silent Auction ending at 11:59 p.m., Sept. 22. The minimum bid is $500. If you email an offer of $1,500 before the Silent Auction closes, it is automatically yours. If no one makes a $1,500 offer, then the City will put the unsold sculptures on the public auction block, Sept. 23, during the St. Joseph Wine Festival & Public Art Auction. Whoever gives the highest bid will get to keep the sculpture.
What amazes me is how bids come in from all over the country. My last year's entry, The Very Hungry Caterpillar, is now on display 1,108 miles away at the James H. LaRue Library in Highlands Ranch, Colo. Someday I hope to go out and see it!
Beth Mandarino is a graphic designer with Holt Bosse in St. Joseph, Mich. She has designed a sculpture every year except for one since the annual public art display began in 2004.