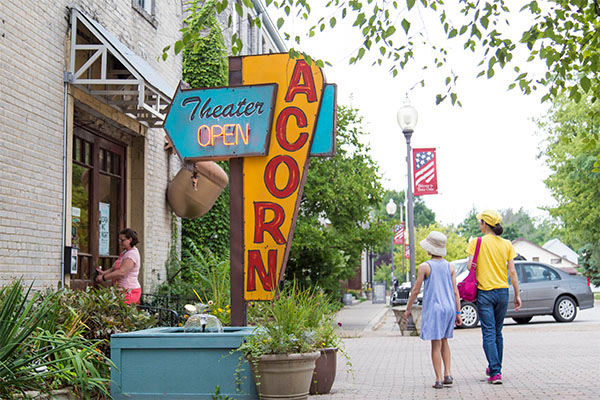 Housed in the historic Featherbone Factory, 107 Generations Dr. in Three Oaks, Michigan, is a funky-industrial-chic performance venue called the Acorn Theater. Founded in 2001, the 260-seat destination presents diverse, high-quality performances by known and up-and-coming artists. The non-profit theater, along with nearby tourist magnets such as Journeyman Distillery, Staymaker Restaurant, Nelson's Saloon and the soon-to-open Grandpa Boo's Kitchen, have created a nightlife that draws more than 10,000 locals and tourists annually to this Southwest Michigan town of 1,600 residents. For thespians, musicians, comedians and the people who love interacting with them, this theater is their "Field of Dreams."
Here's what we learned in an interview with Sandra Thompson, executive director of the Acorn Theater:
Why see performances here?
What performers and audiences tell us over and over is how they love the Acorn's vibe. It's very high energy. The audiences are so responsive. When you're here, you become part of the show and the show becomes part of you.
Who attends?
We aim to keep ticket prices within $15 to $40. Our parking is free. That makes seeing a show doable for young adults to seniors. It's a place to meet people who share your tastes.
What might surprise you?
The Acorn has a full, cash bar.
We're also a venue for weddings, showers, celebrations and corporate events. We have a stage and movie screen and some of the best professional sound, lighting and visual equipment in the area. You can create a very memorable experience here.
Our shows are also an alternative entertainment for company outings or family reunions. Many of our patrons find us to be a nice end to their day after touring wineries, breweries or distilleries, playing on the beach or hiking nearby trails.
What makes Acorn Theater stand out?
We've really focused in the last couple years on community outreach ... giving regional, up-and-coming artists a place to show off their talents in a professional setting. The talent we select is amazing. I encourage people to enter, but also to come out and support some of the region's best:
Open Mic Nights, May 20 and June 8: 8 p.m. Get on the roster or come enjoy an exciting array of regional acts. There's no cover.
Singer Songwriter Competition. Entry deadline, June 23; notification of 10 finalists, June 30; finals competition, July 13 at 8 p.m. Top three places win cash prizes and consideration for future performances at the Acorn or recommendations for other area events. Audience chooses the winners. Tickets to the finals sell out fast, so order now.
Improv Competition. This is our first Improv Competition and you're sure to laugh all night! Troupe entry deadline (includes video submission), July 1; 6 finalists notified, July 20; finals competition, Sept. 23. The finals will feature family-friendly sketches created on the spot with lots of audience interaction. We expect to pack the theater quickly, so get your tickets now.
10-Minute Play Competition. Calling all playwrights. Script entries due July 1; staged readings by professional actors of top six scripts, Nov. 11. This is another first this year and challenges writers to craft their stories quickly and efficiently. Three noteworthy judges will pick the top three from the night's performances and then the audience chooses the winner of the cash prize. Great opportunity to see the work of seasoned and emerging playwrights. Tickets to the finals are available now.
Karaoke Competition. Here's your chance to share your voice or hear great vocalists. All ages can enter. Submit your non-professional video by July 27; eight finalists will be notified by July 30 and the audience will select the $500 winner during the 7 p.m. finals, Aug. 10. Get your tickets today.
Upcoming must-sees
May 18, Eric Johnson: Grammy-award winning, phenomenal guitarist. Guitar Player magazine dubbed him "one of the best guitarists on the planet."
May 26 & 28, Lilian Carter: winner of the Best Biographical Show – United Solo Festival (2016) in New York City, this play tells the story of the woman who was more than President Carter's mother. Learn how she was undaunted by Southern mores and peer pressure and nurtured the best human qualities with all she interacted with. A talk-back session with the audience follows this 75-minute, one-actor performance.
May 27, Journeyman – Tribute to Eric Clapton: Shaun Hague covers over four decades of Slowhand's material. Make it a date night and include dinner at the Journeyman's Staymaker Restaurant before the concert.
June 3, Grassroots Festival & Acorn Theater Fundraiser: Back by popular demand, this evening starts with a mixer at 6:30 p.m. featuring finger food, cash bar and a silent auction and concludes with a Grassroots Showcase of some of the best and brightest emerging talent. Your support helps us continue our mission to bring high quality performances to the area.
June 17, America Sings! Celebrate Flag Day and Three Oaks' 150th year! Enjoy an evening of unabashed patriotism, classic and iconic songs performed by Robert Swan and the Harbor Country Opera. You'll be humming and singing long after the show!
New stage coming!
The Acorn Theater is constructing a new stage. We will be closed for 10 days, May 7-17, to build it. Hope you'll be among the first to see it on the 18th!
Sandra Thompson is the executive director of the Acorn Theater in Three Oaks, Michigan.