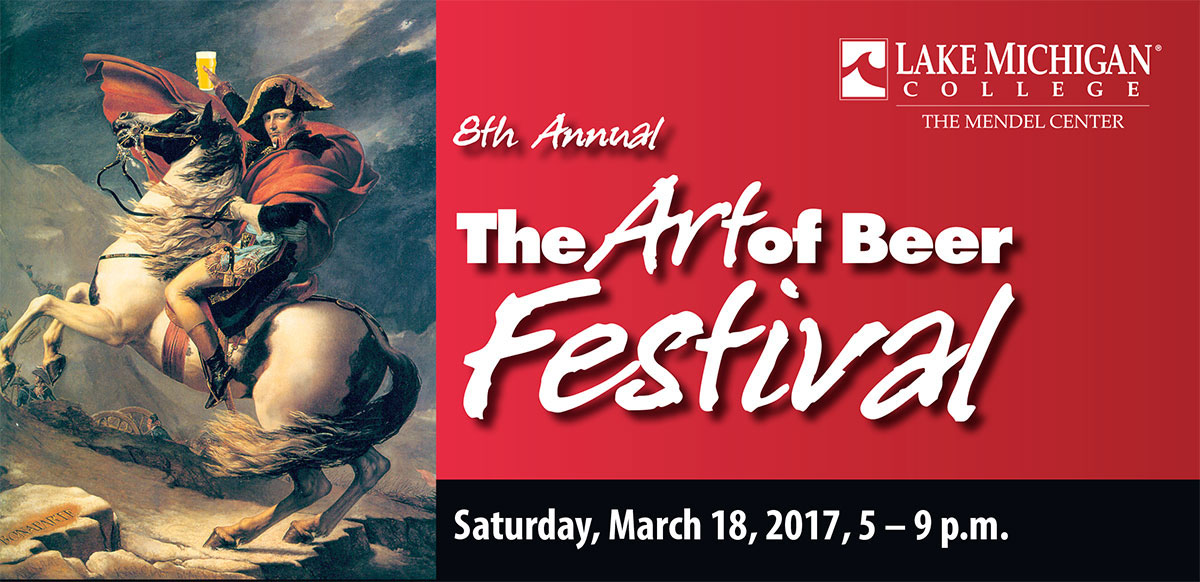 St. Patrick's Day Weekend is a traditional time to quaff a glass of beer with family and friends. It's easy to do, and a whole lot more fun, at Southwest Michigan's:
8th Annual Art of Beer Festival
March 18, 2017
5-9 p.m. EDT
The Mendel Center, Lake Michigan College
2755 E. Napier Avenue
Benton Harbor, MI 49022
Makers of some of Michigan's best beer, cider and carbonated mead will showcase their liquid artistry at this popular indoor brew fest for the 21-and-older crowd. "Beer lovers can sample the very best local brews in one location," said Mike Gross, co-owner of Silver Harbor Brewing Company in St. Joseph, one of more than 20 participants on tap this year. "This festival is a chance to try new beers and grab a glass of your favorites with live music in a fun atmosphere."
Admission to the festival for beer drinkers and designated drivers includes a pint glass, $10 of food tickets and entertainment by Rachel B renowned for her blend of soul, Motown and pop music. Beer ticket holders will enjoy 10 tastes and designated drivers will get two non-alcoholic drinks. Advance tickets are available through The Mendel Center Box Office for $35; day of the event tickets are $40; designated driver tickets are $20.
Gross said Silver Harbor Brewing plans to bring four of its beers to the festival, including One More Week which took the bronze medal at the International Raise Your Glass Beer Fest. In addition, there will be samples of the brewery's Kumbaya Brown Ale, Once You Go Belgian and Cookie Monstra, a beer Gross said has a thin mint cookie flavor.
North Pier Brewing Company in Benton Harbor, one of Southwest Michigan's newest craft brewers, will make its Art of Beer debut, "We'll be bringing three beers, each with a unique style not found everywhere else," said North Pier's founder and owner Jay Fettig. "The Conjurer, our easy-drinking yet deceivingly strong Belgian Golden Strong; Gypsy Witch, a dark wit that blends ginger, clove and coriander; and Aster Bloom, a collaboration strong honey ale we did with Live Station Farm in Coloma in which we used the honey harvested from their hives along with the Aster Flower root from their farm."
Simon Rusk, owner and head brewer at The Livery, hopes festival goers looking for new flavors will stop by their booth to try the brewery's SMASH (Single Malt and Single Hop) beer. It features locally grown Chinook hops known for their heavy aroma and somewhat spicy bouquet. "It's a popular high alpha hop with craft brewers on the west coast, but our Michigan Chinook hops give beers in our region a different, distinctive flavor. You'll notice the traditional Chinook pine characteristics in our beer but there's a hint of grapefruit and pineapple that make SMASH definitely worth trying," said Rusk. He's also bringing Michigan Blacksmith, an American-style stout with chocolate notes, and Silver Queen, a Helles-style lager for those wanting to try a lighter pale ale.
Chris Mason, co-founder of Stevenville's Watermark Brewing Co., says his staff will be on hand to talk about their craft with festival goers and introduce them to Karner Blue, their dry-hopped saison; Pipestone, a robust porter and King Prawn, their east coast IPA. One of the pluses of attending the Art of Beer Festival is the chance to talk with the brewers from across the state about what distinguishes their brewery from others in the U.S.
This year's Art of Beer participants includes:
Barn Brewers Brewery, Lawton
Black Dragon Meadery, Benton Harbor
Boatyard Brewing, Kalamazoo
Brewery Vivant, Grand Rapids
Crane's Winery, Fennville
Final Gravity Brewing Company, Decatur
Great Mead Hall & Brewing Co., Bangor
Greenbush Brewing Co., Sawyer
The Livery, Benton Harbor
Mountain Town Brewing Company, Mt. Pleasant
New Holland Brewing Company, Holland
North Pier Brewing Company, Benton Harbor
Paw Paw Brewing Co., Paw Paw
Right Brain Brewery, Traverse City
Round Barn Brewery, Baroda
Saugatuck Brewing Company, Douglas
Schmohz Brewing Company, Grand Rapids
Sierra Rose Ciders, Grand Rapids
Silver Harbor Brewing Company, St. Joseph
Tapistry Brewing Company, Bridgman
Sister Lakes Brewing Company, Dowagiac
Watermark Brewing Co., Stevensville
So, join the "top o' the weekend" fun in Southwest Michigan and find your new favorite brews, ciders or meads at the Art of Beer Festival. It'll make planning your Michigan craft brewery tours this summer even easier!