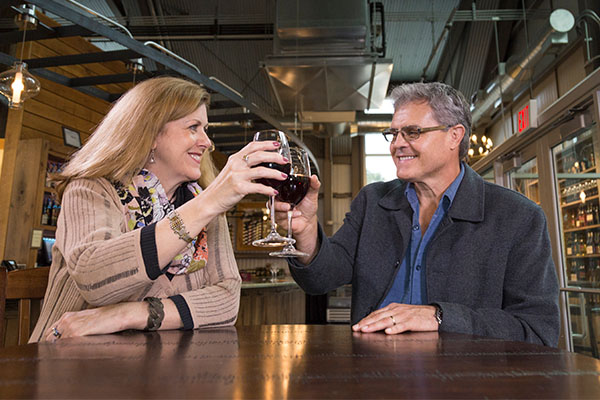 A few years ago, the City of St. Joseph was named "Michigan's Most Romantic City" by the Detroit Free Press. Today, it's a very popular destination not only for weddings and honeymoons, but for Valentine's Day Weekend. With the 14th landing on a Tuesday this year, it opens bookend weekends (Feb. 10-12 and 17-19) to celebrate with your sweetie. Here are ways to share your love:
Romantic Getaways
Several area hoteliers offer romantic weekend packages to make planning your time together easier. Some ways you can say "I love you" are:
Romance on the Boulevard or Taste of Michigan at The Boulevard Inn & Bistro
Wine, Dine and Romance at the Comfort Suites
Romantic Getaway, Movie Night or Skate the Winter Blues Away at the Hampton Inn
Valentine's Package 2017 at the Inn at Harbor Shores
Valentine's Package at Hilton Garden Inn
Gifts of Time
If you can only afford to spend a day together, Southwest Michigan will make every minute enchanting. Winter is a beautiful time to walk along our beaches, snowshoe our dunes, walk or cross-country ski our nature trails or take an evening stroll through the lights in Lake Bluff Park in St. Joseph. While you're here, do make time to warm up together with a luxurious spa treatment at The Spa at Harbor Shores or Affinity Salon and Spa. And continue relaxing at our craft breweries and wineries that are just minutes away.
Heart Melters
Feb. 11
Take your sweetie to a show that will melt both your hearts.
Sinatra is an outstanding tribute to "Ol' Blue Eyes" by his idol, Brian Duprey. His spot-on performance is the closest you'll ever hear to Frank Sinatra in his prime. 7:30 p.m., The Mendel Center, Lake Michigan College, Benton Harbor
"Love Is in the Air" choral concert will feature a bouquet of love songs by the Andrews University singers and chorale. Special guest soloists, Charles and Julie Reid, will add to the mystique and romance of the evening. 8:00 p.m., Howard Performing Arts Center. Andrews University, Berrien Springs
Feb. 14
Valentine's Dinner for Two from 5:00-9:00 p.m. at the Garden Grille, Hilton Garden Inn, Benton Harbor
Feb. 17
Rick Springfield Live at 9:00 p.m., Silver Creek Event Center, Four Winds Casino, New Buffalo
Ultrafab Live at 10:30 p.m., Hard Rock Café, Four Winds Casino, New Buffalo
Feb. 18
Barrel-Aged Party at 11:00 a.m.-11:00 p.m., Tapistry Brewing, Bridgman
Like a box of chocolates, that's just a sampling of the ways to celebrate your best friendship in Southwest Michigan. No matter what you do, the two of you will love it here.