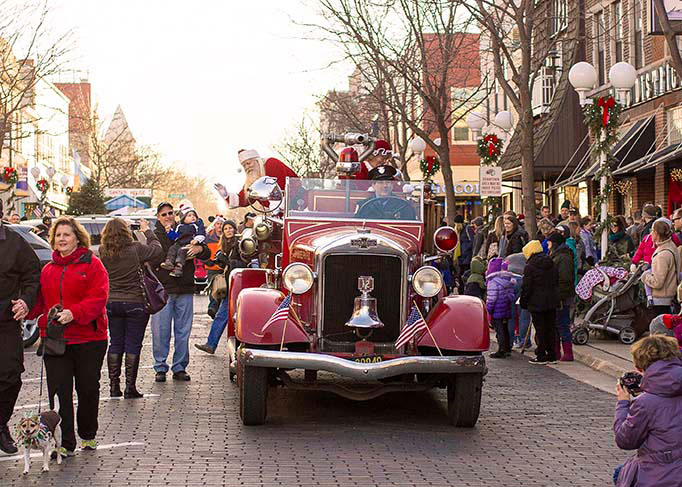 The holiday season is among us and lucky for you, Southwest Michigan is filled with holiday cheer! There are always fun activities for all ages in and around St. Joseph but you'll want to be here during the "most wonderful time of the year." Plan your visit today to enjoy these classic celebrations that are sure to get you in the Christmas spirit.
Live Reindeer at Silver Beach Center: Nov. 25, Noon-5p.m., Shadowland on Silver Beach, St. Joseph
Reindeer aren't only found at the North Pole — they also can be found at Shadowland on Silver Beach the day after Thanksgiving! Don't miss meeting Santa's furry friends at 333 Broad Street. You'll have the chance to pet them and pose for a keepsake photo. Admission to Santa's Christmas Corral to pet a reindeer is just $1 for ages 3 and above; free for ages 2 and under. Photos are $3 per pose; 2 prints for $5 and 3 prints for $8.
After meeting the reindeer, head over to the Silver Beach Carousel to see it decked out in Christmas décor. Grab your Santa hats and go around and around the Carousel riding Noel the Christmas Horse or any of the other 47 figures and two chariots. Oh, what fun to laugh and sing to the holiday music beneath the festive lights.
Cut Your Own Christmas Tree, Nov. 25-Dec. 23: Pinecrest Christmas Tree Farm, Galien
You'll quickly get in the holiday spirit when you come out to Pinecrest Christmas Tree Farms, 4403 Spring Creek Road, Galien. Ride out to the Christmas tree field on a horse-drawn wagon and cut your own fresh Christmas tree. Choose between Douglas Fir, Fraser Fir, Balsam Fir, Blue Spruce, Norway Spruce, or Scotch Pine trees. If you don't know what kind of tree you want, just ask. The staff will be happy to help you choose the perfect Christmas tree for your home. Pre-cut tress are available, too if you don't want to cut it yourself. Choose from Pre-Cut Douglas Fir, Fraser Fir, Blue Spruce, Concolor Fir, and Scotch Pine.
After you've chosen your perfect Christmas tree, take a look around their beautiful gift shop. This Christmas store is over 3000 square foot, so you'll be sure to find heartwarming gifts to share this holiday season. Visit them daily November 25 (the day after Thanksgiving) through December 23rd, from 9a.m. until 6p.m.
Wee Discover "Christmas With Teddy Bear": Nov. 30, 10:30-11:30a.m., Curious Kids' Museum
This is the perfect way to start the Christmas countdown with your little ones! Listen to the story and create your very own advent calendar to begin your countdown to Christmas. Once you are finished, enjoy your day at Curious Kid's Museum! This event is open to preschoolers and their chaperones and is included in the cost of admission to the museum.
Light Up The Bluff: Dec. 2, 6:30-7p.m., Downtown St. Joseph
What better way to get in the holiday spirit than at the community tree lighting ceremony on the corner of Broad Street and Lake Boulevard. Listen to classic Christmas carols by The St. Joseph High School Choir starting at 6:00p.m. and watch as over 1 million lights "light up the bluff." Stroll through Lake Bluff Park under arches of sparkling lights and see the Whirlpool Compass Fountain come to life. The perfect way to end your evening! If you can't get enough of these twinkling lights, come back again and again; they will be lighting up the Bluff every night through Valentine's Day.
5th Annual Live Mannequins!: Dec. 2, 7-8:30 p.m., Downtown St. Joseph
Just steps from Lake Bluff Park is another must-do, free event. Watch as community volunteers stay as still as possible, posing as mannequins in downtown storefront windows. You'll want to see who puts on the best act!
The fun continues from 8:30-10 p.m. at the Live Mannequin After Party & Awards held at the Box Factory for the Arts, 1101 Broad Street. There will be live music from the Deep Fried Pickle Project, food, cash bar and the announcement of the winners (around 9 p.m.).
Christmas Holiday Open House: Dec. 3, Noon-4p.m., Public Library, St. Joseph
Before St. Joseph Today's Reindog Parade, stop by the library at 500 Market St. for the Animal Aid of Southwestern Michigan's Annual Christmas Open House. A silent auction will benefit their emergency rescue fund and baked goods and stocking stuffers will be for sale. If you are looking to bring home a furry companion this holiday season, Animal Aid has foster animals in need of adoption. Even if you can't adopt, come and meet these adorable fur babies. They will love the attention!
18th Annual Reindog Holiday Parade: Dec. 3, 4-5p.m., Downtown St. Joseph
This pet-friendly event, sponsored by FuzzyButz Pet Bakery, is fun for all ages! Owners and their "reindogs" get decked out in holiday attire for this annual parade to escort Santa into St. Joseph. The parade begins at 4p.m at Elm and State Street and all guests are encouraged to walk in the parade.
If you are walking with your pets in the parade you must register at St. Joseph Today before the parade begins. Pre-registration is $3 for 1 dog, $5 for 2-5 dogs and $10 for 6 or more dogs. Day-of registration is $5 for 1 dog, $10 for 2-5 dogs and $15 for 6 or more dogs; a portion of the proceeds will be donated to Save-A-Stray. Best costume wins a prize! Costumes are judged before the parade at 2:30p.m. in front of St. Joseph Today and prizes will be awarded after the parade.
Santa's House: Dec. 3-23, Downtown St. Joseph
I hope you're on Santa's nice list this year! Santa's house will be at the corner of Pleasant and State Street from December 3-23. Visit Santa at his house Thursdays & Fridays from 4-6p.m., Saturdays from Noon-5p.m., or Sundays Noon-3p.m. There will be special hours on December 21, 22, and 23 from 2-5p.m. Make sure you bring your Christmas Lists!
Sunday Brunch Buffet with Santa: Dec. 4, 11, & 18, 11:30a.m.-2p.m., Bistro on the Boulevard
Celebrate Christmas at the Bistro with their Sunday Brunch Buffet with Santa! Visit with Santa in the lobby and then enjoy a delicious buffet brunch at the Bistro. The buffet includes an omelet and waffle station, sweet and savory breakfast favorites, beverages and delicious desserts. You can even decorate your own Christmas cookies! Cost is $20 for adults and $10 for kids age 6-12 (5 and under get in free). Call ahead for reservations: 269-983-3882.
Christmas in the Village: Dec. 4, 4-6p.m., Downtown Baroda
Visit Baroda's Town Hall for this annual Christmas celebration. They're decking the halls with food, cookies and cocoa, crafts, Christmas carols, face painting, sleigh rides, a Christmas story and visits with Santa. Directly in front of the Hall is where the official lighting of the village Christmas tree will take place. This is a can't-miss celebration the kids will love!
Winter Art Hop: Dec. 9, 6-9p.m., Benton Harbor Arts District
Enjoy a family-friendly evening in the Arts District hosted by the New Territory Arts Association with art, music, food and libations. Walk around and look at the twinkling Christmas lights and stop in local businesses to find out which local artists are being showcased. Many locations have appetizers, snacks and drinks to sample while you admire all of the beautiful art pieces. For more information, go to newterritoryarts.org.
Crafting for a Cure! Wine & Craft: Dec. 10, 6:30-8p.m., Lazy Ballerina Winery
It's time to get crafty at Lazy Ballerina Winery! Learn how to make cork ornaments or a painted wine glass from owners Melanie and Lauren. These crafts make great Christmas gifts for any of the wine lovers in your life and you'll be helping a great cause. A portion of the proceeds will be donated to cancer research.
The cost for this event is $25 a person and includes supplies and instructions on how to make 3 cork ornaments or one painted wine glass, one beverage and appetizers. If you wish to make additional wine glasses or ornaments, extra supplies are available for an additional cost. Extra food and beverages will also be available to purchase the night of the event. Check out more events at Lazy Ballerina here.
SMSO Musical Wonderland: Dec. 10, 7:30p.m., LMC Mendel Center
Over 100 musicians, dancers and vocalists will turn the Mainstage Theater into a delightful wonderland. Treat the whole family to the "Toy Shoppe Fantasy" ballet performed by Dance Arts student and Christmas classics sung by the choirs of Lakeshore, Berrien Springs, and Coloma High Schools and the Three Divas of Southwest Michigan, Rebecca Derbas-Selvidge, Katherine Rohwer and Carrie VanDenburgh.
Oh Deer, Rudolph!: Dec. 22, 4-8:30p.m., Silver Beach Carousel
The reindeer return to Shadowland on Silver Beach just in time for the Silver Beach Carousel's Family Fun Night, Oh Deer, Rudolph! Pet a real reindeer, pose for a photo and bring your wish lists! Santa will be making an appearance after 6:30p.m., so don't miss your chance to visit with him before he heads back to the North Pole. Did I mention Carousel rides are just $1?
Admission to Santa's Christmas Corral to pet a reindeer is just $1 for ages 3 and above; free for ages 2 and under. Photos are $3 per pose; 2 prints for $5 and 3 prints for $8.
Happy Holidays!