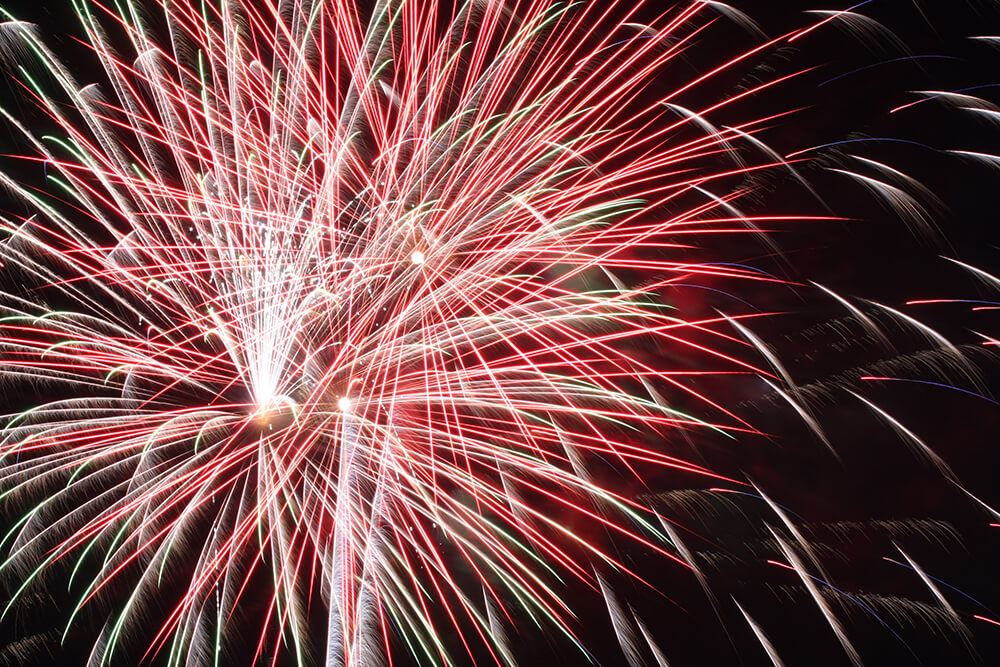 Happy birthday to the U.S.A.! Locals and visitors love to celebrate the red, white and blue from dawn's early light to shimmering fountains of color in our Southwest Michigan skies at night. So where can you catch the best fireworks displays? Here are our "insider" suggestions:
Please note: this dates are from 2016. Visit our Events page for upcoming events. 
July 1
Dowagiac: Russom Park, 28776 Yaw St. This is a favorite free event especially for locals and vacationers staying at nearby inland lakes. Parking is available at Russom Park, Dowagiac Union High School, the National Guard Armory and the former high school soccer fields (on Paul St.). Concessions available.
Niles: Apple Festival Grounds, 17th St. between Lake and Eagle Streets. Festivities start at 6 p.m. and include food, music and kids' activities before the sky show at dusk.
July 2
Watervliet: Hays Park, 700 N. Main St.
July 3
Baroda: American Legion Post 345, 9214 1st St. Insiders claim this is one of the best fireworks displays in the Midwest. Be prepared to have thousands join you for this Baroda Fire Department color explosion. The pre-fireworks party starts at 7 p.m. and includes a beer and brat tent and music by The Top Secret Band. Tip: bring some cash. The community passes a firefighter's boot to collect contributions to pay for next year's display. Baroda Round Barn Brewery & Public House Fireworks Party, 9151 First St. This is a very popular spot for patriots and patrons alike to see the Baroda fireworks. Come early for dinner or head straight for the party out back. Live music starts at 7 pm. with Ginger and Her Baked Goods. Enjoy the "works" with pizza, beer and wine. Tip: there's a $5 cover, with a portion going toward next year's fireworks. Bring lawn chairs, too, but no outside beverages or food.
New Buffalo: Lions Beachfront Park and New Buffalo Beach. The Independence Day celebrating starts June 29 with a week filled with surfing demonstrations (Wednesday-Friday), 5K run and outdoor movies (Saturday) and music, food and fireworks (Sunday).
South Haven: North Beach. This beach town's Light up the Lake Fireworks are launched from the south pier so the entire South Haven shoreline has a view. Tune in to "Live on SuperHits" 103.7 COSY-FM for the synchronized soundtrack to make your patriotic pride swell even bigger.
Edwardsburg, Eagle Lake, N. Shore Dr. Tip: Sponsors remind boaters to stay 500 feet away from the display barges.
July 4
Bangor, High School, 801 W. Arlington St. Make a day of it. Parade, car show, arts and crafts fair precede the pre-fireworks fun of food, and carnival and lawn games. Fireworks show is worth the wait – it's 45 minutes long!
Decatur, Over the Lake of the Woods, view from high school at 110 Cedar St. Parade starts off the day at 11 a.m.; or come at 7 p.m. for the chicken dinner and boat parade. Fireworks at dusk.
Eau Claire, W. Grand Ave., behind Grace Lutheran Church. The Cherry Festival fun culminates with this light-up-the-night display. Get here early, pick up a quart of fresh-picked sweet cherries and enjoy the flavor bursts each one makes in your mouth. Mmmm!
Lawton, Summerfest, Lawton High School, 101 Blue Pride Dr. Parade at 5 p.m., free community picnic after and fireworks at dusk make this a small town good time!
St. Joseph: Silver Beach and Shadowland Pavilion. Improve your chances of snagging a parking spot and front-row seat by attending the Southwest Michigan Symphony Orchestra's annual patriotic concert. Just want to see the free fireworks? Arrive early to get a parking space in the paid lots near Silver Beach or in the above-the-bluff lots and curbside openings downtown. Then stake your viewing spot along the downtown bluff, on the public beaches (Silver Beach, Lions Park or Tiscornia), Whirlpool Centennial Park/Compass Fountain or in your boat on the St. Joseph River or Lake Michigan. A favorite tradition with families is to stake out their spots, then take the kids for a ride at the Silver Beach Carousel. The Carousel has a concession stand where you can buy fresh popcorn, cotton candy, Dippin' Dots ice cream, drinks and other treats if you don't want to pack your own snacks for the spectacular light display that starts after sunset (this is a great venue for watching sunsets on Lake Michigan, too).
July 9
Dowagiac, Sister Lakes, Lions Clubhouse grounds, 66991 95th St.
More insider tips:
Most displays begin at dusk (approximately 10:30 p.m. EDT).
Plan to arrive long before sunset. Make sure everyone has on comfortable walking shoes – you may be parking several blocks away. Bring blankets or portable chairs to sit on, but leave your alcoholic beverages at home.
Wear light-colored clothing and carry flashlights so you're more visible as you walk back to your car after dark. Pack a jacket or sweatshirt for everyone if the temps are predicted to drop below 65 degrees after the sun goes down.
Be patient when you leave the fireworks grounds. Public safety officers will work hard to keep traffic moving, but it may take longer to get home. If you're not from the area, give serious thought to staying over. There's never a shortage of things to do the next day in Southwest Michigan.
Thinking of shooting off your own fireworks? Here is what is legal to celebrate with in Michigan. Have fun!