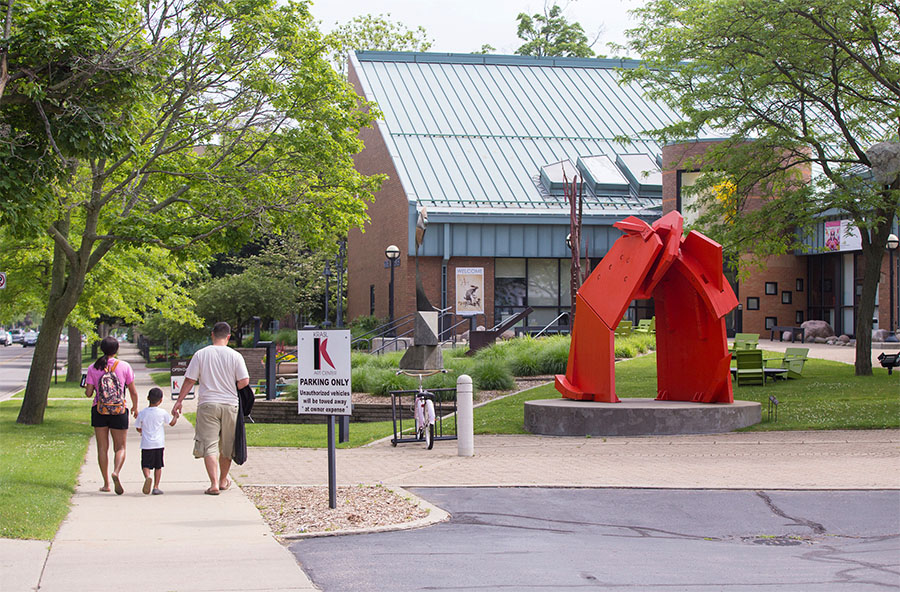 When people talk about what Southwest Michigan brings to mind, they say, "Beaches," "Lake Michigan sunsets," "Great golf" and "Wineries," to name just a few of the fantastic amenities our region offers. But there's something else: a cultural scene that delivers a colorful array of memorable ways to renew, relax and feed your creative muse.
Here are five reasons why you'll want to uncover this hidden cultural gem on your next trip to Southwest Michigan.
Performing arts to match any taste
Whether you are in the mood for classical music, nationally touring concerts and productions, a few laughs or getting the inside track on some up-and-coming talent, you'll find performing arts at its best in our corner of Michigan. Arts presenters and organizations including The Mendel Center at Lake Michigan College, The Twin City Players, and the Howard Performing Arts Center are just a few of the sources of top-notch entertainment. During the summertime, the party goes outside with a long list of concerts and festivals that include Smooth Jazz at Sunset at the Silver Beach Pavilion and a host of Southwest Michigan Symphony Orchestra outdoor music presentations.
Unique venues
Nothing sets the stage for a memorable experience quite like the breathtaking creations from local artists. Not only because of what these artists bring to Southwest Michigan, but because of the unique settings where they perform:
All eyes on the visual arts
There is a veritable feast for the eyes everywhere you turn in Southwest Michigan. Art galleries and exhibits celebrate the entire spectrum of painting, photography, glass blowing, sculpture, mixed media, textiles, and beyond. One of the must-see stops is the Krasl Art Center that not only hosts exhibits by nationally renowned artists in its galleries throughout the year, but each July its annual Art Fair on the Bluff in St. Joseph is counted among the Top 20 in the nation. Among other hot spots for the visual arts is The Box Factory for the Arts, The Inn at Harbor Shores' second floor art gallery, and quarterly Art Hop celebrations in the Benton Harbor Arts District.
Intimate settings
You'll feel connected to the experience no matter where you go to see the show in Southwest Michigan. Many performing arts venues are designed for fewer than 250 people. The largest venue in the region, The Mendel Center at Lake Michigan College, seats an intimate 1,573 patrons but its Broadway standard stage and tiered theatre seating provides the full performing arts center experience. Plus, it is large enough to attract top name entertainers, classic rock icons, cutting edge comedians, and internationally touring dance troupes and musical ensembles.
Big city feel, small town ease
After a day at the beach, golfing or shopping, capping off your day with a performance or inspiring art gallery viewing is easy. Nearby parking is generally free for most events and many venues are close to popular lodging and dining establishments. This calendar of events can start you on your way to discovering the wide range of culture waiting for you in Southwest Michigan.


Mike Nadolski is the executive director of The Mendel Center at Lake Michigan College. He studied improv theatre with The Players Workshop of Second City Theatre in Chicago, and has produced, directed, and performed with The Practical Theatre Co. in Chicago, Bridges Theatre and Workshop in Benton Harbor, Michigan, and other improv troupes throughout the Midwest. In addition to his duties at The Mendel Center, Nadolski is the director and a troupe member of TORP, Southwest Michigan's improv comedy company, and he and his wife, Sarah, own The Oak Room at The Citadel in Benton Harbor, Michigan.