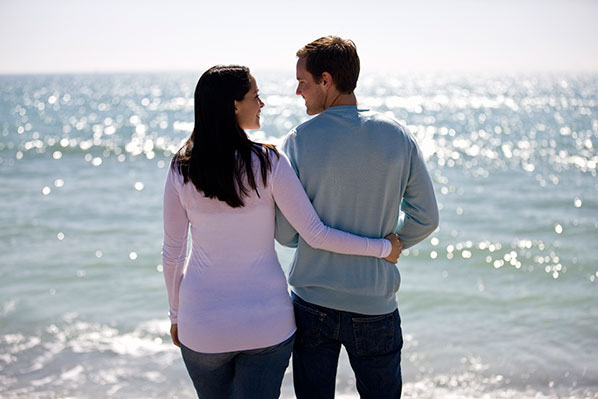 Most everyone is familiar with honeymoons — that post wedding, romantic getaway for the bride and groom. But a Babymoon? Similar to a honeymoon, it is a special time for expectant parents to focus on each other before their bundle of joy arrives.
Thinking of taking one? Other Babymooner women say the second trimester is the best time to go. Those mid-three months are after your energy returns and before you're anchored by extra weight.
One of the best year-round destinations for an unforgettable Babymoon is Southwest Michigan. This couples' paradise has lodging within walking distance of Lake Michigan beaches, vibrant lake towns, lip-smacking eats and shops brimming with gifts for you and the baby.
Where to stay
While there are many choices of where to base from in Southwest Michigan, the City of St. Joseph certainly has its pluses for expectant parents. Its hoteliers and innkeepers treat guests right and several sites are walkable to nearby attractions, shopping, art galleries and an eclectic collection of restaurants. If you're watching your pre-baby budget some overnight stays offer Deals and Packages. You can check what's available and make reservations directly with the "Book a Room" feature on the Southwestern Michigan Tourist Council site.
Keep fit
Most doctors encourage expectant mothers to walk 30 minutes or more a day. This corner of Michigan is a gorgeous place to burn calories. Jean Klock Park is located along Lake Michigan in Benton Harbor (less than 10 minutes north of downtown St. Joseph hotels). It's one of the least crowded of the 50 beaches you can pick from in Southwest Michigan.
Here you can climb up the observation tower and marvel at the vastness of this Great Lake. Or take a romantic walk south along the shore's edge until you reach Tiscornia Beach where you can go out to the picturesque St. Joseph North Pier Lighthouse. If you plan your visit near sunset, stay to watch. Those crimson and gold skies are beautiful all four seasons.
If you like to play golf, the public 18-hole Harbor Shores Jack Nicklaus Signature Golf Course is next to Jean Klock Park. Three times in the past six years it's hosted the Senior PGA Championship presented by KitchenAid®. It also has public walking trails with benches if you need to rest along the way, grilling sites and a place to launch a kayak or canoe for a romantic paddle along the Paw Paw River and Ox Creek (bring your own kayak or rentals are available from Third Coast Surf Shop).
In Southwest Michigan you'll find other golf courses, nature trails, bike routes and disc golf for the two of you to enjoy.
Keep it simple
The City of St. Joseph hosts a number of community events and music performances throughout the year. Silver Beach, below the city's bluff, offers seasonal swimming as well as sculptures along the boardwalk. Below the bluff, you also can visit the Silver Beach Carousel featuring 48 hand-carved, hand-painted figures that you can ride January through December for a low-cost token. (You're never too old to ride it.) There are also rocking chairs to test out and traditional board games to challenge each other — all are free.
Across the street Whirlpool Centennial Park and Compass Fountain operates spring through fall. Eight cannons shoot water 35 feet up and 75 feet out for a playful time together. Wear clothes that can get wet and bring a beach towel. There's no charge to enjoy it. You can find the schedule at www.sjcity.com. Next, walk up the bluff using the nearby stairs or ramp or rack up more steps on your Fitbit by heading north from the fountain to Lions Park Beach. There you can wind your way up the bluff on the John and Dede Howard Family Recreational Trail. Once at the top, stroll through the shaded Lake Bluff Park pausing to read the signs near each of a multitude of sculptures. Still need to talk about baby names or read your pile of "having a baby" magazines or books? Snag one of park's two-seater bench swings and rock and rock. The view is breathtaking. The time together, priceless.
Eat and drink fresh
If you're Babymooning in autumn, there are bushels of orchards, farms and markets to visit in the area. Jollay Orchards, 1850 Friday Rd., Coloma offers an idyllic country experience with u-pick seasonal fruits, pumpkins, and a picnic area where you can enjoy goods from their farm market. Visit on weekends September-November 1 to catch a hayride and other during their Harvest Festival.
Another fun place to visit is Arclight Brewing Company in Watervliet. Open seven days a week, you can bring your own food or order in delivery while you're there. Dad can enjoy their signature craft beers while mom sips their handcrafted carbonated sodas. They use real orange juice to make the orange soda and grate their own ginger to make their ginger ale. Cane sugar gives each soda variety its sweetness.
For baby or me
Part of the nesting instinct is gathering up baby things. This area offers blocks of downtown shops, lakeshore boutiques and galleries, plus indoor and strip malls with brand name stores. Browse for shower gift ideas, pick up a childhood favorite book from a local bookseller, Snapchat pictures of "must have" outfits, toys and nursery décor to almost-Grandma or, better yet, just buy them. You'll find things for "mom and dad" in the shops, too.
An insider tip of where to find great "baby and me" gifts is The Christmas Tree along M-63 in Benton Harbor. As soon as the opening door jingles, you'll breathe in the wonderful scents of Caren soaps and hand creams. The rooms glimmer with ornaments and holiday decorations. The shelves are filled with heartwarming children's picture books for future rocking-chair reads, soothing and playful music CDs, boo-boo compresses and much more that can be collected into a custom-filled gift basket.
You can start a tradition of giving your child an ornament each year, marking this special one with a "Baby's First Christmas" design. There are also gift ideas for godparents and grandparents, plus free gift-wrapping.
Satisfy your cravings
It's not a proper getaway if the two of you can't brag about the delicious food you experienced in Southwest Michigan's eateries. Many of the chefs use local, organic produce, poultry and meats to concoct tantalizing recipes. Several locations offer beautiful views of Lake Michigan from their indoor or outdoor seating. When you crave ice cream, even if it's sans dill pickles, there are numerous places to get a scoop or two, often in a just-made, still-warm waffle cone. Several of the area's ice cream shops stay open all year — that's because in Southwest Michigan locals crave ice cream, pregnant or not, all of the time.
If you long for chocolate, head to the nationally renowned The Chocolate Garden in Coloma. They offer small boxes of baby truffles for announcing your baby's arrival to friends and loved ones. Each box is decorated with a pink, blue, or cream ribbon — and they'll add a custom printed tag.
Pack your bag
Whatever month you do your Babymoon, you'll discover a perfect getaway here. So, pack your bag (it'll be good practice for the near future) and enjoy your just-the-two-of-you time. It'll be a great prelude to when you return to Southwest Michigan with your bigger family to enjoy all of the kid-friendly activities they offer, too!