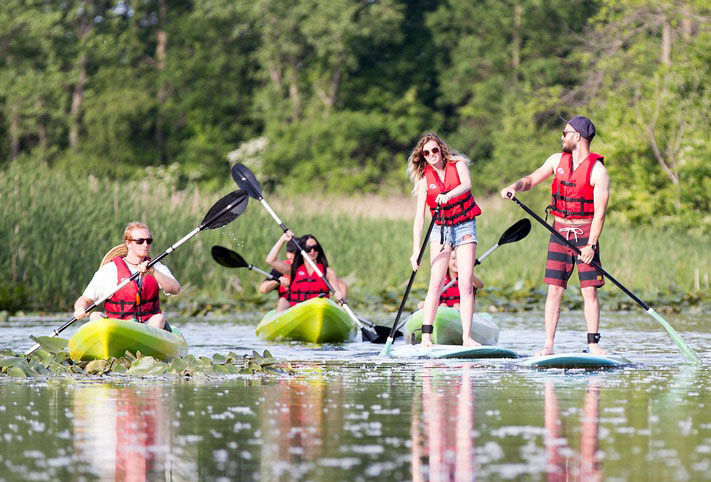 Here are four reasons why the water is where it's at when it comes to creating fun, memorable group outings:
Break the Ice. Not sure how well everyone in your group will hit it off? Taking to the river on kayaks or stand-up paddleboards will get your group out of its comfort zone and encourage interaction with one another. It's a great bonding experience, especially at the beginning of a long day of meetings or other activities.
Get Active. Chances are, your group will want to try some of Southwest Michigan's many restaurants, wineries, breweries, distilleries...well, you get the idea. Paddling is the perfect way to off-set eating and drinking with physical activity, and is so much more fun than hitting the gym. In fact, according to the American Council on Exercise, a 150-pound person burns 340 calories an hour kayaking. (Just make sure you paddle before drinking any alcoholic beverages.)
See the Sights. On kayaks or stand-up paddleboards, your group will see Southwest Michigan in a new light. On the Paw Paw River, for instance, you can launch just outside downtown St. Joseph, paddle through the Harbor Shores golf community, and explore the wildlife in the wetlands. To see all the different routes you could paddle in Southwest Michigan, click here.
Offer Something for Everyone. Want everyone in your group to leave happy? Paddling is an experience that works for a wide range of ages and skill levels. For example, families and couples looking for a relaxed journey can partner up in double-person kayaks, while individuals wanting a more vigorous work-out can paddle at a faster pace in a single-person kayak or stand-up paddleboard.
Remember, with all water sports, safety is key. Your group should have appropriate safety equipment, be prepared for the weather conditions, and have proper instruction. Better yet, opt for a guided tour to make the most of your experience. Happy paddling!
Our guest blogger, Erin Gerard, is the group outings coordinator for Third Coast Paddling, which offers hourly kayak and stand-up paddleboard rentals at four sites throughout Southwest Michigan – in New Buffalo at the Galien River and New Buffalo City Beach, and in Benton Harbor at the Paw Paw River and Jean Klock Beach. Advance rental reservations for groups of up to 70 people and guides are available. For more information, visit www.thirdcoastpaddling.com