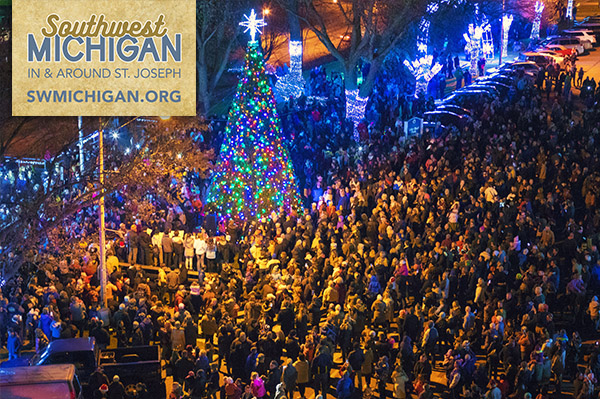 Happy holidays! This season of wonder takes on a magical aura in and around St. Joseph. Come feel the joy for a day or snuggle for a night or more in our comfy lodgings. Below you'll find 24 fantastic ways to spend time together – and isn't that one of the best gifts you can give to anyone?
8 kid happenings
8 friend-time festivities
8 romantic interludes
Dec. 9: Sounds of the Season
7:30 p.m., SWM Symphony Orchestra, The Mendel Center, Lake Michigan College, Benton Harbor; $5-$35
An uplifting variety of holiday melodies, concluding with Handel's Hallelujah Chorus.
Dec. 16: Holiday Tunes with Mike Talbot
2-5 p.m., Twelve Corners Vineyards, Benton Harbor; FREE admission
Sit back, sipping your favorite 12C wines while listening to Talbot strum holiday treasures.
Dec. 19: Rejoice 2017 – A Tapestry of Holiday Music
7:30 p.m., The Mendel Center, Lake Michigan College, Benton Harbor; $24-$48
Bryan Lubeck's spectacular vocal and musical tapestry will bring you to your feet.
Dec. 23: Jolliest Christmas Ever!
8 p.m., Acorn Theater, Three Oaks; $25
Harbor Country Opera outdoes itself with fresh new songs, familiar holiday music and humor.
Dec. 26-30 Cross-Country Ski or Snow Bike Date
10 a.m.-5 p.m., Love Creek Nature Center, Berrien Springs; $3 vehicle entrance; ski trail: $5 adult/$4 youth (15 years and under); ski equipment and fat-tire snow bike rentals available.
Snow permitting, celebrate the holiday week enjoying these beautiful wooded trails; check conditions here.
Dec. 29, 30 & 31: New Year's Eve Romantic Getaway
The Boulevard Inn & Bistro, St. Joseph; packages start at $269/night.
Relax downtown in a spacious suite and enjoy the special French-inspired dinner menu.
Dec. 31: New Year's Eve Together
5-10 p.m., Hilton Garden Inn, Benton Harbor; $10 to $45 menu items.
Enjoy specials from the New Year's Eve menu then spend the night with the one you love!
Dec. 31: New Year's Eve Live Music by Exit 41
2:30-5:30 p.m., Dablon Winery & Vineyard, Baroda; FREE admission
Taste wines while listening to this acoustic musical duo's wide variety of familiar cover songs.