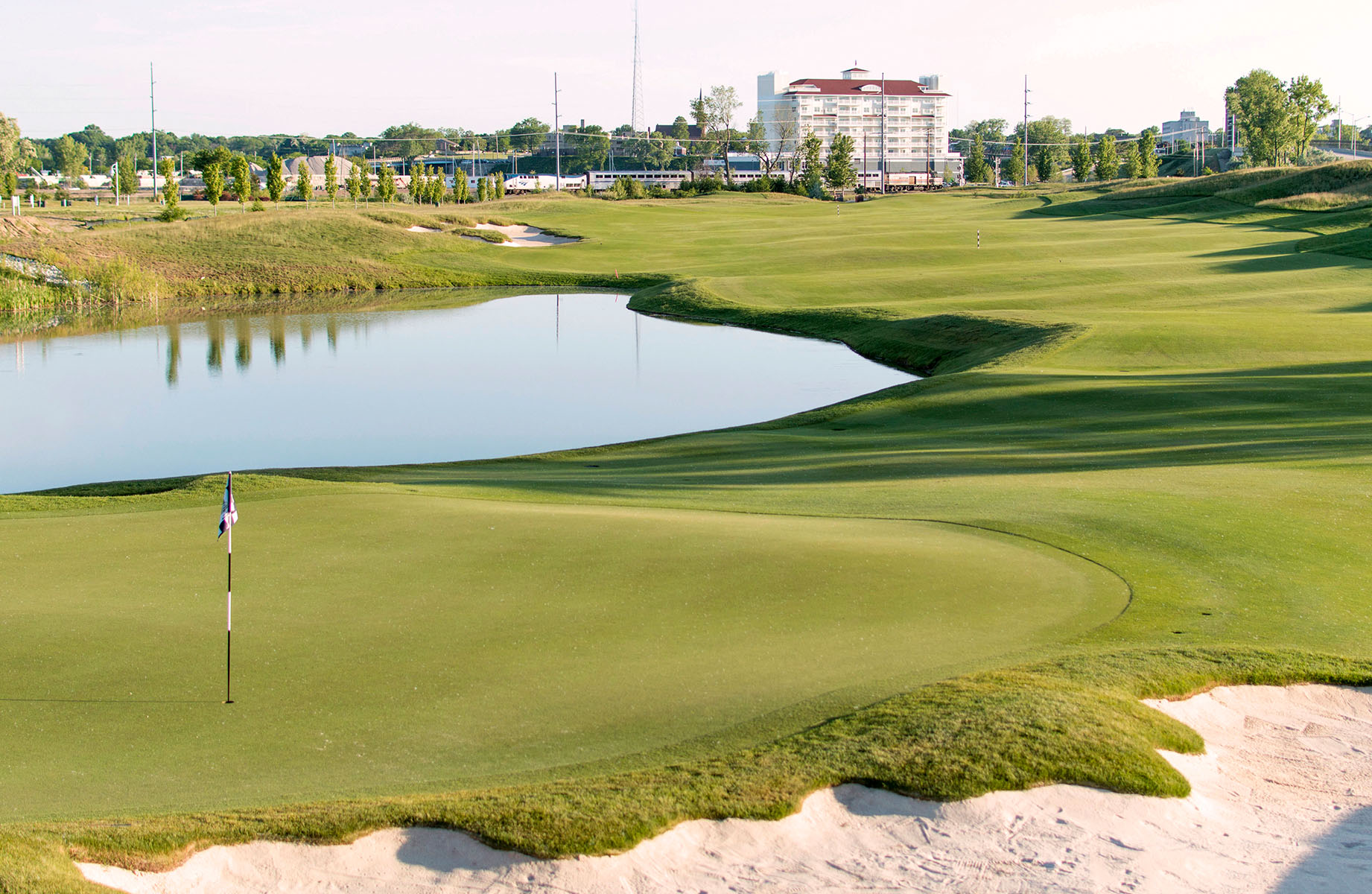 While golf is usually thought of as a spring and summer sport, fall's comfortable weather coupled with captivating scenery create the ideal setting for getting out on the course. It makes sense, then, that National Golf Day is celebrated in the heart of autumn each year on October 4.
Throughout Southwest Michigan on any given sunny September or October day, you'll see golfers of all skill levels perfecting their shot while soaking in the beauty this corner of the Mitten affords. Why should you join them? We have five great reasons!
1. Stunning water views
When you're not on the water in Southwest Michigan, you can still be by the water. The Golf Club at Harbor Shores in Benton Harbor offers three holes with breathtaking views of Lake Michigan and eleven holes bordering the Paw Paw River and Ox Creek which lazily twist through the center of the course. Over at Berrien Hills Golf Club, also in Benton Harbor, holes 6, 16, and 17 are adjacent to the scenic, tree-lined St. Joseph River. When you reach Berrien's "19th hole," it's time to relax in the clubhouse with your favorite beverage and something delicious to snack on at Ray's on the Green while appreciating your picturesque vantage point overlooking the course and river.
2. A burst of fall color
Autumn in Southwest Michigan is nothing short of spectacular, and the area's golf courses are some of the best places to marvel at the blended palette of golds, greens, scarlets, and oranges. Long-established courses like Pebblewood Country Club in Bridgman, Indian Lake Hills Golf Club in Eau Claire, and Paw Paw Lake Golf Club in Watervliet boast an array of mature hardwoods lining the fairways. But don't let the colorful vistas distract you while making your shot. You could find yourself in the middle of all that fall foliage on a search and recovery mission.
3. Championship-level play
Courses in Southwest Michigan are more than beautiful, they're tough...tough enough to challenge some of the biggest names in golf. The Golf Club at Harbor Shores was designed by the one and only Jack Nicholas, and it's where the Senior PGA made its home in 2012 and 2014 and will return again in 2016 and 2018. Lake Michigan Hills Golf Club in Benton Harbor has hosted such greats as Payne Stewart, Kenny Perry, and Adam Scott when they played the course as part of the Western Amateur Tournament. The Hampshire Country Club in Dowagiac also has a history of tournament play as a past prequalifying site for the Western and U.S. Amateur Championships.
4. Weather tailor-made for hitting the links
What better golf weather is there than a crisp, cool morning that eases into a warm, sunny afternoon? With freedom from heat and humidity, you can focus on your game and the people around you. This is just the type of day common during autumn in Southwest Michigan. Average October high temperatures range in the low- to mid-60s throughout most of the month. With a little luck, you might even score a round or two of golf in early November with some late-season warmth.
5. Plentiful choices for a golf weekend extravaganza
With more than two dozen Southwest Michigan golf courses from which to choose, the most difficult part in planning a golf weekend is narrowing down which courses to play! Select a centralized "base camp" at one of the many hotels or other lodging options in the region. Then reserve your tee times and prepare to explore a variety of course layouts and challenges – all within easy driving distance.
So, don't put your clubs in storage just yet. Fill your fall days with some outstanding golf adventures in Southwest Michigan.