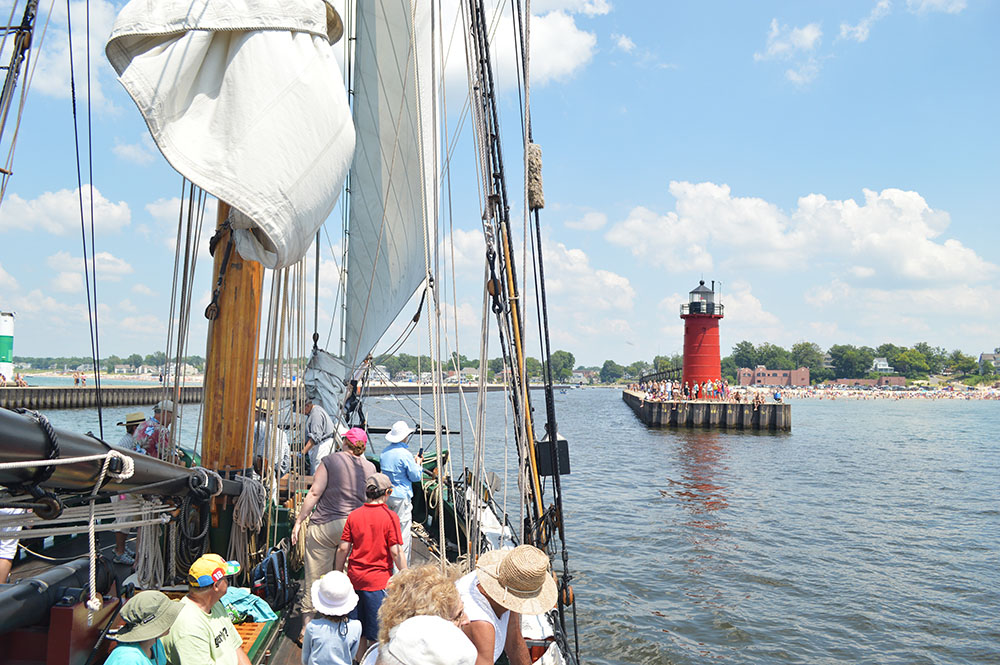 The dog days of August have the power to lull you into thinking summer will last forever. Then suddenly school is back in session and the leaves are turning. Don't waste another minute. Start living your summer of 2019 Southwest Michigan bucket list! Need a few ideas to get started? We have ten to set you on your way to building a heap of warm weather memories.
1. Ride A Painted Pony – Fall under the magical spell of an old fashioned carousel. Visit The Silver Beach Carousel below the bluff in downtown St. Joseph and take a spin on your favorite horse, dolphin, giraffe, or other wildlife friend.
2. Stroll Through A Summer Garden – Tucked away on 105 acres on the St. Joseph River in the Niles and Buchanan area, Fernwood Botanical Garden & Nature Preserve is an enchanting mix of curated gardens and nature preserve. The Railway Garden, Children's Garden, and Take Five outdoor sculpture are among the must-see highlights.
3. Experience The Life Of An Early 19th Century Sailor - The Michigan Maritime Museum in South Haven is the home port of the 1810 tall ship replica Friends Good Will. Take a sail on the ship or a dockside tour, view the U.S. Coast Guard exhibit, and see a fascinating collection of Great Lakes vessels.
4. Scale A Sand Dune – Forget treadmills and the gym. Get a real workout and climb a Lake Michigan sand dune at Warren Dunes State Park in Sawyer. When you reach the top, you'll be rewarded with a spectacular view of one of the largest bodies of fresh water in the world.
5. Eat Michigan Sweet Corn – Stop by one of the many farm stands to buy a dozen ears of what can only be described as candy on a cob. On second thought, get two dozen.
6. Charter A Fishing Adventure – Cast a line into one of southwest Michigan's rivers or lakes and come back with the catch of the day. Gold Coast Fishing Company, Sea Hawk Sport Fishing Charters, or one of the many other charter services can get you out on the water.
7. Say Goodnight To The Sun – There's a reason southwest Michigan is called the Sunset Coast. As the sun bends down to kiss the Lake Michigan horizon, find a beach, roadside park, or outdoor eatery overlooking the western sky to get a prime seat for the sunset show.
8. Test Your Balance – Paddleboarding is one of the fastest growing ways to enjoy the waterways in our corner of the mitten. You say you don't own a paddleboard? No worries. You can rent one through Paw Paw River Kayaking & Stand-Up Paddleboarding near Harbor Shores, and Galien River Kayaking & Stand-Up Paddleboarding in New Buffalo.
9. Tell Ghost Stories Around The Campfire – Of course, to sit around the campfire you really should go camping. Rough it in a tent or bring a few of the modern conveniences with you in an RV. Either way, there are several campgrounds throughout Southwest Michigan for telling campfire tales while eating s'mores.
10. Watch A Movie...Outdoors – Bring the popcorn and gather your lawn chairs and blankets in parks throughout St. Joseph every Saturday night in August for free, classic movies the whole family will love.
August 3 – Incredibles 2 – Whirlpool Centennial Park (8:55 pm)
August 10 – Hoosiers – Howard Bandshell (8:50 pm)
August 17 – Ralph Breaks The Internet – Whirlpool Centennial Park (8:35 pm)
August 24 – Mary Poppins Returns – Howard Bandshell (8:25 pm)
Don't let summer slip by without experiencing the fun waiting for you in every corner of Southwest Michigan.