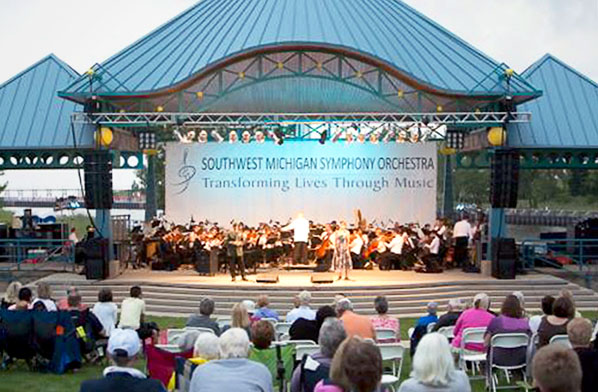 Every summer, Southwest Michigan offers a feast for all five senses, but when it comes to listening pleasure few places in the Midwest can match the outdoor music venues this corner of the Great Lakes State offers. Several communities host regular and special event concerts that showcase talented local and nationally acclaimed vocalists, instrumentalists, songwriters and composers. Many give performances with Lake Michigan as the backdrop. It's a live music experience that doesn't require earbuds to enjoy the toe tapping, body swaying, soul stirring, feel good sounds all summer long. Here are some of the region's music musts:
Box Factory for the Arts, 1101 Broad St., St. Joseph.
A gallery-filled historic building within walking distance of downtown, "The Box" offers an intimate listening space. Tickets are: $10 adult, $8 seniors and students; free for children under 12. All shows are at 7:30 p.m. Summer concert plans include:
July 3: Laura Whidden. (powerful soprano, likened to Aretha Franklin and Sarah McLaughlin) July 18: B.B. Wolfe Trio. (award-winning existential folk-blues performer)
Aug. 1: Eric Lugosch. (folk artist renowned for his fingerpicking skills)
Aug. 8: Ed Bagatini Quintet (jazz)
Aug. 13: Anne Hills (contemporary folk)
Aug. 15: Elephant Rescue (New Orleans funk and blues)
Aug. 22: Vocal Canvas Concert (paintings, poetry, projection and song)
Aug. 29: Lake Effect Jazz Big Band (jazz)
Fernwood Botanical Garden & Nature Preserve, 13988 Range Line Road, Niles.
This serene, natural setting is perfect for inspiring music. Second Sunday Concerts are held 4-5 p.m. (free admission to the gardens after 3:30 p.m.); Fernwood Fridays WVPE Summer Concert Series performances are held 5:30-9 p.m. Admission is free to Fernwood and WVPE members, $5 for others.
Second Sunday Concerts
July 12: Carla Trynchuk (violinist)
Aug. 9: TBA
Sept. 13: TBA
Fernwood Friday
July 24: Kris Brownlee (contemporary jazz saxophonist and Megawave recording artist)
Jean Klock Park, Jean Klock Road, Benton Harbor.
Southwest Michigan Symphony Orchestra performs Aug. 1, The Baseball Project, a nostalgic blend of themed music in this beautiful Lake Michigan beach setting. Choose between reserved seating or bringing your own lawn chair or blanket. The concert begins at 7:30 p.m. and is underwritten by the Schalon Foundation. Reserved seating: $25; Lawn seating: $15; Children 12 and under: $5. No coolers or carry-ins in concert area.
John E. N. Howard Bandshell, Port St., St. Joseph.
This outdoor venue offers a breathtaking view of the St. Joseph River, Lake Michigan and downtown. There is lots of bench seating as well as a shaded grassy knoll for lawn chairs and blankets. Bring a picnic or pick up takeout from downtown restaurants that are within easy walking distance of the bandshell. All music performances are free and family friendly.
Brown Bag Concerts, sponsored by St. Joseph Jimmy John's Gourmet Sandwiches, are held at noon every Wednesday until Sept. 2.
July 1: Jack Adams Band (oldies, rock and pop)
July 8: Art Attila Trio (acoustic classics and rock)
July 15: Lee Murdock (songs and tales of the Great Lakes)
July 22: Deep Fried Pickle Project (kid-friendly tunes)
July 29: The Backsliders (classic rock)
August 5: Blue Water Ramblers (Great Lakes folk)
August 12: Jeff Brown (acoustic classics)
August 19: Susan Harrison (soulful rock)
August 26: Tim Velez (acoustic classics)
September 2: Keith Scott (blues)
Friday Night Concert Series, presented by The Boulevard Inn & Bistro, are held at 7:30 p.m. It's a great way to unwind into the weekend.
July 3: Marty Miles Band (folk/rock)
July 24: The Snyders (blues)
July 31: Lake Effect Jazz Big Band (jazz)
August 7: Harmonie Municipale Dudelang (orchestra from Luxembourg)
August 14: Guitar-Banjo Band (bluegrass)
August 21: Seventh Son (blues)
August 28: Blue Shoes (big band jazz)
September 4: Frederic & Ronza (R&B, soul and jazz)
Municipal Band Concerts. Donald Moely directs two concerts at 3:30 and 7:30 p.m. on Sundays through Sept. 6, as well as holiday performances July 4 and Labor Day, Sept. 7.
July 17: Mike Yore Memorial Car & Music Show. 7 p.m. Top Secret Band (dance band) and 9:15 p.m., George Bedard & The Kingpins (rockabilly). Music sponsored by The Paul and Rose Suchovsky Charitable Trust managed by The Neumann Financial Group of Hilliard Lyons.
Mendel Center at Lake Michigan College, 2755 E. Napier Ave, Benton Harbor. On Aug. 8 hear the classic rock tunes of The Hit Men featuring the former stars of Frankie Valli & the Four Seasons. The show starts at 8 p.m.; tickets are $26-$45.
New Buffalo Saturday Nights ALIVE Concert Series, is held at Whittaker and Merchant Streets (in front of The Villager). Locals and vacationers come together to hear a variety of music genres from 6-8 p.m.
July 4: Rene Meave (Tex Mex/Classic Rock)
July 11: Johnny V (Rock/Americana)
July 25: Mike Sturwin (Americana/Roots/Memphis Soul)
Aug. 1: Cleve "Hurricane" Jean (Reggae)
Aug. 8: Rene Meave (Tex Mex/Classic Rock)
Aug.15: Johnny V (Rock/Americana)
Aug. 22: Cris Bocanegra (Top 40)
Aug. 29: Keith Scott (Heavy Blues)
Sept. 5: David Lloyd (Top 40)
Shadowland Pavilion at Silver Beach, at the end of Broad St. (below the bluff), St. Joseph.
You can choose from reserved seating or bringing a blanket or lawn chair to enjoy amazing music performed by the Southwest Michigan Symphony Orchestra in an equally amazing setting overlooking Lake Michigan and the St. Joseph River. Underwritten by the Schalon Foundation. Reserved seating: $25; Lawn seating: $15; Children 12 and under: $5. No coolers or carry-ins in concert area.
July 4: Independence Day Celebration. 9 p.m. Includes fireworks display.
July 18: SummerFest Music & Microbrews, features 18 breweries, more than 72 brews and music at 4 p.m. by Blue Shoes, 5:30 p.m. by Libido Funk Circus and 8 p.m. by Mega 80s. Advance tickets: $20; Day of tickets: $25; Beverage tickets: $1 each (need 2-6 per drink)
Aug. 15: Rodgers and Hammerstein Oklahoma. 7:30 p.m.
The Heritage Museum & Cultural Center, 601 Main St., St. Joseph.
Southwest Michigan Symphony Orchestra brings its Casual Concert Series to this downtown venue housed in a beautifully renovated church. Concert and light dinner is at 6 p.m.; tickets are $35.
July 9: A Coastal Journey with John Mock (instrumentalist who weaves tales of lighthouses, castles and seafaring)
Aug. 6: An Evening with Jonathon Beyer (operatic, musical theater)
Weko Beach, 5301 Lake St., Bridgman.
Sunshine, Lake Michigan beach and free live music makes this a popular start of the week. Concerts at 7 p.m. Daily beach passes are $7 per car. Projected concert dates are July 12 & 26, Aug. 9 & 23 and Sept. 6.
Wineries. This corner of Michigan also knows how to combine the art of the vineyards with live music entertainment. Check the individual wineries for a full roster of summer events, but here are a few faves of locals and visitors alike:
Every Saturday and Sunday now 'til Oct. 31: Jammin' in the Vineyard, Round Barn Winery, 10983 Hills Road, Baroda. Yes, the barn is round! It's a great place to relax, listen to free live music, eat foods hot off the grill and toast friendships with award-winning wines and microbrews. Jam sessions are 12-6:30 p.m. on Saturdays and 1-4 p.m. on Sundays.
July 18: Vintage Blues Bash. Lemon Creek Winery, 533 E Lemon Creek Rd., Berrien Springs. An all day concert featuring three live blues bands: Elwood Splinters Blues Band, J.R. Clark Band and Shake N' Chill. Wine tasting, grilled food, hayrides and more.
July 25: 11th Annual Art, Wine & Music Festival. Domaine Berrien Cellars, 398 E. Lemon Creek, Berrien Springs. 11 a.m.-7 p.m. Held rain or shine it will host 25 local artists plus three live bands featuring the blues, jazz, bluegrass, country rock and rock performed by Vince Miller, Mike Talbot & Green Valley Peace, and The Oblates of Blues.
For a comprehensive playlist of summer music listening and events, visit swmichigan.org/events. You'll find lots more reasons to leave the MP3 player and earbuds at home!