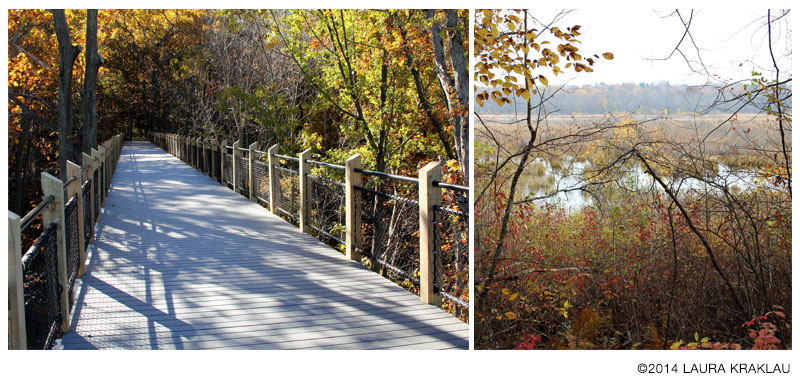 When the weather turns chilly, the tendency for a lot of us is to burrow inside. But the crisp air of late autumn and early winter is perfect for getting out and stretching your legs at one of many hiking locations in southwestern Michigan.
Two of my favorites are Grand Mere State Park in Stevensville and the Galien River County Park in New Buffalo. Both locations are just off Red Arrow Highway and are part of ecosystems created by the glaciers that brought us Lake Michigan thousands of years ago.
The 985-acre Grand Mere State Park was designated as a National Natural Landmark by U.S. Congress in 1976. The natural features of this park, many of which are not found throughout the rest of the state, are protected from development and sand mining thanks to the hard-fought efforts of a group of forward-thinking individuals in the 1960s and '70s who wanted to preserve this unique setting.
Hiking trails of loose sand and hard-packed dirt weave throughout the park, though most are not marked. (It's important to note that bikes and four-wheel vehicles are prohibited on the trails.) As you explore the trails through the woods, you will encounter three inland lakes that are separated from Lake Michigan by giant sand dunes. A challenging climb up the dunes results in the ultimate payoff of a majestic view of Lake Michigan, and eventual access to nearly two miles of beach.
Galien River County Park is a new addition to the Berrien County Parks system. This 86-acre tract along the Galien River in New Buffalo Township is a mix of woods and wetlands. The wetlands are part of the larger Greats Lakes march that forms just upstream from the mouth of the Galien River where it connects with Lake Michigan.
Unlike Grand Mere State Park, Galien River County Park is made up of barrier-free, hard-packed paths and a boardwalk that weaves through the marsh to the edge of the river. The stand-out feature of this location, though, is a 300-foot treetop walkway that leads to an observation deck 60 feet above the river and marshland. This location is an easier hike than Grand Mere but the unique features make it must for everyone to check out.
So on those crisp, clear days in the coming months keep in mind that there are plenty of opportunities to get some fresh air and explore all the region has to offer beyond the summer months.