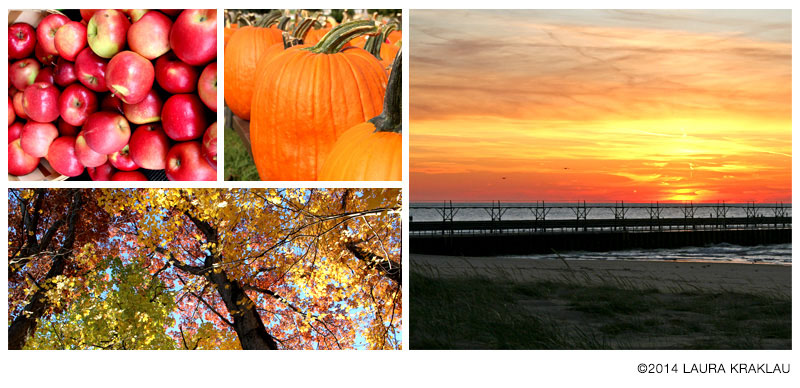 If I had to choose a favorite month in southwest Michigan, it's October. It's a great time to be with family and friends, the air is cool and crisp, and the colors are even crisper!
Pumpkin Orange – As you drive around, the countryside you'll notice pumpkin patches – big and small – everywhere. At many of these you will find carving pumpkins, white pumpkins, squash, painted pumpkins, and pie pumpkins. Kids love wandering through the pumpkin piles to find the perfect one to call their own. (Doesn't a pumpkin pie sound good right about now?)
Apple Red – Michigan ranks third in apple production in the United States, and many of those apples are grown right here in southwest Michigan. Farms like Jollay Orchards in Coloma and Stover's Farm Market & U-Pic in Berrien Springs not only grow apples but are open to the public for u-pick and already picked produce purchases. (Ok, now an apple pie sounds delicious!)
Sunset Purple – The beautiful beaches that stretch along the Lake Michigan shoreline take the spotlight in the hot summer months, but you can still catch amazing sunsets throughout the fall. The sun sets much earlier in October – right around 7 p.m. – so it makes the perfect after-dinner activity.
Corn Maze Yellow – Test your way finding skills and have some family fun in a corn maze. If you aren't familiar with this concept, paths are cut through standing corn fields and you navigate your way through the maze. It's a fun way to spend a sunny weekend afternoon! One place known for their corn maze is Jollay Orchard in Coloma. The corn maze is open during their annual Harvest Festival weekends throughout October.
And no matter where you travel in southwest Michigan, you'll see the trees burst into fiery reds, oranges, and yellows. Two of my favorite drives to enjoy the colors are north along Red Arrow Highway from the state line to Stevensville and north on M-63 from St. Joseph to Hagar Shores. Enjoy the show!