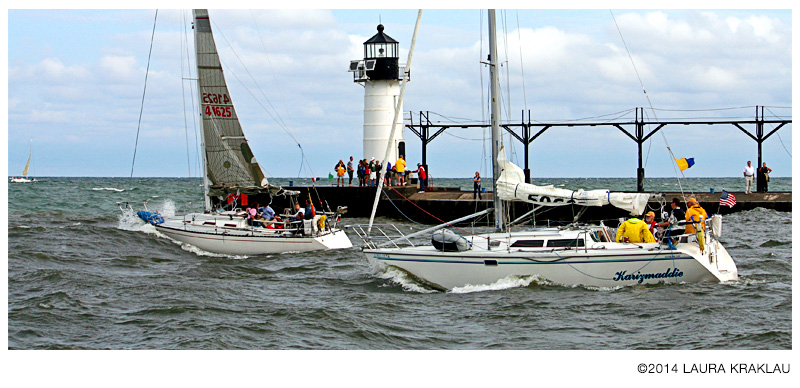 Boating is part of the culture here in southwest Michigan. Watercrafts come in all shapes and sizes from kayaks to inflatable Zodiac boats to dual engine speedboats. But the most majestic of all are the sailboats.
Labor Day weekend, like every Labor Day weekend for the past 60 years, sailboats will take center stage during the Tri-State Regatta. This Chicago to St. Joseph to Michigan City to Chicago race brings more than 100 sailboats and their crews together. They arrive – depending on weather conditions – in the early morning hours of Saturday. Most moor in the St. Joseph River next to the Arboretum in downtown St. Joseph, making this a favored destination for photographers and site seers.
Sunday morning is another excellent opportunity for spectators when crews ready their vessels for the next leg of the journey and depart the St. Joseph port around 9 a.m. The best vantage point for viewing the departure is the south pier off Silver Beach County Park, and the north pier off Tiscornia Park. Many spectators make a special event of it all. Some bring chairs to have a comfortable seat for the procession, while others pack a picnic breakfast to enjoy on the pier as part of a leisurely holiday weekend.
Have a fun and safe weekend enjoying all there is to see and do in Southwestern Michigan!