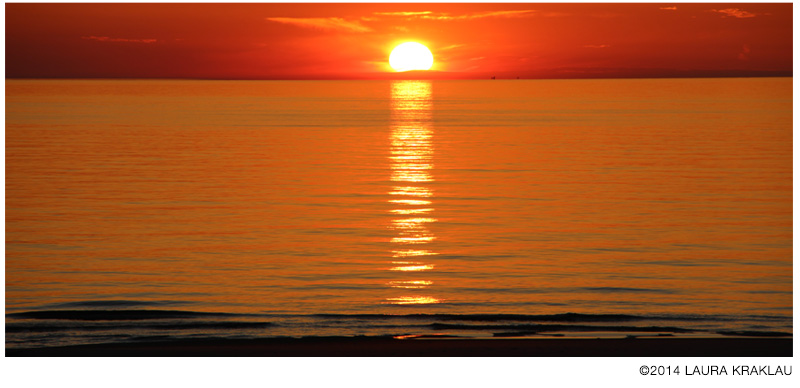 As you look at the calendar and realize it's the middle of August, you may be wondering how you can I make the most of these last weeks of summer. Here are eight great southwest Michigan activities to do before the autumn leaves begin to fall.
1. Taps at Sunset
A summer tradition since 1991 at Bridgman's Weko Beach, trumpeters salute the end of the day by playing Taps at sunset from Memorial Day through Labor Day. The moving tribute is a great way to slow the pace of life for a few moments and bask in the beauty of a Lake Michigan sunset.
2. Play a Round of Mini Golf
Get your competitive juices flowing by challenging friends and family to a rousing game of mini golf. Local courses include Hidden Pointe in Benton Harbor and Captain Mike's Fun Park in Bridgman.
3. Eat Fair Food
Elephant eats, funnel cakes, corn dogs, cotton candy...I could go on and on. This definitely won't win you any points for healthy eating with your doctor. But hey, the fair comes around only once a year, so how bad could it be? Get your fair food fix at the Berrien County Youth Fair in Berrien Springs now through August 16.
4. Walk on the Piers in St. Joseph
Take a long walk on a long pier and surround yourself with the sixth largest freshwater lake in the world. The north pier off Tiscornia Park and the south pier found off Silver Beach County Park are both open to the public. But be safe! When Lake Michigan is growling with wave action, it's best to enjoy the view from shore.
5. Dine Outdoors
Almost everywhere you turn, there are outdoor dining options to help you soak up each possible moment of summer. Clementine's Too, Ray's on the Green, Bistro on the Boulevard, Schu's Grill & Bar, and Cravings LakeHouse are just a few of the many options.
6. Attend a Concert at the St. Joseph Bandshell
A variety of musical styles are on stage at the bandshell in downtown St. Joseph. You can catch the Wednesday Brown Bag series through August 27, and the Friday Night Concert Series through August 29. The performances are free and open to the public. No tickets are required. Just show up and pick a place on a park bench or bring your own chair and sit under the shade trees.
7. Paddle on the Water
Kayak and canoe rentals are the perfect way to explore some of the interior waterways. Doe-Wah-Jack's Canoe Rental in Dowagiac lets you explore the beautiful and historic Dowagiac River. Harbor Shores Paddlesports and St. Joseph Canoe & Kayak Livery, both in St. Joseph, allow you to enjoy the St. Joseph and Paw Paw Rivers.
8. Eat Gelato
Waterstreet GelatoWorks in the Benton Harbor Arts District is the place to satisfy your sweet tooth. With a great selection of gelato made here in west Michigan, this cool treat will help you beat the heat.