Be inspired in Southwest Michigan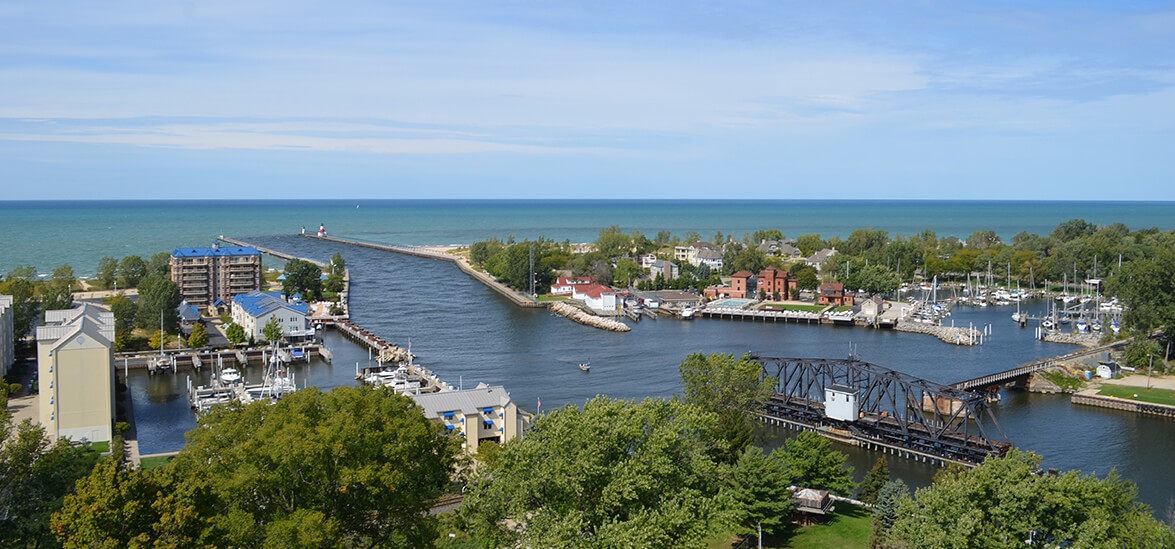 When you need an off-site meeting or convention place, come be inspired in Southwest Michigan. This region combines four beautiful seasons with resort towns along Lake Michigan's sandy shore. It has a wide selection of team-building activities and family entertainment to strengthen your relationships. And there is an excellent selection of gathering spaces well suited for strategizing, brainstorming and celebrating successes.
Being in Southwest Michigan, even for a day, will ignite your creativity ... which is why some of the Midwest's finest artists, chefs, entrepreneurs, performers and adventurers call this home. We hope you'll take time to meet some of them while you're here.
We're excited to be part of your business opportunities. Let us help plan your next:
annual big-picture strategy session
brainstorming meeting
board of directors, C suite or personal retreat
legal deposition
focus group
workshop or class
press conference
recognition event, reception or party
employee picnic or gathering
small-to-mid-size convention, expo, trade show or festival
Your getaway that's close to major cities
Southwest Michigan is an easy-to-reach refuge from congested streets, crowds and the stresses of life. You can arrive by:
Automobile on interstate highways that intersect Chicago, Illinois, Indianapolis, Indiana, and Grand Rapids or Detroit, Michigan.
Train using Amtrak. The Pere Marquette line offers daily stops from Grand Rapids and Chicago.
Air travel

using a private or charter plane to

Southwest Michigan Regional Airport

in Benton Harbor or a commercial flight to nearby airports:
All airports offer car rental, shuttle or limousine service to bring you to and from your destination in Southwest Michigan.
Boat via Lake Michigan. You can moor in the public slips at the St. Joseph West Basin Marina. Among the marina's many amenities are free shuttle service to downtown St. Joseph during operating hours and free bicycles.
Lodgings with rates to fit your budget
Because we're also a vacation destination, hospitality comes naturally in Southwest Michigan. We have several new and updated hotels and resorts along the lakeshore in Benton Harbor, St. Joseph and Stevensville. To get the best rate, use our complimentary bid service for 10 or more rooms. Ask us to get multiple quotes from our member hotels so you can zero in on the price and amenities you want. Or, do your own rate comparisons using the "Book a Room" service below.
Small breakout rooms to grand convention halls
Our hotels and banquet venues can provide intimate space for up to 40 team members to theater seating for up to 3,100 attendees — all with free parking. Lake Michigan College Mendel Center's Grand Upton Hall is an excellent site for your small to mid-size convention, expo or trade show. Less than five minutes from I-94, it features 14,400 square feet of open space and can hold up to 98 8'x 10' booths.
All of our meeting sites have managers who will keep your event running smoothly from start to finish. They will assist you with arranging for catering services, equipment, technology, staging and Wi-Fi access so you can focus on your agenda and guests.
If you're not interested in a conventional meeting site, Southwest Michigan also offers out-of-the-box meeting facilities and picnic and party venues such as beach pavilions, park and nature center lodges, museums, a carousel house, art galleries, wineries and breweries. Tell us what type of experience and ambience you're thinking of and we'll do our best to help you find it.
Team-building activities
Whether you're gelling a new team, solidifying long-time members or shaking up the status quo, we have several ways to strengthen your team or client relationships:
Amateur to Professional Level Golf: From May through mid October you can get tee times on some of the top golf courses in the Midwest. In fact, The Club at Harbor Shores has hosted the KitchenAid® Senior PGA Championship three times since 2012. And if your game isn't on par with Rocco Mediate or Colin Mongomerie, don't worry. There are courses in our region that are fun to play regardless of your skill level.
Beaches and Charter Fishing: The coast along Lake Michigan has many soft sandy beaches and towering dunes. You can walk to several beaches from hotels in downtown St. Joseph. Or you may park your car in nearby lots for a fee. Most Lake Michigan and inland lake beaches have picnic shelters, bath houses and restrooms. Several of the beaches have children's playgrounds and concession stands that sell food and drinks.
While you are here you can charter a fishing trip to reel in salmon, steelhead, trout and perch. Your captain can even tell you which local restaurants will prepare your fresh catch.
You and your team can also do beach walks, sand sculpting, swimming, boating, jet skiing, hang gliding, kite flying or sailboarding. You can paddle kayaks, canoes or stand-up paddleboards in Lake Michigan, local rivers or smaller lakes. If you meet here in winter, look for magnificent ice formations along our Lake Michigan beaches, especially on the St. Joseph North Pier lighthouse and catwalk.
Makers Trail wineries, breweries and distilleries: Our temperate growing climate has attracted many award-winning winemakers, brewers, distillers and chocolatiers. You can taste their craft throughout our region. Just follow our Makers Trail.
Itineraries: We can suggest more than 60 itineraries, several listed online, that can be followed or modified to match your group's interests or to entertain their spouses and families. We can even suggest transportation services that will get you from place to place. If you need help customizing an itinerary, just ask.

Treat your attendees and spouses to four seasons of adventure, relaxation and cultural experiences
Winter: We get snow from late November until mid-March. Because we are near Lake Michigan, it rarely gets bitterly cold. Our region has two downhill ski resorts and several nature centers that offer cross-country skiing and snowshoeing. Love Creek Nature Center in Berrien Center grooms three miles of trails for fat tire bicycling in the snow (they rent the bicycles to individuals and groups, too). We have holiday parades, ice carving and wine festivals and many places to shop. Plus, almost every weekend you can enjoy wonderful music and theater performances throughout the region.
Spring: This is a beautiful time of year to drive or bicycle through our countryside. Our orchards are scented with fragrant, pastel blossoms. It is also one of the best seasons to find beach glass, crinoids (small fossils), rocks and drift wood along our Lake Michigan shore. Many of our museums and art galleries open new exhibits this time of year. Fishing, paddling, kite flying, bird watching, wildflower hunting and hiking are favorite spring pastimes. We also have one of our biggest and oldest festivals, Blossomtime, in late April and early May.
Summer: This is a very popular season to visit Southwest Michigan. Lake Michigan breezes keep our temperatures warm, but rarely blistering hot. Popular activities include water sports, attending music and art festivals, picking fresh fruits and vegetables at farms and markets, golfing and going on amusement rides at the county fairs. The recently renovated North Pier Lighthouse in St. Joseph is now open for tours. We can help you arrange one for your group through The Heritage Museum and Cultural Center.
Autumn: This is our most colorful and bountiful time of year. Our tree leaves turn crimson, orange and yellow. The region's orchards and farms offer apples, blueberries, squash, pumpkins, flowers, cider and many other fruits and vegetables. Our wineries, breweries and distilleries are open year round, but this is the season for their harvest festivals. You can also have fun fishing, boating, hiking, or taking in area culture at our museums, theaters and art galleries. Bring sweaters, a light jacket and winter coat and gloves — our air temperatures can range from warm to crisp and cool — often in the same day.
Kid-favorite things to do:
Free welcoming materials
We can supply you with helpful guides, maps and brochures to include in your guests' welcoming bags.
Planning assistance
Victoria at our Welcome Center is available to help you plan your next meeting, convention or business celebration in Southwest Michigan. To make your job easier, contact us today.