Spending too much time indoors staring at a screen? Then head for our winter playground. Southwest Michigan is piling up the fun and you won't want to miss any of it!
For starters, learn how to ski or snowboard at Swiss Valley Ski Area in Jones (or come for a fireside dinner in the Chalet). Impress your friends with what wines to pair with Girl Scout cookies (take a class Jan. 27 at Lazy Ballerina Winery). Try any of the activities listed below or here. And book your lodgings now for the: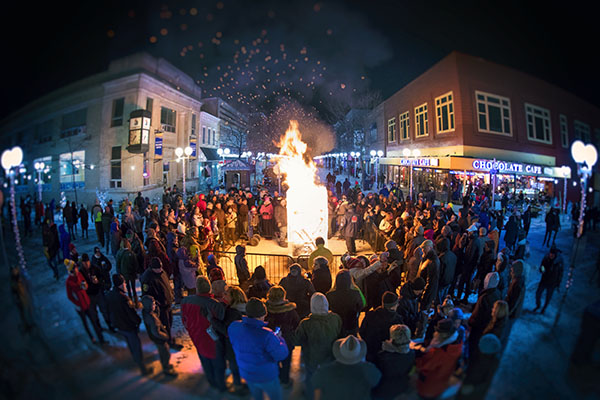 15th Annual Magical Ice Fest | Feb. 1-3 | St. Joseph | Professional Ice Carvings & Festivities Downtown | FREE
Enjoy certified ice competitions, Fire & Ice Tower, Fire & Ice Party, 7th Annual ICE Wars!, SnowBiz Scavenger Hunt, frozen fish toss, Magical Ice Throne, Magical Tour, Waikiki Weekend and the beautiful natural ice formations along Lake Michigan. It's one of our most fun-packed weekends. Bring the kids or make it a romantic getaway. If this isn't one of your winter traditions … it will be! Hotel packages and festival details, here!
Play Creative Pursuit for Fun Prizes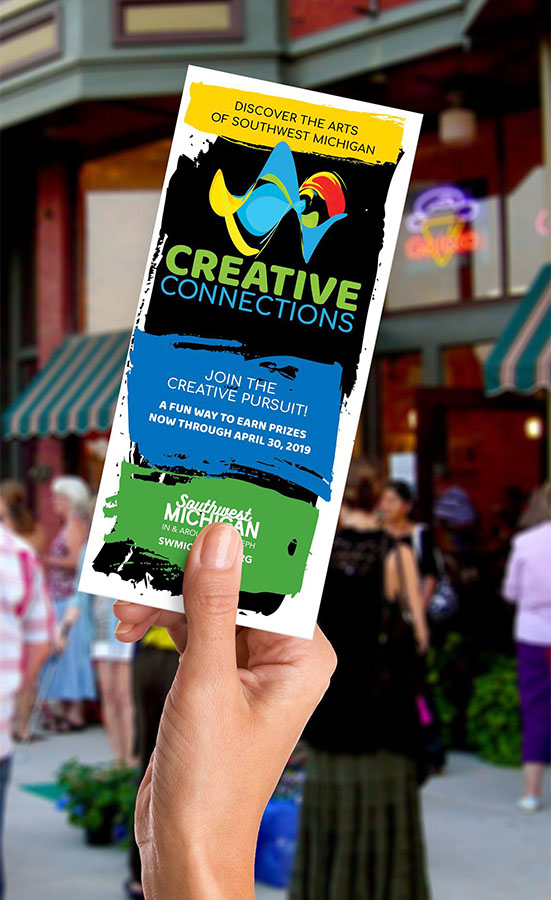 NEW! Creative Pursuit Game | Now through April 30, 2019 | Visit up to 16 Berrien County Arts & Culture Destinations | Get up to 4 Prizes
For centuries, Southwest Michigan has inspired hundreds of artists, writers, performers and history-makers. So, our region is filled with galleries, theaters and museums. To entice you to connect with them, we've put together a new game, Creative Pursuit, that you can play between now and April 30, 2019. The more creative connections you make, the more prizes you can earn!
You will find the list of 16 participants and the Creative Pursuit game board in the Creative Connections map. These maps are now available at each of the destinations, participating hotels and at the Southwestern Michigan Tourist Council Visitor Center at 2300 Pipestone Road, Benton Harbor.
Get up to 4 prizes!
Level 1: A $20 Creative Connections Gift Certificate that you can redeem at one of the 16 participating locations (your choice). Earn it with three stamps: one each from a participating gallery, museum and performance venue.
Level 2: Joshua Nowicki photographic art, signed by the artist. Joshua is one of our region's most renowned landscape photographers and you can choose between four, gorgeous 8"x10" photos printed on metal. After completing Level 1, collect three more stamps: one each from a different participating gallery, museum and performance venue to earn this prize.
Bonus Prize: an all-weather picnic blanket, plus entry in the Grand Prize drawing. Stay one night in a participating hotel and complete at least Level 1.
Grand Prize: all-inclusive, two-night hotel package for two people. You could be one of five winners in a drawing on May 10, 2019.
So get connected! Learn all the details here!
Wow your taste buds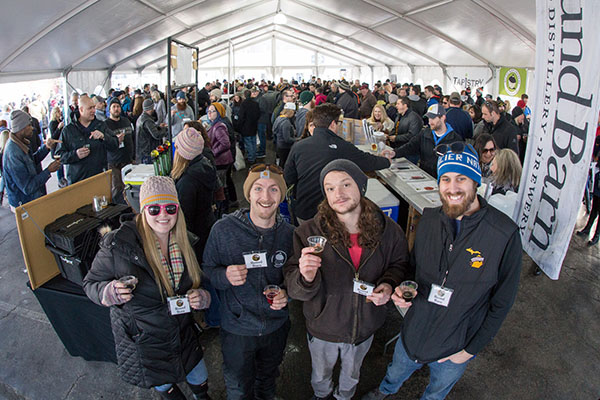 7th Annual Downtown Chili Tour | Jan. 25 | 5 to 8 pm | St. Joseph | $2 per person
&
4th Annual Winter Beer Fest | Jan. 26 | Noon to 4 pm | Downtown St. Joseph | $35 - Buy tickets now!
Warm up with these two flavor-filled fests in downtown St. Joseph. Start by spicing up your weekend at the Chili Tour on Friday evening. Make your first stop the St. Joseph Today Welcome Center, 301 State Street, where you can register and pick up your tour map between 9 am and 8 pm. The tour costs $2 (a portion helps the Benton Harbor Soup Kitchen). Then make the chili tasting rounds searching for your favorite. A panel of culinary judges will announce the winner of the Chili Pepper Award but pick your "best" for the People's Choice Award. Tour updates here.
Come Saturday for an afternoon of sampling 16 of the best local and regional brews. Meet outdoors on the corner of Broad Street and Lake Boulevard. With your ticket you'll get 12 tasting tokens (one token per taste), a sample cup, music by JellieFish Productions and a good time with fellow beer lovers (must be 21 years or older). You can grab food from the Nosh Village and Twisted Dawg trucks. This popular event sells out fast so get your ticket now. Learn how here.
See the latest wedding trends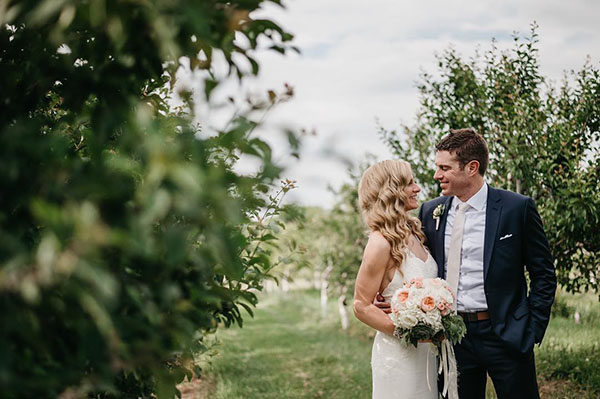 Wedding World | Jan. 26 | 11 am to 3 pm | The Mendel Center | Benton Harbor | FREE
&
Lucky Bride | Jan. 27 | Noon to 4 pm | Four Winds Casino Resort | New Buffalo | $7.50 Advance Tickets/$10 at the Door
Planning a wedding in Southwest Michigan? Two of the ideal places to learn more about area venues, honeymoon destinations, caterers, DJs and more is at these two back-to-back shows the last weekend of January. Wedding World presents 60+ exhibits, mini-seminars, fashion show, cash bar and $3,500+ in door prizes. Learn more here.
Or attend the Lucky Bride Event, an upscale showcase of Southwest Michigan's, Northwest Indiana's and Michiana's premier wedding professionals. Be inspired by the latest wedding trends featured in the decor gallery, food tastings, gown sale and more. For more information or to purchase advance or VIP tickets, visit here.
Watch acrobats, mechanical marvels & more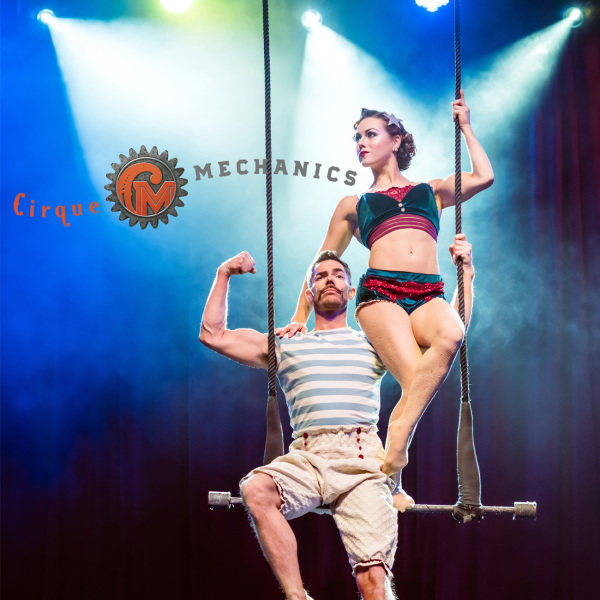 Cirque Mechanics | Feb. 1 | 8 pm | The Mendel Center | Benton Harbor | $26 to $48 + appropriate fees
Be ready to gasp. Hold your breath. Laugh. Be amazed at this reinvention of the American circus. This menagerie of mechanical and acrobatic marvels will captivate you with American ingenuity and a little clowning around. This show definitely chases away the winter blahs. Tickets are available in person at The Mendel Center, 1100 Yore Avenue, Benton Harbor, by phone at 269-927-8700 or click here to order online. Hope to see you there!