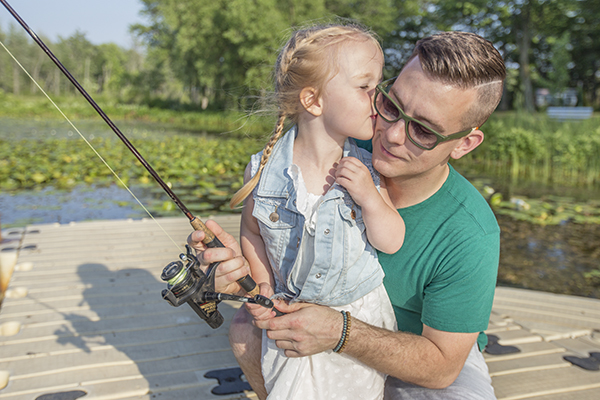 As nice as a new tie or package of golf balls may be for your dad or grandpa, carving out time together is the gift he'll treasure. So, what can you do June 15-17? We've been entertaining dads for centuries in Southwest Michigan and you'll have no trouble packing a day or two with memory-making activities. Plan to stay over in one of our lodgings to give you more options. You can save the tie idea for his birthday or Christmas.
June 15 & 16: 27th Annual Harborfest
Fri: noon-10 pm; Sat.: 8 am-10 pm, South Haven; Free
Cheer on the dragon boat races, find your favorite crafts in the beer garden, enjoy live entertainment and kids' activities.
June 16: 37th Annual Antique and Classic Boat Show
10 am-4 pm; Maritime Museum, South Haven; $
Bring dad or grandpa to see a variety of boats. Kids will have fun building toy boats and watching demonstrations.
WOW-FACTOR OPTIONS: Take dad sailing on Lake Michigan on the 1810 replica sloop, Friends Good Will, or cruising down the river on the Lindy Lou. Reserve your adventure here.
June 16: Lake Michigan Shore Wine Festival
1:00-9:30 pm, Warren Dunes State Park, Sawyer; $
With towering dunes to the east and nothing but Lake Michigan to the west, this venue is a winning combination of beach, music, food and wine.
June 16: 12 Corners Live with Bryan and Nashon
3-6 pm, 12 Corners Vineyards, Benton Harbor; Free
Up-and-coming Kalamazoo-based artists Nashon Holloway and Bryan Blowers will be performing acoustic jazz and R&B covers along with some original music.
June 16: The Men of Riversong
7-9 pm, The Box Factory for the Arts, St. Joseph; $
A memorable evening of wonderful harmonies of folk, American traditional and pop tunes, singalongs, as well as great new songs.
June 17: 34th Annual Father's Day Festival
12-6 pm, Lemon Creek Winery, Berrien Springs; $
From wine tasting, a Corvette car show and live music to children's games and hayrides there is something for every member of your family to enjoy.
June 17: Father's Day BBQ On The Patio & Classic Cruise In
11 am-3 pm: Classic cruise in and car show; 12-3 pm, BBQ Buffet, Hilton Garden Inn, Benton Harbor; $
A professional chef will serve up traditional BBQ and all the fixings. Music provided by DJ Rockin' Randy Poole. Call (269)-926-5000 ext. 4605 to reserve your table.
June 17: Live Music by Chris Behre
2:30-5:30 pm, Dablon Winery, Baroda; Free
Sing along to acoustic folk rock renditions of familiar tunes.
All Weekend: Kayaking or Canoeing
Third Coast Surf Shop, Benton Harbor/St. Joseph or Doe-Wah-Jack's, Dowagiac
Rent a kayak, stand-up paddleboard or canoe to paddle along rivers or on the Big Lake. Or bring your own and follow one of our water trails.
All Weekend: Mini-golf and Go Karts!
Hidden Pointe Fun Park, Benton Harbor or Captain Mike's Fun Park, Bridgman
18-holes of mini-golf, single and tandem karts on a twist-and-turn track, arcade games, batting cages and jump shot trampoline basketball will make great memories. Captain Mike's offers water fun, too.
Find more Dad-time ideas here.
FREE lighthouse tower tours!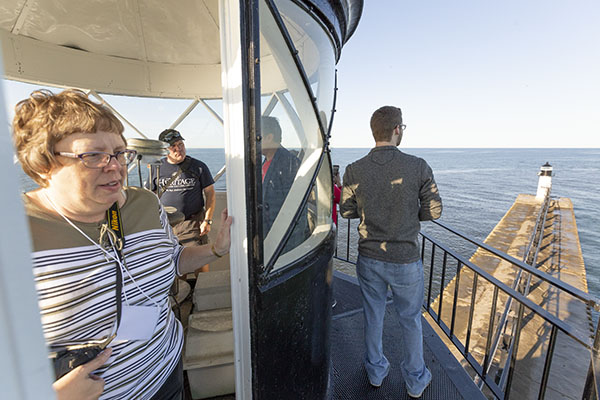 The Heritage Museum & Cultural Center in St. Joseph is celebrating our statewide and local lighthouse heritage in 2018 with new exhibitions, North Pier Inner Lighthouse tower tours, plus special celebrations — and you're invited!
June 14: Lighthouse Exhibitions Opening Reception
The Heritage Museum & Cultural Center, 601 Main Street, St. Joseph; Free
5:00 pm: reception and refreshments; 6:30 pm: prize drawing plus a talk and book signing by author/pilot/photographer John Wagner who has photographed from the sky every Michigan lighthouse.
Today, through the end of the year, the museum will showcase two traveling exhibits, plus a third museum-housed exhibit:
Michigan Lighthouses: An Aerial Photographic Perspective presents the stunning work of pilot John L. Wagner. There are more than 75 aerial photographs on display plus models and mementos of the St. Joseph North Pier Lighthouses.
Ladies of the Lights: Michigan Women in the U.S. Lighthouse Service, shares the stirring stories of Michigan women lighthouse keepers. Visitors can build a LEGO lighthouse, "dress the keeper" in a section about Lighthouse Service uniforms and watch aerial drone footage of the St. Joseph Lighthouses.
Lighting the Way: Fresnel Lenses from the St. Joseph Lighthouses is the only exhibit on the Great Lakes featuring a pair of Fresnel lenses from the same range light system.
June 15 & 16: Free Lighthouse Tower Climbs
North Pier Inner Lighthouse, St. Joseph
11 am-2 pm (weather permitting)
Step into the former lighthouse keeper's shoes as you explore the new display of historic photos, maps and reproductions. Then climb to the lantern for a breathtaking view of the harbor. Must be 4-feet tall to do the climb. Visit here for additional lighthouse hours and tours.
Relive the bravery.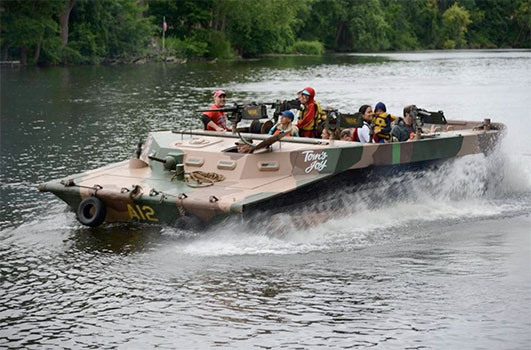 With the motto, "To brighten the future, we must illuminate the past," members of Southwest Michigan's Lest We Forget organization are keeping alive the stories of the men and women who have bravely defended our country's freedom since World War I. This year they are commemorating World War II with a re-enactment of a Marine beach landing. You'll want to bring the whole family to the event grounds along the St. Joseph River basin, on Whitwam Drive, near the Inn at Harbor Shores. There is no admission charge, however, there are charges for rides.
June 23: 9 am-5 pm & June 24: 9 am-3 pm
New this year: "The Spirit of America's Story." This traveling, 100-foot wall will be displayed throughout the event under the big tent. It teaches through a powerful, pictorial timeline the immeasurable sacrifices our people have made to secure our freedom from 1775 to the present.
Guest Speakers: Mr. Lee, Consul General of the Republic of Korea, will address current issues in North and South Korea; Johnny Mayo will share his stories about war dogs and bring one for you to meet; Medal of Honor recipient Jim McCloughan; and Vietnam War author Phil Marshall. See schedule for times.
Re-Enactments: Beach Landing Marine Assault
See the landing, rifle squad and flamethrower in live action.
June 23: 11 am, 1:45 and 3:45 pm
June 24: 11:45 am and 1 pm
Thrilling Rides
Saturday: 9 am-5 pm and Sunday: 10 am-3 pm
World War II Landing Craft
$10 for ages 13+; $5 for ages 12 and under with parents
Vietnam Huey Med-Vac Helicopter
Join Lest We Forget ($100 membership) and ride free
Happy birthday, U.S.A.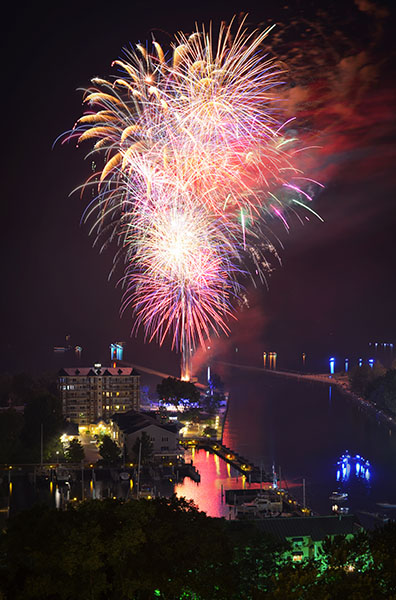 Nothing says Fourth of July like watching fountains of colorful sparks light up the sky. Here are some of our most popular fireworks celebrations, all starting at dusk.
June 29
Dowagiac, Russom Park
Hartford, Hartford Motor Speedway
June 30
Sister Lakes, Lions Park
July 3
Baroda, American Legion Field
New Buffalo, New Buffalo Beach
Niles, Apple Festival Field
South Haven, Light Up the Lake,
South Haven, Fireworks Sail
July 4
St. Joseph, Independence Day Concert
St. Joseph, Silver Beach
July 7
Cassopolis, Diamond Lake
Mmm! It's strawberry time!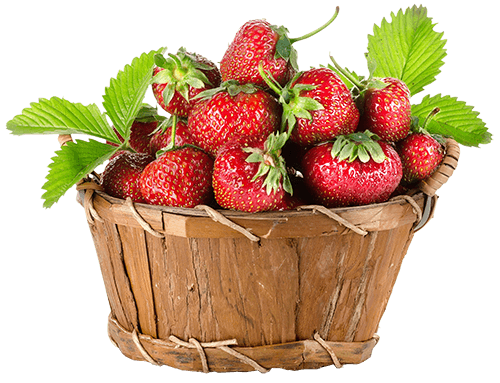 Eating luscious Michigan strawberries is heavenly! From now 'til near the end of June, you can pick them sweet and juicy right from the fields at Stover's Farm Market in Berrien Springs (ready-picked berries are available, too). Or choose quarts of these bright red berries at Piggott's Farm Market & Bakery in Benton Harbor, Fruit Acres in Coloma and Lehman's Orchards in Niles. Want storage and recipe ideas? Download these tips.