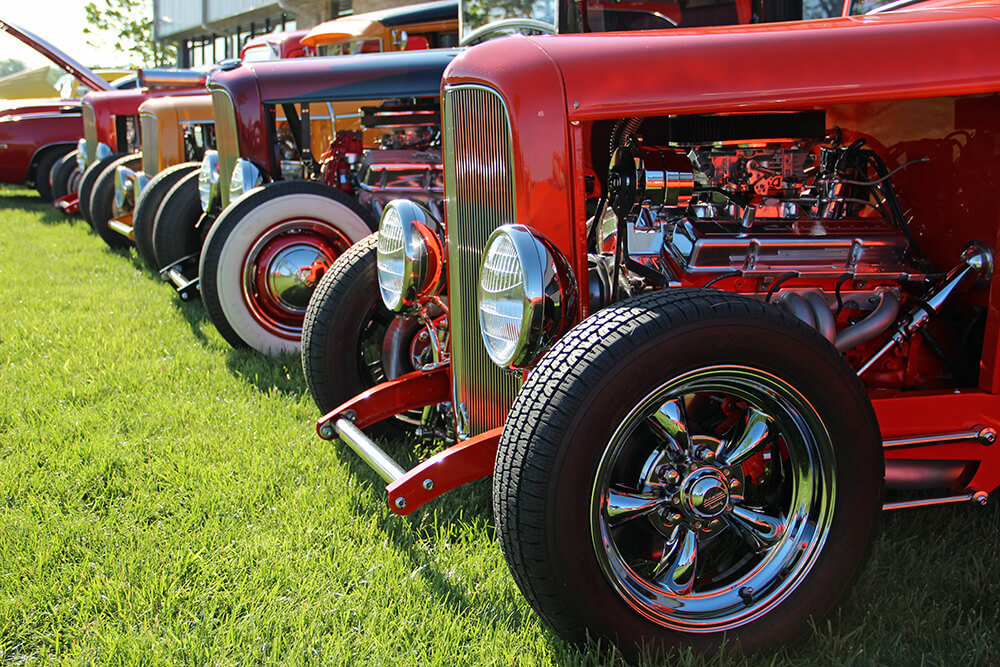 Southwestern Michigan has a secret.
As you drive among late-model mini vans, SUVs, and four-door sedans, you'd never guess that a vast collection of artistry and pure automotive power silently surrounds you. Vintage and custom cars of all shapes and sizes – from the Brass Era to muscle cars to newer specialty vehicles and everything in between – are shielded from the rigors of daily driving, tucked safely away in garages, barns, and storage buildings throughout our corner of Michigan.
But when the summer sun is shining, the owners of these magnificent vehicles throw back the tarps, polish the chrome, and fire up the engines to bring their rolling treasures out for everyone to see at the many car shows this area is known for.
Not only can you get an up close look at some rarely seen vehicles, but you can usually get a history lesson, too. Most owners camp out near their vehicle, and are happy to answers questions and share the story of how their "baby" came into their lives.
Upcoming car shows include:
Mike Yore Memorial Car Show
Friday, July 17, 2015, begins at 4 p.m.
Lake Boulevard overlooking Lake Michigan, Downtown St. Joseph
This annual favorite is moving to a new night. For the first time, cars will line Lake Boulevard on Friday night, not Thursday, for this mid-summer tradition. The Beer & Wine Zone opens at 6 p.m., and The John E.N. Howard Bandshell will be the hub for live music beginning at 7 p.m. Once you're in town for the car show, stay for an entire weekend of fun. On Saturday, take part in the YMCA 5k/10k, shop the Farmers Market, take in SummerFest Music & Microbrews at the Shadowland Pavilion, and celebrate the return of the Lighted Boat Parade on the St. Joseph River. On Sunday, enjoy free, horse-drawn trolley rides and two free St. Joseph Municipal Band concerts at 3:30 and 7:30 p.m.
Support Our Troops Festival Collector Car and Truck Show
Saturday, July 25, 2015, cars begin arriving at 7 a.m.
Behind the American Legion Post 345, Baroda
Not only will you find custom and classic cars and trucks at this 5th annual show, but for a second year antique tractors will also be on display. Vehicles registration goes on until noon, and awards are presented at 4 p.m. so you have large window of time to stop by and check out the cars...and tractors!
Coloma Glad-Peach Classic Motorcycle Show
Sunday, August 2, 2015, 11 a.m. to 1:30 p.m.
Main Street, Downtown Coloma, Near the Friendly Tavern
OK, they're not cars, but these classic two-wheeled cousins of the automobile are just as fun to admire. This is the second year for this show which is part of the larger, 4-day Coloma Glad-Peach Festival. While you're there, you can enjoy the carnival, food booths, and long list of other activities.
Lake Bluff Concours d'Elegance of Southwestern Michigan
Saturday, August 8, 2015, 10 a.m. to 4 p.m.
Lake Bluff Park, Downtown St. Joseph
Nearly 100 vehicles will be part of this invitational exhibition. Featured classes are: Showroom Showdown: Cadillac vs. Lincoln, 50 and Going Strong – The Class of 1965, and Groceries, Kids, and Vacations: Station Wagons. The featured guest is Roy Sjoberg, retired executive engineer known as father of the Dodge Viper. $10 per person; $20 per family (with school-aged children). Net proceeds benefit Hospice at Home.
Dowagiac Rod & Roll Classic Auto Show
Saturday, August 15, 2015, cars begin arriving at 8 a.m.
Front & Beeson Streets, Dowagiac
Celebrating its 25th anniversary, this car show includes a full day of food, music, and entertainment in historic downtown Dowagiac. Festival goers will enjoy 1950's music, auto games, the Tailgate Treasures' Flea Market, and a Lions Club pancake breakfast.
Vintage Vineyard – A Foreign Sports Car Show
Saturday, September 12, 2015, noon to 7 p.m.
Round Barn Winery, Distillery, and Brewery
Baroda Estate and Tasting Room
Enjoy a glass of wine, beer, or spirits as you stroll through the Round Barn grounds viewing classic and timeless cars that may just get you dreaming about driving the Autobahn. Live music from two bands and delicious food complete the amenities needed for a relaxing early autumn afternoon in the vineyard.
Whatever show, or shows, you choose, make a weekend of it and enjoy all the summer fun in Southwestern Michigan.