Southwestern Michigan Tourist Council Membership
Reach millions of potential customers annually ...
... join the Southwestern Michigan Tourist Council.
There is no easier way to make your advertising promotions more impactful than joining the Southwestern Michigan Tourist Council (SWM). With your annual membership, you'll connect with millions of potential tourists from all 50 states and beyond. You'll instantly be on the radar of people that want to come here to relax and play, make family memories, shop, dine and stay over — people who will become your customers.
Here's what we'll do for you
Our goal is to find the most cost-effective ways to reach the most people in our primarily Great Lakes States target market. That's not to say we don't reach beyond our region (we do), but we know Southwest Michigan is primarily a drive-to destination and there are millions of people within a tank-of-gas of here. Our strategy is to convince them to stay over. That's where you come in! It'd be more enticing if we can add your business to our "here's why you'll want to stay longer, come here more often" reasons!
How we expand your market reach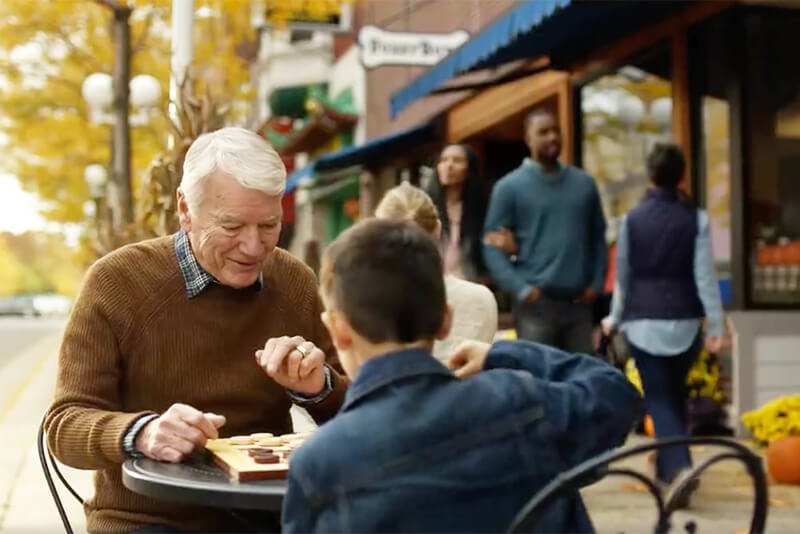 New for Fall 2017! More Markets for Pure Michigan TV.
Last fall, Pure Michigan premiered a TV spot featuring Southwest Michigan. It's very exciting to be part of this highly successful television and online campaign. This year, funding from our member lodgings and community supporters is making it possible for us to air this spot in more markets! In September 2017, besides having a presence in Chicago, Detroit and Indianapolis, we are extending our reach into northern Indiana, St. Louis and southern Ontario markets. With this additional Pure Michigan TV and online exposure, we hope to see more visitors coming to our website ... and to Southwest Michigan. You couldn't join our Council at a better time!
Connect with hundreds of thousands of people annually online
Hundreds of thousands of people visit swmichigan.org throughout the year. The number of site visitors keeps increasing (our most recent report shows a 6.4% increase) and our mobile visits are growing even faster (we saw a 34% jump last year).
Attract customers with these online advantages
Visitors will find you. Your SWM website listing includes key information: a description of what you offer, contact details, website link, map and directions, payment options, wheelchair accessibility, plus inclusion in a special section if you are pet friendly.
Tourists look here FIRST for events. As one of the most popular tourism websites in southwest Michigan, most site visitors come here first to learn what's going on. That's a strategic reason to list your special events throughout the year on our site. (We'll give you a member ID so you can enter our portal to upload your events anytime.) But our site isn't the only place we feature local happenings. We mention members' events on our social media pages (such as Facebook) and in our e-newsletters.
We strengthen relationships daily through social media. In the last year our number of Facebook likes has nearly doubled at 10,000+ and our number of social media referrals back to our website are up 279%! SWM's friends know our Facebook page is the go-to place for nearly daily updates on our region, members and their events. We also run campaign ads on Facebook to drive more prospective customers to our site and members.
Hold contests to increase traffic to our social media sites and members. 
Of course it's important to keep increasing traffic to our Facebook, Instagram and Pinterest pages. One of our most successful tactics has been our social media contests. Recently, we encouraged people to pose with a cutout sign positioned weekly at members' locations. Members donated great prizes and participants discovered fun places all summer long!
Tourists stay in-the-know through e-newsletters eight times a year. We publish news about our region and members in January/February, March/April, May, June, July, August, September/October, November/December. Years of testing have helped us determine the best day to deliver our e-newsletters and what stories subscribers want to read. As a result, our e-newsletter open rate is nearly 9% higher than the national average.
They connect to our site through AdWords. Using Google AdWords we're able to reach people as they search online using keywords and phrases or as they browse on tourism-related websites. For example, our online ads bring brides searching for Lake Michigan reception venues to our Southwest Michigan Weddings Landing Page. That page directs them to our members who can help them create a perfect day.
We're capturing a growing mobile market. More and more people are connecting with businesses and organizations using their smart phones and tablets. During our fall mobile ad promotions, we use easy-to-see buttons to make it faster for customers to reserve lodgings, find event dates and locate our members.
We promote deals and packages. Our website visitors like a good buy, so they frequent our Packages page. The most attractive deals are collaborative efforts with our members. So if you have a special offer, we'll add it to the page and use our social media and e-newsletters to draw attention to it.
We pass along valuable leads. When visitors to Travel Michigan and West Michigan Tourist Association websites express an interest in Southwest Michigan destinations and events, they are redirected to our website. We'll pass any pertinent leads on to you.
Other ways we help convince tourists to come here ... again and again
SWM Travel Information Center, 2300 Pipestone Rd., Benton Harbor, Mich., is conveniently located at I-94, Exit 29. Travelers and locals stop in for member brochures, itineraries and help with selecting lodgings, reunion and meeting locations and entertainment ideas.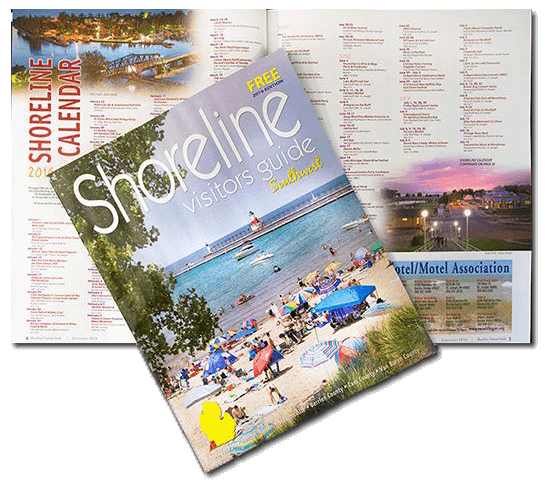 700,000+ brochures reach fun-seekers via mail, online and racks throughout Michigan.

Outdoor boards target travelers in key markets. Year round we maintain a presence on the highly trafficked Chicago-Detroit I-94 corridor. During our fall promotion we increase our exposure in key markets such as Chicago, Detroit and Indianapolis through additional billboards, transit ads and bus wraps. All of our outdoor media have a clear call-to-action to visit swmichigan.org to learn more about our members.
Print ads keep Southwest Michigan top of mind. We follow a media plan that uses timely monthly publications and those with longer seasonal or annual shelf lives. Our campaigns stand out from other ads in these publications and successfully increase traffic to our website. Look for our ads in publications such as Midwest Living-Best of the Midwest, Pure Michigan Guides, USA Today-Escape, Wedding Day Magazine, Chicago Magazine, Long Weekends and Michigan Blue.
Radio show interviews and ads promote our area all year round. In addition to on-the-air local interviews touting specific events or seasonal activities, we co-op with Cornerstone Alliance to create, five 30-second radio spots. These run in each of the four seasons plus at the holidays on Midwest Family Broadcasting stations. They encourage locals to visit our website for member event listings and fun area destinations.


Travel and trade shows booths give us face time to talk up Southwest Michigan at popular shows in Michigan, Indiana and Illinois.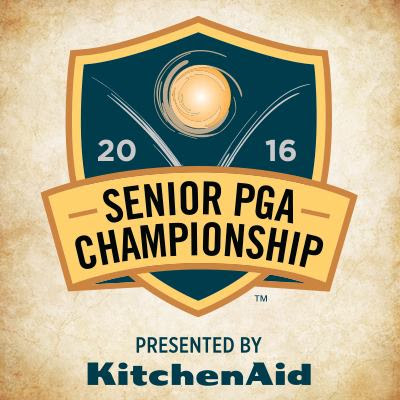 Event sponsorships are another way we help our members increase their visibility with thousands of fun-loving people. In 2016 we will be one of the sponsors for the popular Weko Beach wine and beer festivals as well as the Senior PGA tournament.
Welcome groups to our area. Locals and visitors turn to us for help in choosing lodgings and planning their weddings, reunions, conventions, corporate gatherings and bus tours.
Share your story regionally and nationally. Travel writers, bloggers, photographers and videographers are always clamoring for new material about Southwest Michigan. We provide them with the information and connections they need, plus give personal tours to familiarize them with our area. This way our members are featured in our blogs and itineraries, as well as on regional and national travel websites, in print publications and on radio and television shows. We'll help you get your story out!
Glean ideas and collaborate on tourism programs with regional and state organizations. Members of the Southwestern Michigan Tourist Council and Shoreline Hotel/Motel Assessment Association work with statewide and regional organizations to enhance our services and develop cooperative programs together. If you would like to work with any of these organizations or learn more about them, talk with us. We'll connect you! • Michigan Economic Development Corporation/Travel Michigan • Michigan Department of Agriculture • Michigan Department of Natural Resources • Michigan Department of Transportation • Michigan State University • MSU Cooperative Extension• Michigan Association of Convention & Visitors Bureaus • Tourism Industry Coalition of Michigan • Michigan Lodging & Tourism Association • West Michigan Tourist Association.
Be part of an enthusiastic group of Southwest Michigan promoters!
As you can see, joining our numbers will give your business a stronger voice and broader reach. The cost? You get all of this exposure for only $165 a year if you're a business and $110 a year if you're a non-profit organization. You won't find a better promotional value in the region.
To register, complete and mail this membership application with your registration check to the Southwestern Michigan Tourist Council at 2300 Pipestone Road, Benton Harbor, Michigan, 49022 or call Brandi today at 269-925-6301 to set up a time to learn more. We're excited about bringing more customers to you soon.