LIFE IN YOUR LANE - A BOX FACTORY FOR THE ARTS READERS THEATER PRODUCTION
Event published by Box Factory for the Arts
June 20, 2019 - June 23, 2019
7:00pm - 9:00pm
1101 Broad Street 1101 Broad Street
Saint Joseph
49085
(directions)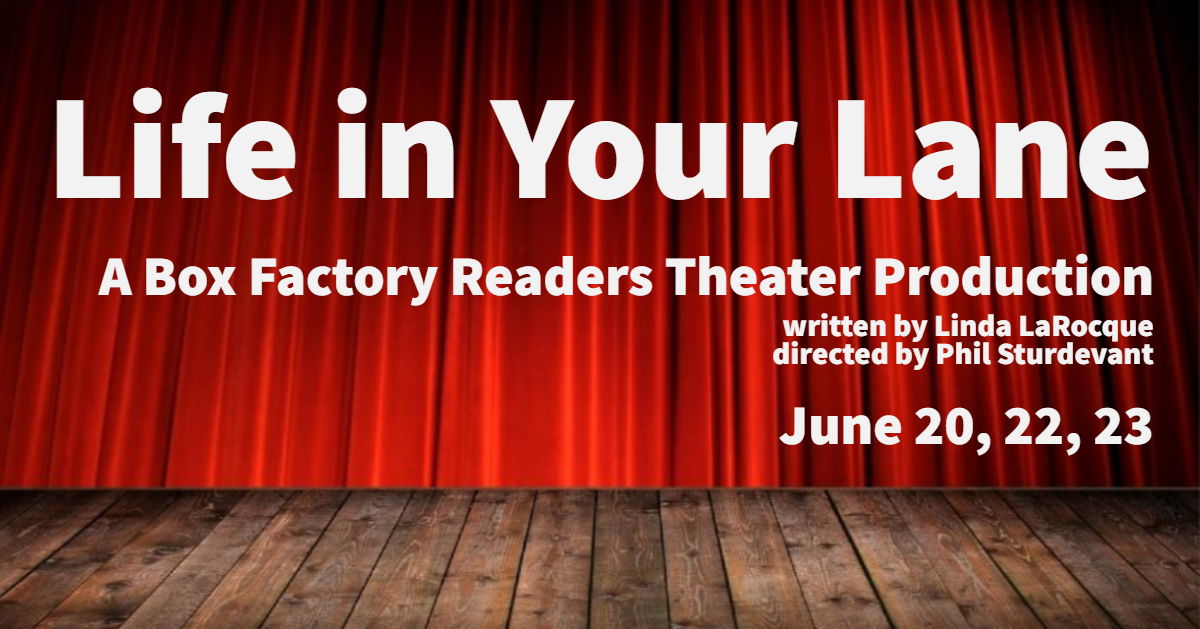 LIFE IN YOUR LANE
A Box Factory for the Arts Readers Theater Production
Written by Linda LaRocque
Directed by Phil Sturdevant

Join us for the Box Factory's Readers Theater production of "Life in Your Lane." Humorous yet often poignant, "Life in Your Lane" is a production of six short plays that focus on life and its continuing surprises.

General admission seating
$12 adv // $15 at the door

Thursday, June 20th - 7pm
Saturday, June 22nd - 7pm
Sunday, June 23rd - 2 pm

There will be a "Talk Back" with the cast following each show.

Kristen Patzer serves as emcee for "Life in Your Lane." The cast (in order of appearance) consists of Susan Plee, Sherry Saenz, Steve Hamel, Lizbeth Benjamin, Meredith Frank, Bill Growden, Mary Czarnecki, Scooter DiMaggio, Elaine Harju and Mary B. Reck.
Admission: 12.00/15.00