Krasl Art Fair on the Bluff
Event published by Krasl Art Center
July 13, 2019 - July 14, 2019
10:00am - 6:00pm
707 Lake Blvd. 707 Lake Blvd.
Saint Joseph
49085
(directions)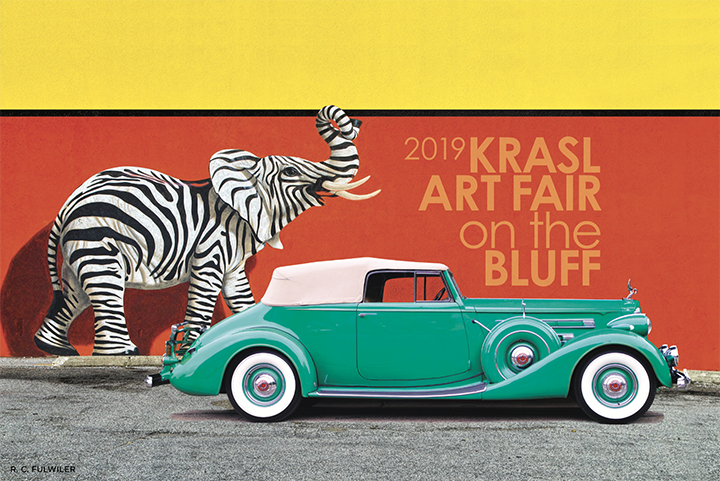 Krasl Art Center invites you to the 58th annual Art Fair on the Bluff Saturday, July 13, 10 AM - 6 PM and Sunday, July 14, 10 AM - 5 PM in beautiful Lake Bluff Park, downtown St. Joseph. Artists from across the country will come together to bring fine art and fine craft to Southwest Michigan. Nearly 900 artists applied to participate in the juried 2019 art fair. This year, 200 new and returning artists in 11 media categories showcase their outstanding work. With categories including painting, textiles, digital art, and jewelry, you are sure to find the perfect addition to your collection.
There's something for everyone at Art Fair:
Kick off the weekend at the Krasl Art Fair on the Bluff Block Party! Enjoy live music and local food trucks on Krasl Art Center's newly-designed grounds from 5 - 10 PM.
Enjoy the Krasl Kids' Zone Saturday & Sunday, where children create make-and-take artwork inspired by art fair artists. Join us Saturday from 10 AM - 6 PM and Sunday, 10 AM - 5 PM. Donations are appreciated.
The Krasl Art Fair on the Bluff features the unique Children's Art Purchase Program for young people just starting their own art collection. Some of the artists have select art for sale at $10 or less for children age 14 and under. Participating artists have a "CAPP" sign on their booth. 
Per City of St. Joseph ordinance, the Krasl Art Fair is a pet-free event. Pets are not permitted within the perimeter of the KAF for the duration of the weekend. Service animals are always welcome.
The Krasl Art Center invites the community to join them for the Friday Night Block Party – sponsored by Kruggel Lawton CPA's and The Livery Microbrewery, July 12, 5 - 10 PM on Krasl Art Center's newly-designed grounds – admission is $5. Enjoy top-notch local fare, including The Livery Microbrewery's beers, Lake Michigan Vintners' wines, and food from WERK IT! Food Truck and Dialos. Entertainment will be provided by solo guitarist Jake Allen and The Gasoline Gypsies.
Take in the sights and sounds of this year's Krasl Art Fair at the Beer & Wine Garden! Enjoy beers from The Livery Microbrewery, award-winning Michigan wines from Lake Michigan Vintners, and delicious food from WERK IT! Food Truck and Diolos. Music by local performers and yard games provide a relaxing break during the Art Fair experience. The Beer & Wine Garden is located on the newly-designed Krasl ARt Center grounds. Visit the beer and wine garden Saturday, 12 - 6 PM and Sunday, 12 - 4 PM.
Food cARTs in the concession area at Lake Blvd. and Broad Street will sell farm-to-table fare and additional favorite treats while visitors enjoy entertainment by Premier Art Fair Sponsor and cultural partners 98.3, The Coast.
Take advantage of free parking and shuttle services available at Kelley's Bowl at 2705 Cleveland Avenue and in the Renaissance Business Center at 511 Renaissance Drive. Shuttles run continuously throughout the day including one hour before and one hour after the Krasl Art Fair. A $1 per person donation is requested.
Admission: FREE & OPEN TO THE PUBLIC
Sponsored by: 98.3 The Coast, The Livery Microbrewery, Batson Printing, Holt Bosse, Whitman and Associates, South Bend Tribune, Pepsico, Bit of Swiss, Toyota, The Boulevard on the Bistro, Lake Michigan Vintners, Art & Image, Lake Michigan College, Renewal by Andersons, Mailmax, The Rested Pillow, Indiana Michigan Power, Waterfront Framing and Fine Art, Schu's Restaurant & Bar, Spectrum Health of Lakeland, and Pier 33
Contact: Dee Hodgson , 2699830271 , email