2nd Annual Holiday Food & Wine Fete
Event published by The Boulevard Inn
November 15, 2019
5:30pm - 8:30pm
521 Lake Boulevard
St. Joseph
49085
(directions)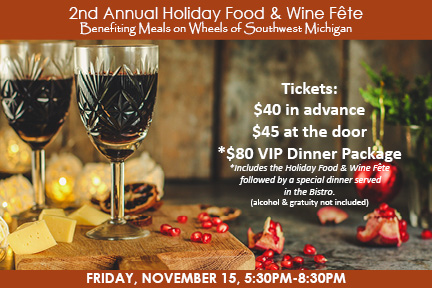 Enjoy an evening sampling appetizers, 50 wines, and aperitifs benefiting Meals on Wheels of Southwest Michigan. Signature cocktails prepared by our in-house mixologist. All wines available at a discount from Lambrecht's Liquor Store. Visit snsmeals.org to make additional donations and learn about Meals on Wheels. 
TICKETS AVAILABLE AT: www.bistroontheboulevard.eventbrite.com
Tickets:
$40 in advance
$45 at the door
$80 VIP Dinner Package
*Includes the Holiday Food & Wine Fete followed by a special dinner served in the Bistro.
(alcohol & gratuity not included)
VIP Dinner Package Menu
Grilled Beef Medallions - Sour Cream Mashed, Veg Du Jour, Roasted Shallot Bordelaise
Chicken Thighs - Apples, Smoked Cheddar, Baby Spinach, Parmesan Risotto, Veg Du Jour, Madeira Demi-Glace
Roast Pork Loin - Panko & Herb Encrusted, Custard Potatoes, Veg Du Jour, Creamy Mustard Sauce
Salmon - Sauteed Filet, Roasted Acorn Squash, Orzo & Spinach Melange, Onion Jam, Sauce Beurre Rouge
Admission: $40-$80
Contact: Sarah Lupresto , email