In this issue: Six of the lamest excuses to stay inside | Biking Trails | Hiking Trails | Two New Parks | Chalk the Block
After being relegated inside this winter by a frigid polar vortex followed by a soggy spring, it's time to get moving and have a blast outdoors this July. The place to get going is in and around St. Joseph where you can try all sorts of activities that are energizing and healthy for you, too. So, what excuse is keeping you inside? Here are six excuse busters.
It's too hot outside. Thanks to Lake Michigan, Southwest Michigan summers are rarely blistering hot. You are always within minutes of our fresh Big Lake or inland lake waters. Stay cool swimming, walking along the shore, tubing, water skiing, jet skiing, kayaking or paddle boarding.
Can't get a tee time. Back in your hometown, getting tee times may be a problem. But in Southwest Michigan, there is a golf course to match your skill level with tee times to fit your schedule.
Short on cash. Hiking and biking are low budget outdoor activities for all ages (see articles below). Another inexpensive way to get moving is playing disc golf at Madeline Bertrand County Park in Niles.
It's boring outdoors. Life is never boring here. Try parasailing. Surf on Lake Michigan. Do yoga at Lions Park beach. Climb then race down a dune. Go to the top of the North Pier Lighthouse and look for miles in every direction. Pedal around the St. Joseph harbor with friends on the new Southwest Michigan CycleBoat. Walk beneath a blanket of stars.
No one to go with. You will meet up with lots of people when you run a 10-mile or 5 K race in July/August (and help raise money for some great causes). There are races scheduled in Baroda, Cassopolis, Dowagiac, Edwardsburg, Lawrence, Niles, St. Joseph, South Haven and Stevensville.
It's raining. Most of our hotels offer indoor exercise/workout rooms for their guests. Or take a Maddog 5/1 Studio class from Pilates to max burn.
Wheel Good Times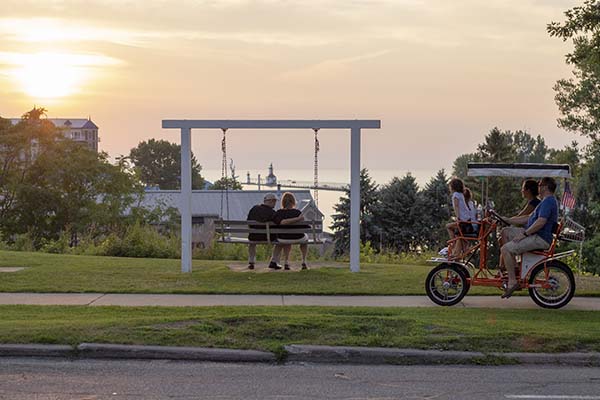 One of the best ways to see Southwest Michigan's lake resort cities, arts districts, parks and rural attractions is riding a bike. Bring your own or rent a wide-range of pedal-power fun from Scooter Joe's Wheel & Water Rentals in St. Joseph. Just get outside and ride!
Ride around town — all 11 of you! When you rent a surrey from Scooter Joe's you can pedal around St. Joseph with your whole family, friends and relatives — in vehicles that seat 5, 8 … up to 11 people. Stop whenever you want. Sing along the way. It's a memory-maker every time. Scooter's also has beach cruisers, tandem, fat tire and electric bikes to rent for two to eight hours.
Hit the rugged (and not-so grueling) trail. Whether you are an avid mountain biker or have always wanted to give it a try, Southwest Michigan offers several push-your-limit opportunities.
Berrien County
Andrews University Trails | Campbell Drive | Berrien Springs
Mountain bike enthusiasts claim this is the most challenging single track in Southwest Michigan/Northern Indiana. Along this 8.6 mile loop, you will face big hills, big obstacles and deep ravines. It's an excellent track for intermediate riders to expand their skills and build their endurance. Get the gritty details
Indiana-Michigan River Valley Trail | Between Plym Park and Stateline Road | Niles
This asphalt rail trail runs 6 miles, starting at the State border and then through the City of Niles. It will eventually run 34 miles to Mishawaka.
Love Creek Nature Center & County Park | 9292 Huckleberry Road | Berrien Center | Per Vehicle Fee: $3/Resident; $5/Non-Resident
This park's 3.5-mile mountain bike trail includes a mix of beginner to intermediate-level single track and double track sections with frequent short climbs. This park also rents fat tire bikes for year-round riding.
Madeline Bertrand Park | 3038 Adams Road | Niles | Vehicle Fee: $3/Resident; $5/Non-Resident
The 2.2 mile Green Trail that parallels the St. Joseph River is ideal for family outings. A hard-packed natural surface, it is mostly flat with one narrow, downhill slope and a returning uphill climb.
U.S. Bicycle Route 35 | New Buffalo to Sault Ste . Marie
This 500+-mile route follows paved roads from the Indiana border to Sault Ste. Marie. Here is a map of the Michigan stretch from New Buffalo to Holland. USBR 35
Cass County
Dr. T.K. Lawless County Park | 15122 Monkey Run Street | Vandalia | Entrance Fee: $1/Resident; $3/Non-Resident | Helmet Required
This 6.8-mile single track for intermediate riders offers some tight twists and natural whoopties.
Van Buren County
Kal-Haven Trail State Park | Bailey Street Trailhead | South Haven
This 33.5-mile limestone/slag rail trail offers beautiful rural and small-town scenery. See more in-depth description in the hiking article.
Van Buren Trail State Park | Lovejoy Avenue | South Haven
Ride 14 miles between South Haven and Hartford on this ballast stone trail with stretches of sand and grass. Wildlife abounds along the trail. Watch for deer, eagles, foxes and rabbits. A spur at 16th Avenue will take you 2.5 miles to the Van Buren State Park where there are more trails to ride and access to the Lake Michigan shoreline and sunsets.
You Can Hike Forever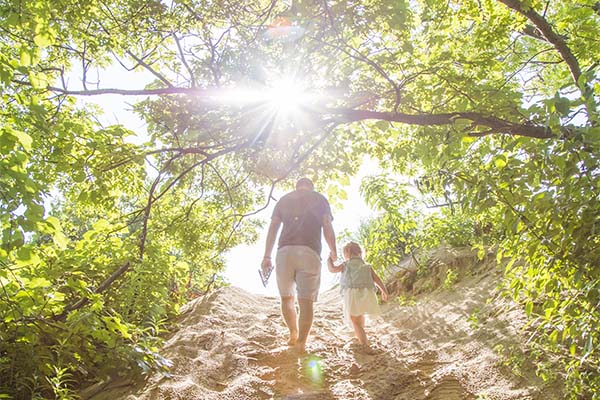 Well … maybe you cannot hike forever, but this is one sport you can enjoy from your stroller days to elder years. Going on a hike, even a short one, is good exercise. Gives you rare one-on-one time to talk with your hiking partner(s). Plus it's simple and cheap, no special skills, training or equipment needed.
Southwest Michigan offers some diverse hiking experiences in Berrien, Cass and Van Buren Counties. Here are three trails to add to your itinerary. Link to the trail guide below for more outdoor hiking ideas.
Berrien County
Warren Dunes State Park | 12032 Red Arrow Highway | Sawyer | 8 a.m.-10 p.m. | Annual or Day Pass
Celebrate Michigan State Parks' 100th Anniversary this year by taking hikes in this crown jewel along Lake Michigan. The sand dunes are breathtaking, towering 260 feet above the lake giving you some of the most spectacular views of this inland freshwater sea. Open year-round, Warren Dunes has three miles of shoreline and six miles of trails. The Mt. Randal Trail, one of nine trails in the park, combines three trails and a shoreline walk for a 4-mile loop. You will experience exhilarating dune climbs and easy-going, flat, wooded terrain.
Cass County
Fred Russ Forest County Park | 20379 Marcellus Highway | Decatur | Daylight to Dusk | Fee: Donation
Located between Dowagiac and Marcellus, this 13-acre park is surrounded by Michigan State University's 580-acre research station. The park is laced with 4 miles of trails. If you enjoy fishing, carry in a rod to reel in brown trout from the Dowagiac Creek, a Class A trout stream. Another must-do is to follow the Big Tree Loop where you can see what remains of Michigan's largest tulip poplar tree. Prior to a violent storm toppling two-thirds of it in 1984, it once stood 200 feet high and had a 23.6-foot girth.
Van Buren County
Kal-Haven Trail State Park | Bailey Street Trailhead | South Haven | Dawn to Dusk
If you want to hike long distances, follow the limestone slag Kal-Haven Trail that runs 33.5 miles between South Haven and Kalamazoo. A relatively easy walk over a former railroad bed, it has several small towns with places to eat along the way. It's a great place to see wildflowers. There are six bridges, including a picturesque covered bridge over the Black River near South Haven and a historic caboose and museum (with stories about the 1930s oil boom) in Bloomingdale.

Take a hike
Two New Must-Visit Parks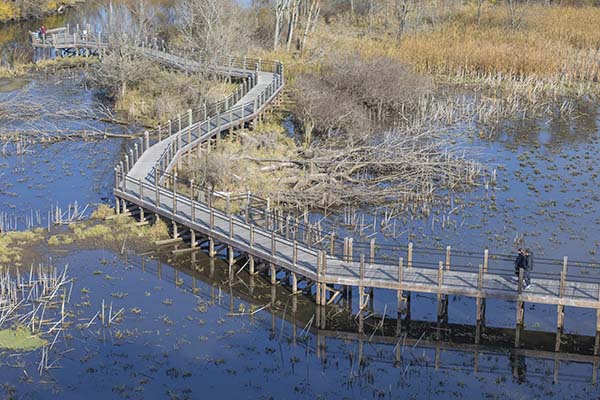 Berrien County Parks are some of the most outstanding in Michigan and they recently added two more — the Galien River County Park and Paw Paw River County Park. Both are open from dawn to dusk, are accessible to all abilities and there's no fee to enjoy them. Their unique features will bring you, your family and friends back again and again.
Galien River County Park | 17424 Red Arrow Hwy. | New Buffalo | FREE
Ask kids what their favorite part of this park is and they will instantly tell you the 300-foot-long Canopy Walkway (yes, you walk at treetop level). Other top picks are the 60-foot-high Marsh Overlook Tower with its stunning view in every direction and the 600-foot-long Marsh Boardwalk where you can see animals and birds along the way (come early morning and evening for more frequent wildlife sightings). Bring a pole and bait to fish off the river platform. At the end of your walk, take the kids across the street to the playground and splash pad in New Buffalo Township Memorial Park.
Paw Paw River County Park | 650 N. Main Street | Watervliet | FREE
Opened less than a year, this park is the newest gem in the Berrien County parks system. It is one of the county's most tranquil and serene. The park was carefully designed to be accessible to all abilities including a barrier-free kayak launch and hard-surface hiking trails. It's easy to access fishing on the river where anglers can reel in king salmon, steelhead, bluegill, walleye, bass, northern pike and more. Another highlight is a bridge that takes you across to a shady half-mile trail around the park island (you can walk or ride your bike). You will definitely want to come back for the fall color, too.
23rd Annual Chalk the Block
Aug 2-4 | Fri.: Starts at 4 p.m.
Sat. & Sun.: All Day | FREE
Downtown | St. Joseph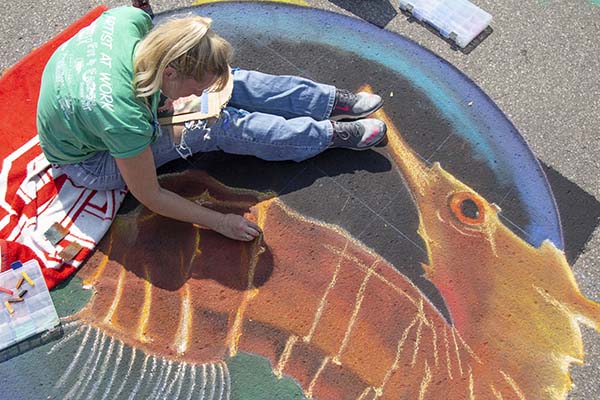 Have you ever seen street art? It's amazing! Artists mark out their asphalt canvas along Broad Street in downtown St. Joseph on Friday. Then over the next two days create see-it-now masterpieces that will disappear with the first good rain. Bring a camera. Enjoy dawn-to-dusk fun all weekend!
Friday-Aug. 2
North Pier Lighthouse Coffee & Climb | Tiscornia Beach | 6 a.m.-8 a.m. | First Floor Free | Lantern House Climb $5
North Pier Lighthouse Tour | Tiscornia Beach | 10 a.m.-2 p.m. | First Floor FREE | Lantern House Climb $5 | Guided Tour $10-Adult & $5-Child
Watch Chalk the Block Artists Prep the Street | Broad Street | 4 p.m.-dusk | FREE
Friday Night Concert Series: B-Side Growlers | Roots Americana | John E.N. Howard Band Shell | 7:30-8:30 p.m. | FREE
Saturday-Aug. 3
Watch Chalk the Block Artists Create Their Masterpieces | Broad Street | All Day | FREE
North Pier Lighthouse Tour | Tiscornia Beach | 10 a.m.-2 p.m. | First Floor FREE | Lantern House Climb $5 | Guided Tour $10-Adult & $5-Child
St. Joseph Farmers Market | Lake Bluff Park | 9 a.m.-2 p.m.
Outdoor Summer Movie: Incredibles 2 | Whirlpool Centennial Park |8:45-11 p.m. | FREE
Sunday-Aug. 4
Find Your Favorite Chalk the Block Masterpieces | Broad Street | All Day | FREE
Antiques on the Bluff | Lake Bluff Park | 10 a.m.-5 p.m.
Horse-drawn Trolley Rides | SE corner of State & Elm | 11 a.m-2 p.m. | FREE
North Pier Lighthouse Tour | Tiscornia Beach | Noon.-5 p.m. | First Floor FREE | Lantern House Climb $5 | Guided Tour $10-Adult & $5-Child
Municipal Band Concert | John E.N. Howard Band Shell | 3:30 and 7:30 p.m. | FREE
St. Joseph is a very walkable town. There are lots of places to shop, enjoy a relaxing meal or snack, sip local craft beers and wines, plus enjoy together-time at the Carousel, Whirlpool Compass Fountain, fun-for-all-ages museums and beaches. This is the perfect summer weekend!