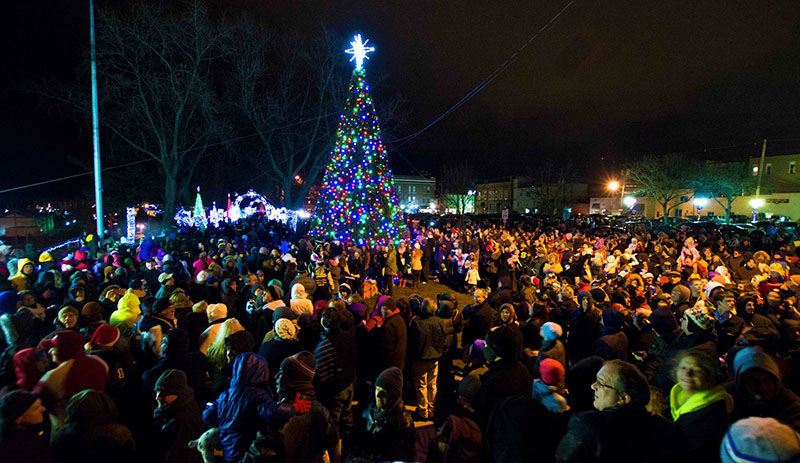 December is here and holiday happenings are in full swing here in Southwest Michigan. Join us all month long for twinkling lights, visits from Santa and his reindeer, and family-friendly celebrations that will have you in the Christmas spirit through the New Year.
Light Up The Bluff: Dec. 1, 6:30 p.m., Downtown St. Joseph
Get in the holiday spirit at the community tree lighting ceremony on the corner of Broad Street and Lake Boulevard. Listen to classic Christmas carols by The St. Joseph High School Choir starting at 6:00p.m. and watch over 1 million lights "light up the bluff." Stroll through Lake Bluff Park under arches of sparkling lights and see the Whirlpool Compass Fountain come to life. If you can't get enough of these twinkling lights they will be lighting up the Bluff every night through Valentine's Day.
6th Annual Live Mannequins!: Dec. 1, 7-8:30 p.m., Downtown St. Joseph
The downtown storefronts will come to life as community volunteers pose as mannequins, staying as still as possible. You'll want to see who puts on the best act!
The fun continues from 8:30-10 p.m. at the Live Mannequin After Party & Awards held at the Box Factory for the Arts, 1101 Broad Street. There will be live music by Jack Adams and a cash bar. Winners will be announced at 9:45 p.m.
Dowagiac Candlelight Christmas Parade: Dec. 1, 6:15-9 p.m.
Don't miss Southwest Michigan's largest lighted Christmas parade in downtown Dowagiac. Gather at Beckwith Park for the tree-lighting ceremony and pre-parade celebration at 6:15 p.m. The parade will begin at 7 p.m. with 100 lighted floats, marching bands, and characters in costume.
Breakfast with Santa: Dec. 2, 9, & 16, Fernwood Botanical Garden
Have breakfast with Santa Saturday, December 2 and 9 from 9:30-11 a.m. and Saturday, December 16 from 9:30-11 a.m. and 11 a.m.-12:30 p.m. at Fernwood. Make crafts with Santa's helpers and enjoy an interactive holiday band. Call 269-695-6491 for reservations.
Sippin' with Santa: Dec. 2, 9 a.m.-6 p.m., Round Barn Winery
This event is fun for the whole family! Kids can decorate cookies and make their own ornaments while adults sip on seasonal wines and shop the Round Barn product line. Donate a new toy to Toys for Tots or $5 for a visit with Santa.
Stevensville Christmas in the Village: Dec. 2, 3-6 p.m.
Take a "sleigh" ride around the Village of Stevensville then decorate Christmas cookies, make crafts, and visit with Santa! Warm up with hot chocolate, pizza, hot dogs and cookies while listening to classic Christmas tunes. All activities and food are free to the public.
19th Annual Reindog Holiday Parade: Dec. 2, 4-5p.m., Downtown St. Joseph
This pet-friendly event, sponsored by FuzzyButz Pet Bakery, is fun for all ages! Owners and their "reindogs" get decked out in holiday attire for this annual parade to escort Santa into St. Joseph. The parade begins at 4p.m at Elm and State Street and all guests are encouraged to walk in the parade.
If you are walking with your pets in the parade, register at St. Joseph Today before the parade begins. Registration is $5 for 1 dog and each additional dog is $3. A portion of the proceeds will be donated to Animal Aid. Best costume wins a prize! Costumes are judged before the parade at 2 p.m. in front of St. Joseph Today and prizes will be awarded after the parade.
Santa's House: Dec. 2-23, Downtown St. Joseph
I hope you're on Santa's nice list this year! Santa's house will be at the corner of Pleasant and State Street from December 2-23. Visit Santa at his house Thursdays-Saturdays through December 23 and make sure to bring your Christmas lists!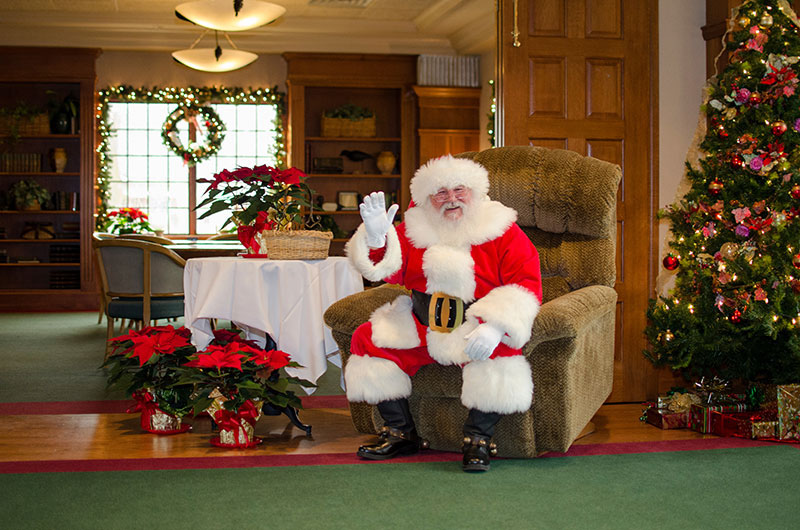 Sunday Brunch Buffet with Santa: Dec. 3, 10, & 17, 11:30a.m.-2p.m., Bistro on the Boulevard
Enjoy a delicious brunch and visit with Santa all in one place! The buffet includes an omelet and waffle station, sweet and savory breakfast favorites, beverages and delicious desserts. After brunch, visit with Santa and decorate Christmas cookies. Bring your wish lists and your cameras to capture this special moment. Cost is $20 for adults and $10 for kids ages 6-12 (5 and under get in free). Call ahead for reservations: 269-983-3882.
Christmas in the Village: Dec. 3, 4-6p.m., Downtown Baroda
Visit Baroda's Town Hall for this annual Christmas celebration. They're decking the halls with crafts, Christmas carols, sleigh rides, sweet treats and visits with Santa. This is a can't-miss celebration the kids will love!
Bridgman Library Christmas Music Program: Dec. 6, 6 p.m.
Enjoy an evening of Christmas and holiday music from Andrews University musicians.
Winter Art Hop: Dec. 8, 6-9 p.m., Benton Harbor Arts District Enjoy a family-friendly evening in the Arts District hosted by the New Territory Arts Association with art, music, food and libations. Walk around and look at the twinkling Christmas lights and stop in local businesses to find out which local artists are being showcased. Many locations have appetizers, snacks and drinks to sample while you admire the beautiful art pieces. For more information, go to newterritoryarts.org.
SMSO Sounds of the Season: Dec. 9, 7:30 p.m., LMC Mendel Center
Celebrate the holidays with the Southwest Michigan Symphony Orchestra. They will perform classics like "Silent Night," "12 Days of Christmas," and "Hallelujah Chorus."
Holiday Makers Market: Dec. 9, 10 a.m.-5 p.m., Dec. 10, Noon-5 p.m., Box Factory for the Arts
Makers and artists from across Southwest Michigan will fill the Box Factory with artistic and unique gifts. Enjoy good food, coffee, and live music while you shop for that perfect holiday prize. Cooking demos and other activities will also keep you entertained during the event.
12 Corners Wine with Santa: Dec. 9, 2-4 p.m.
Visit 12 Corner's Benton Harbor tasting room for a wine tasting with Santa and family photos by his vintage sleigh.
Brunch with Santa: Dec. 10 & 17, 9 a.m.-2 p.m., Planks Tavern
Visit with Santa during breakfast at Planks Tavern. Enjoy two carving stations, salad bar, dinner bar, omelet and waffle station, bacon, potatoes, biscuits and gravy, pastries, and Christmas cookies. Adults: $26.95, kids ages 4-10: $13.95, 3 and under are free.
The Livery's 9th Annual Holiday Bizarre: Dec. 11 & 12
Shop gifts from local artists and crafters while enjoying craft beer at the Livery! You'll find unique gifts for everyone on your list all in one place.
A Steamed Nutcracker: Dec. 16, LMC Mendel Center
The Citadel Dance and Music Center presents this ballet and orchestra at the Lake Michigan College Mendel Center.
Cirque Dreams Holidaze: Dec. 16 & 17, Four Winds Casino, New Buffalo
Celebrate the most wonderful time of the year at this multimillion-dollar live stage production at the Four Winds Casino in New Buffalo. The begins at 9 p.m. December 16 and 5 p.m. December 17.
Live Reindeer Return- Oh Deer, Rudolph Family Fun Night: Dec. 21, 4-9 p.m., Silver Beach Carousel
The reindeer return to Shadowland on Silver Beach just in time for the Silver Beach Carousel's Family Fun Night, Oh Deer, Rudolph! Pet a real reindeer, pose for a photo and bring your wish lists! Santa will be making an appearance from 6:30-9 p.m., so don't miss your chance to visit with him before he heads back to the North Pole. Plus, Carousel rides are just $1!
Admission to Santa's Christmas Corral to pet a reindeer is just $1 for ages 3 and above; free for ages 2 and under. Photos are $3 per pose; 2 prints for $5 and 3 prints for $8.